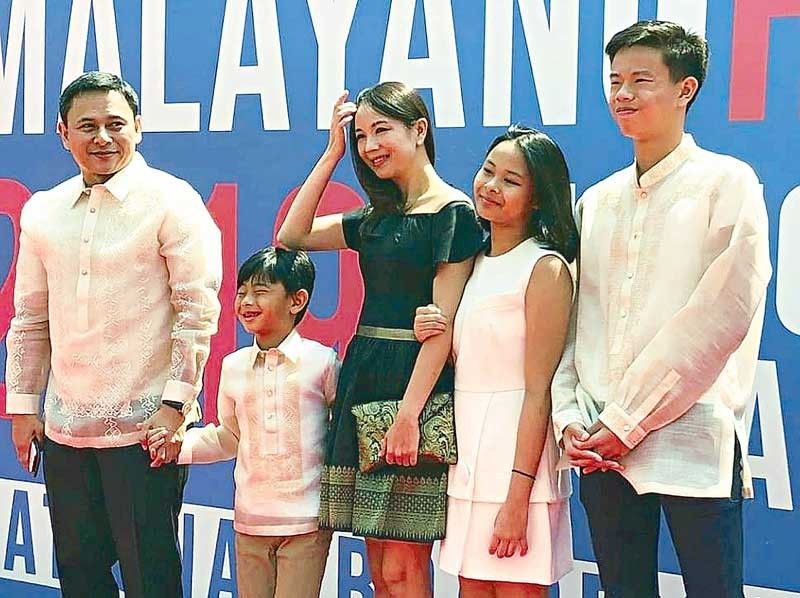 Sen. Sonny Angara and wife Tootsy with their children Javier, Ines and Manolo.
Photo by MARK PIMENTEL
Sen. Sonny Angara: Faith in fatherhood NEW BEGINNINGS BY Bum Tenorio Jr.
(The Philippine Star) - June 16, 2019 - 12:00am
Fatherhood is about faith. For when a man becomes responsible for bringing life to this world, he forges a covenant with God to help him make that life beautiful and meaningful. He seals it with the promise that he will be both protector and provider, critic and friend, but most of all, a loving father.
Sen. Sonny Angara entered into that covenant three times. With a devoted heart and an unflinching faith, he is committed to fulfilling his promise "to make life for our three children the best it can be."
He is happiest and most challenged when he is with his kids: Manolo, 15; Ines, 13; and Javier, eight. He and his beautiful wife, Tootsy, make sure their kids are loved and cared for, pampered but not spoiled.
"Fatherhood has taught me to be patient and to have faith. (It has taught me) to allow and give my kids space to grow and be their own person," says Angara, 46, who just won his second term as senator.
Though being a father is a spring of joy, it can also be a source of "friction." He admits, "The hardest part of being a father is sometimes you have to push your kids beyond their comfort zones because it will be good for them and there may be some friction there."
But the experienced senator is also an expert father in turning "friction" into fun. Yes, Angara makes sure to bring fun into their home.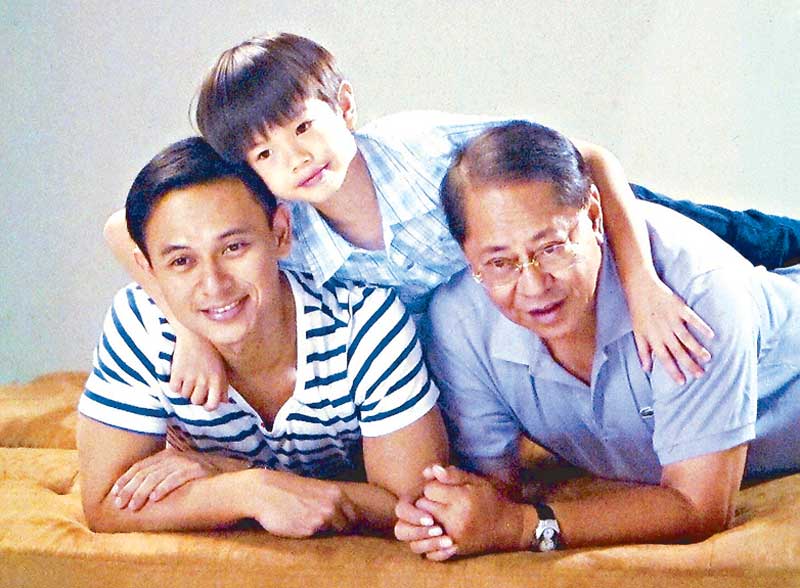 Sonny with his late dad former Senate President Edgardo Angara and son Manolo.
"There's a lot of laughter and giggles in our home. Sonny is either teasing our eldest son about love, having a discussion with our daughter about current events (she has very strong opinions about a lot of things) or tickling our youngest Javier," says Tootsy. They have been married since 2003.
"Sonny bonds with our kids while they play tennis, basketball, eat cheese pizza and watch old movies together. Of course NBA is always part of our dinner conversations," she adds.
According to Javier, "My papa looks a lot like me. He is also the nicest dad in the whole wide world. He loves to kiss us a lot."
"I don't say this much but I really appreciate how hard he works just to spend time with us. He really makes sure we are able to bond as a family and it means a lot to me," says Ines.
Manolo, a future tennis star, says, "My dad and I really bond over sports. That is where he teaches me life lessons. He reminds me how to focus, adjust to circumstances, never give up and believe in myself. I'm a little better at tennis but I have to say he is a superb basketball player. And an even more superb dad."
"Sonny is a lot of fun around them but at times he can turn serious when he gives them advice. Just the other night, he was telling them that they can be whatever they want to be as long as it makes them happy, to always honor their word, choose to be kind, read a lot, love learning and be a positive contribution to this world," Tootsy adds.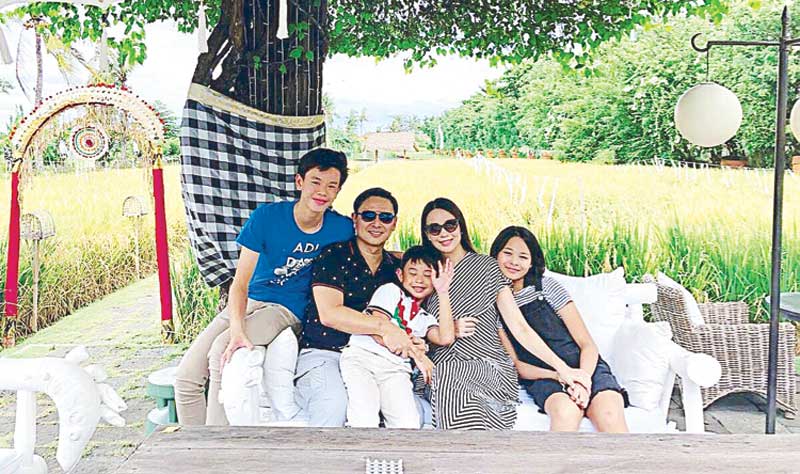 Sen. Sonny Angara and wife Tootsy with their children Manolo, Javier and Ines in Bali. Photos courtesy of Tootsy Angara
"My relationship with my three children means the world to me. My parents brought me up and gave me every opportunity to succeed. And I hope I am there, too, for my kids. I am conscious about not spoiling them and not giving in to their every want," Angara says.
He is thankful to his father, the late Senate President Edgardo Angara, for showing him the way to public service. The younger Angara first campaigned and won a seat in the Senate in 2013 when his father finished his own term. Prior to that, the young senator finished his three terms as representative of the province of Aurora.
His grateful heart looks back to the kindness and generosity of his parents Ed and Gloria for the opportunities he has now. Angara finished International Relations at the London School of Economics in the UK. He took up Law at the University of the Philippines then earned his Master of Law degree from Harvard School of Law.
"My late father taught me hard work and public service. He taught me how to open doors for others because a lot of people also opened doors for him," he says. It is the second Father's Day he and his siblings are celebrating without their dad.
His father believed in him and it is the same faith that Angara has in making sure his own children will be loved and protected every step of the way.
"What's the best part of being a father? It's a big responsibility but it can also be huge fun! You learn from your kids, too. And the best lesson from my kids is straight talk. Sometimes keeping things simple is best," Angara concludes.
Sen. Sonny Angara is resolute in being a loving father to his three children. More than a responsibility, this commitment is a covenant he signed with God. Fatherhood and faith are entwined in him. He will rise to the occasion all the time.
* * *
(E-mail me at bumbaki@yahoo.com. I'm also on Twitter@bum_tenorio and Instagram @bumtenorio. Have a blessed Sunday. Happy Father's Day!)