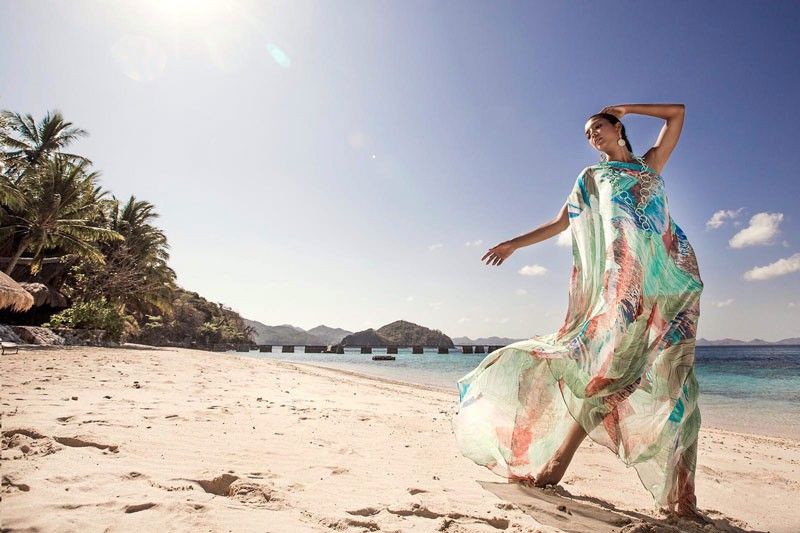 Creative direction and fashion styling by Luis Espiritu Jr. • Makeup by Ria Aquino for MAC Cosmetics • Associate stylist: Rudolph Leonor • Model: Christy McGuire • Clothes and accessories by Mia Arcenas (Room 802, 8/F Vicente Madrigal Building, Ayala Ave., Makati City) • Shot on location at Flower Island Resort , Taytay, Palawan
Photography by Mau Aguasi
Summer is definitely here! Making a big splash are the latest trends and forecast to last until June (in the Philippines) and September (in the US and Europe). From the streets to the boardrooms to parties, a plethora of looks unfolds like a wardrobe of must-have wonders.
These looks are perfect for the season when everyone is ready to hit the beach, go to a stylish retreat, enjoy eating and shopping abroad or simply fly to explore a new destination. All these are done for the ultimate agenda that's on everyone's mind — vacation!
Fashion needs a vacation, too! When traveling to must-go destinations, ultra-luxe resorts and top-of-the-travel-lists vacay escapes, a showdown of the best bodies and styles takes place.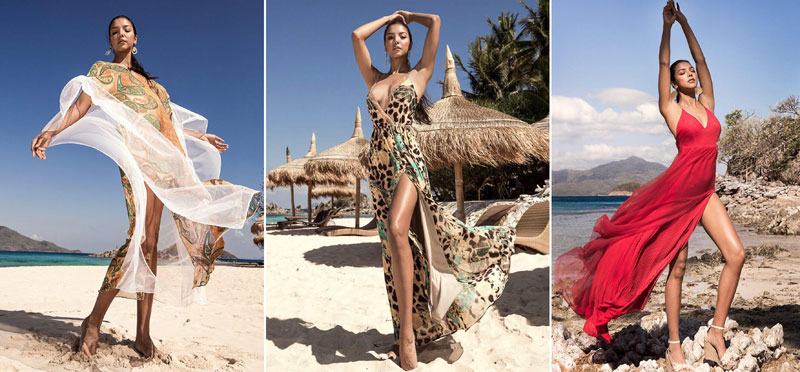 Whether in exotic Bali, the islands of Greece, or Conde Nast Traveller's Best Trips 2019, which include Cambodia, Sri-Lanka and Thailand, one needs the perfect on-the-radar wardrobe for the ultimate summer showdown.
Luxury resort wear designer Mia Arcenas presents a whole new kind of luxe dressing with her Spring/Summer 2019 collection titled "Island Fever." Her latest campaign was shot in the remote and enchanting Flower Island Resort in Taytay, Palawan, where her coveted pieces stood out amidst the backdrop of Mother Nature's pristine beauty.
Sizzling under the sun is a spectrum of trendy-sophisticated hues that complement the colors of sea, sky and earth. Standout shades create a style statement and a look of freshness noteworthy for any sun worshipper, style-setter and fashion influencer.
Haute on the style radar is a mix of prints that will make temperatures rise as it brings a certain "newness" in resort fashion. Stunning animal, graphic and 3D prints give new meaning to chicness as seen on a range of dresses, caftans, wide-leg pants and separates.

The silhouette from Mia Arcenas SS'19 is romancing summer with a movement that plays with the elegance of form. Style majestically flows in captivating shapes and mostly billowing and languid fabrications. Fabrics are made of silk chiffon and 100-percent silk in custom-printed designs that are inspired by nature.
The luxe material is ethereal in appeal as it boasts breathability and lightness, perfect for a tropical landscape. Accessories for this collection focused on beautiful, made-by-hand earrings and clutches. Crafted to perfection, the clutches are made of Mother of Pearl, brown-lip shells and golden South Sea pearls sourced from the Philippines.
Mia Arcenas Spring/Summer 2019 is a collection of "newness" in resort wear in the country. The designer takes her brand into a whole refreshing meaning of luxe. Aside from being young, distinct and fashion forward, it is a range of relevant luxury resort fashion — artisanal, handmade and socially responsible.