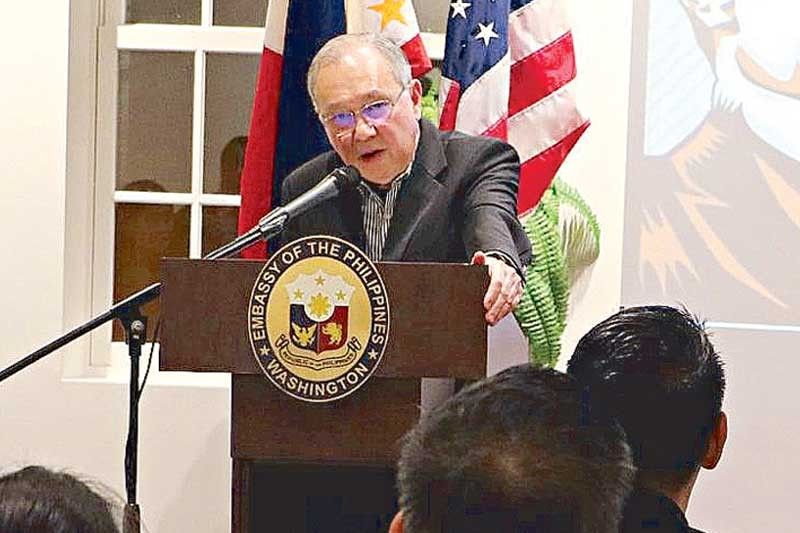 Exhorting the awardees and guests to be inspired by Jose Rizal's life.
Outstanding young Fil-Ams inspired by Jose Rizal
The youth is the hope of the motherland."
This was the famous quote of our national hero Jose Rizal in his poem A La Juventud Filipina (To the Filipino Youth), which he wrote in 1879 when he was an 18-year-old student at the University of Santo Tomas.
More than 120 years since his death, the life and works of Jose Rizal continue to serve as an inspiration to young Filipinos — for he embodied not only love of country and his fellowmen but also displayed an immense passion for excellence and great achievement.
Just recently, eight outstanding Filipino-American students from the DMV (D.C., Maryland, Virginia) area received the Dr. Jose Rizal Youth Awards during ceremonies held at the Philippine Embassy in Washington D.C.'s Chancery Annex.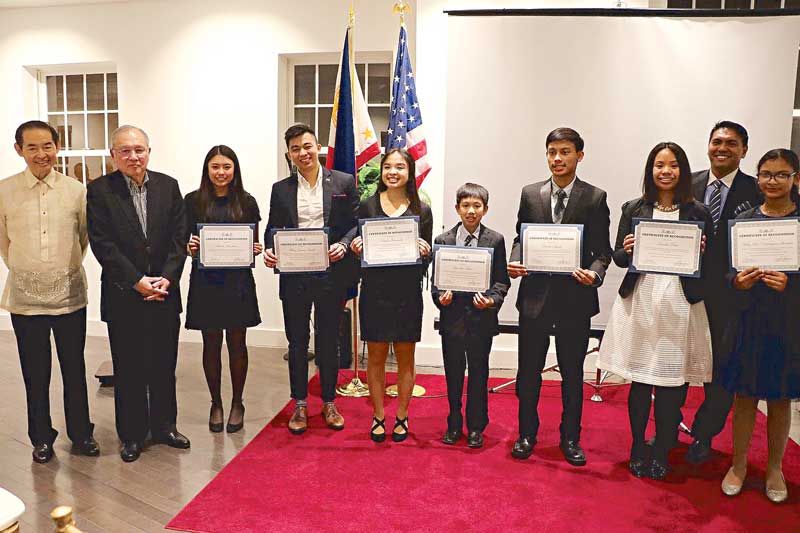 With (from left) Dr. Jose Rizal Youth Awards Day co-founder Ramon Paterno, winners Sarah Menchavez, Franz Jeremy Sandil, Natalia Fernandez, Benedict Hilario, Patrick Aguda and Arabella Pastor with lawyer Ed Logan and winner Ashley Lea Cabanayan Shrestha.
Organized by the Philippine American Foundation for Charities (PAFC), the annual youth awards recognize Filipino-American students who have displayed academic excellence, leadership and volunteerism within their respective communities.
This year, PAFC partnered with the Sentro Rizal Washington DC, the 30th branch of the Sentro Rizal, a Philippine government-sponsored organization that seeks to promote Filipino arts, culture and heritage all over the world.
Winners for the 26th Jose Rizal Youth Awards went through a stringent process from a selection committee led by PAFC director John Victoria. The process included the submission of a video reflection and a personal poem about Rizal's poem Mi Ultimo Adios (My Last Farewell). The young candidates were also asked to put themselves in the shoes of Rizal and give one "last advice" to their countrymen.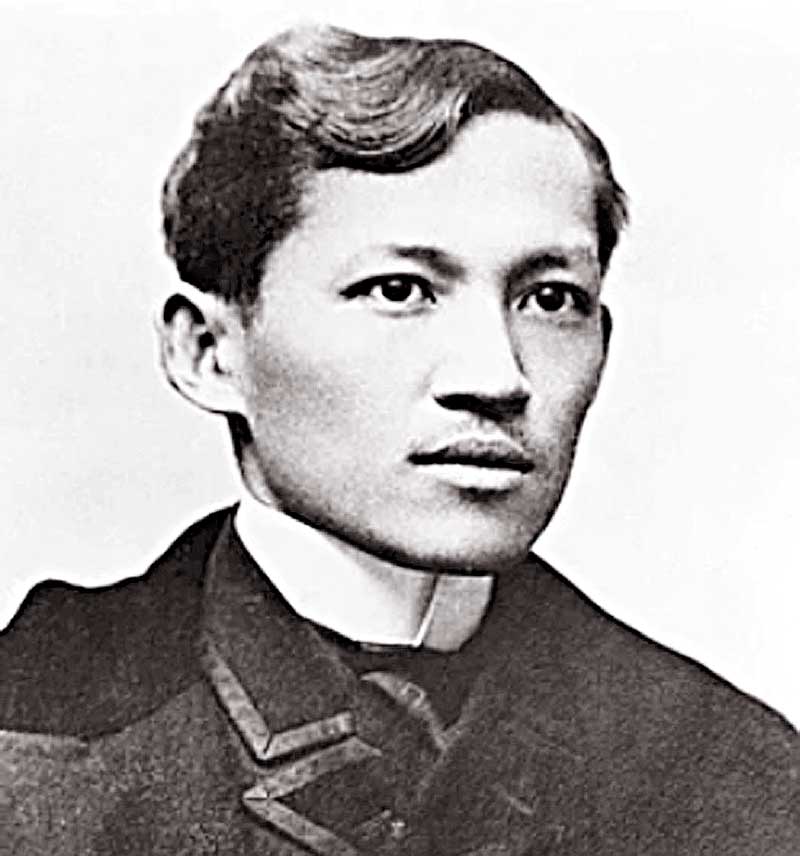 Philippine National Hero Jose Rizal.
The eight winners were Ashley Lea Cabanayan Shrestha (elementary); Katherine Gillen, Arabella Palor and Benedict Hilario (middle school); Patrick Aguda and Sarah Menchaves (high school); and Natalia Fernandez and Franz Jeremy Sandil (college). PAFC president Krystle Canare, Dr. Jose Rizal Youth Awards Day co-founder Ramon Antonio Paterno and I handed out the awards certificates to these outstanding young people.
In his inspirational speech, lawyer Ed Logan, a renowned member of the community for his humanitarian work and expertise in lobbying, exhorted everyone to "strive to educate ourselves with the truth of what is right and what is good." He also reminded the awardees of the importance of education and serving a life of purpose just like Jose Rizal.
"Jose Rizal placed great importance on the youth. On the one hand, he inspires an unwavering belief in the ability of young people to learn from the experiences of their elders and in their courage to initiate changes. On the other hand, Dr. Rizal continues to exhort the present generation to instill the right values in their children and make sure that they grow up to be productive and upstanding members of society," I told the awardees and guests at the conclusion of the event. *