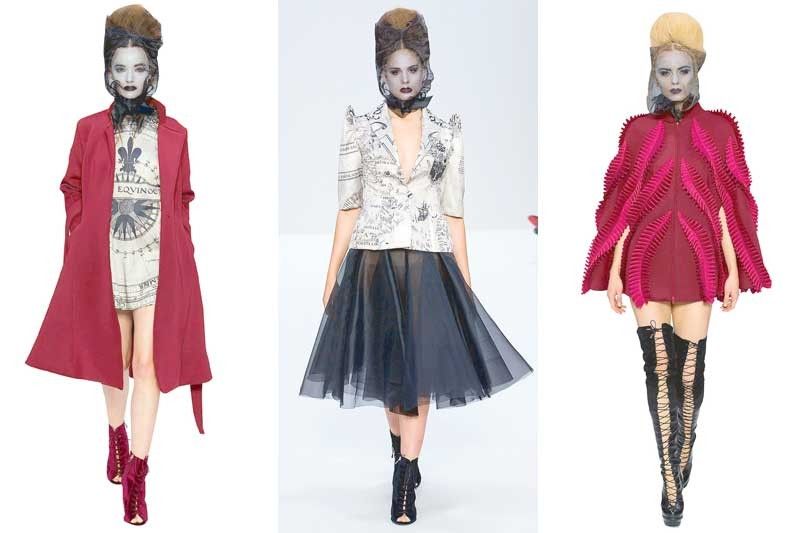 From left: Oxblood neoprene trench coat, Jacket with butterfly sleeves in black and white 'Armada' print on mikado twill over crinoline organdy skirt and Oxblood ruffled cape in neoprene and gazaar satin.
UPTOWN/DOWNTOWN
-
Joanne Zapanta-Andrada
(The Philippine Star) - February 17, 2019 - 12:00am
Fashion designer John Herrera has clearly made his mark as he is making waves in both the local and international scene.
Herrera's eponymous brand was established in Manila in 2008, specializing in eveningwear and "occasion wear" for women while a menswear line followed in 2014.
He had won numerous competitions in Manila before trying his luck in London in 2015. He joined the International Fashion Showcase 2015 (organized by the British Fashion Council through CITEM) with five other Filipino designers. That same year, he joined and won London Emerging Designer Award and then showed his winning collection Bioluminescence at Tokyo Fashion Week (through the esteem of the Japan Fashion Week Organization).
In February 2017, Herrera joined and won Britain's Top Designer Award (organized by Fashions Finest in London) with the Agila collection. He then made his debut in Fashion Scout, a showcasing platform for emerging brands in the UK. His six-look Agila collection was immediately featured in British Vogue, Getty images and The Telegraph UK. His collection for Fashion Scout dubbed Armada was his first full collection in London Fashion Week and would also be featured in Vogue UK.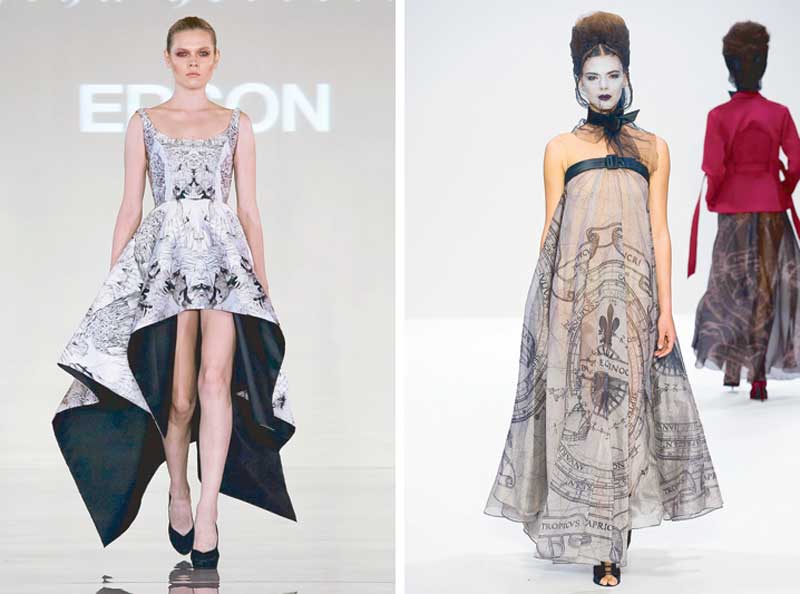 (Left) Kite dress in black and white 'Agila' print on mikado twill. (Right) Bias-cut dress in black and white 'Armada' print in silk organza.
Both the Agila and Armada collections are a product of John's collaboration with Epson Digital printing technology, of which he is the current ambassador. Last year, his Agila collection, which brought attention to the endangered Philippine Eagle, was shown in a gala show organized by the Philippine Eagle Foundation. It was a fundraising event held at the then newly inaugurated National Museum of Natural History, making Herrera the first fashion designer to do so.
He opened his first store at the Shangri-La Plaza Mall East Wing in late 2018. Trench coats, jackets, cover-ups, short and long dresses in neoprene and his Agila and Armada prints are on sale in limited numbers. Focusing more on "high street fashion," a look John has mastered though years of training, women and men who love to travel in style now have access to his designs.
Because of his advocacy to support the Philippine Eagle, a percentage of sales for the agila-printed garments are donated to the Philippine Eagle Sanctuary in Davao. John co-designed the agila print with digital artist Jerald Dorado. He works with artists who share his passion for causes that are close to his heart.
Herrera's next collaboration is with photographer Niccolo Cosme for the World AIDS Day.