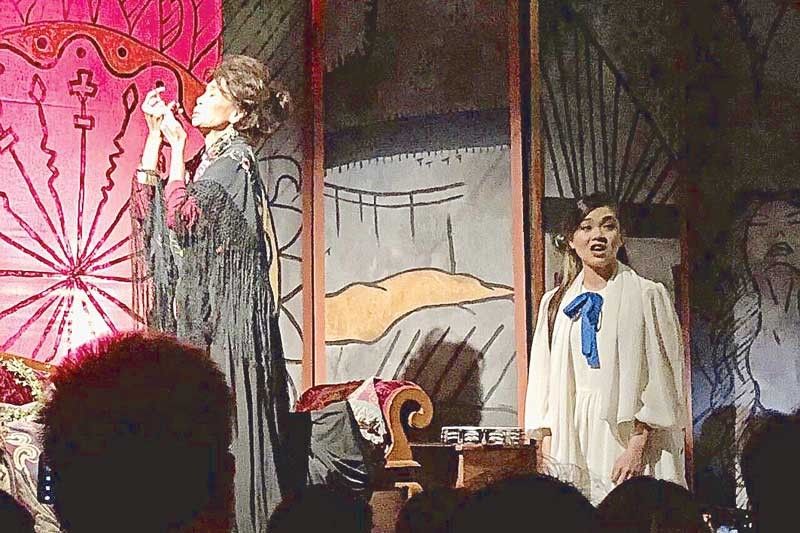 Jay Valencia Glorioso and Lara Maigue in a scene from The Medium, an operatic thriller.
Opera, updated & on your lap
When was the last time you watched opera here in Manila? Or more to the point, when was the last time you'd even bother to watch opera? Admittedly, it's a niche musical and theatrical genre that doesn't get much exposure here in our country. And most of the worthy homegrown singers can only hope to find gigs abroad, or turn their love and passion into a part time thing, as good luck making a decent living here purely from singing opera professionally.
My late mother loved opera, and back in the '80s and early '90s, whenever we'd find ourselves in Milan or Paris, there would be nights I'd have to accompany her. So, even if I didn't have an affinity for the genre like my brother Stephen does, I'd consider it good exposure and an opportunity to watch the likes of Te Kanawa and Carreras. Having said that, I must admit it's been decades since I've had a "Night at the Opera." So, to find myself at the Zobel de Ayala Recital Hall of the Maybank Performing Arts Theater for MusicArtes' staging of Gian Carlo Menotti's The Medium was an unexpected pleasure.
Menotti was commissioned by Columbia University to create this operatic drama back in 1946, and there's even been a cinematic adaptation where it was turned into "film noir." The nifty thing about The Medium is that it's sung in English and there's a contemporary story, all making the libretto far more accessible than the classical operas we are exposed to. And it's a showcase for impressive Filipino talent!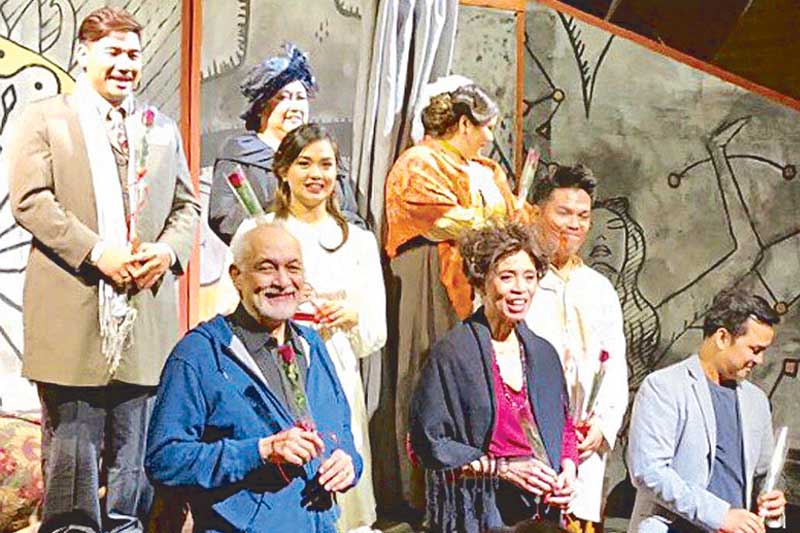 Director Leo Rialp joins the cast during the opening night's curtain call.
Directed by Leo Rialp, with musical direction by Dingdong Fiel, the opera is a dark, moody melodrama with three main characters. There's Madame Flora, who conducts seances for the gullible seeking to make contact with their lost loved ones — especially parents whose children have passed away. Monica is Madame Flora's daughter, who, along with Toby, a deaf-mute gypsy boy, assists in the seances by staying concealed, and creating the voices and sounds that form part of the seance scam. And then there's the now-childless couple who regularly go to Madame Flora, and the mother they enlist who recently lost her toddler son.
As one can anticipate, this isn't your regular opera, but one that uses a modern morality tale to gift us with an enthralling one hour of singing and drama. There's the gullibility of people, wanting to be fooled as it satisfies some deep need; and there's the notion of playing with and teasing with forces over which you don't really have control over. It's brilliantly staged as the stage bisects the whole hall, running across it and making us, the audience, very intimate with the action, as we swivel our heads from left to right to capture the entrances and exits of our players, and they practically prance and stumble inches from us, a moment away from falling on our laps.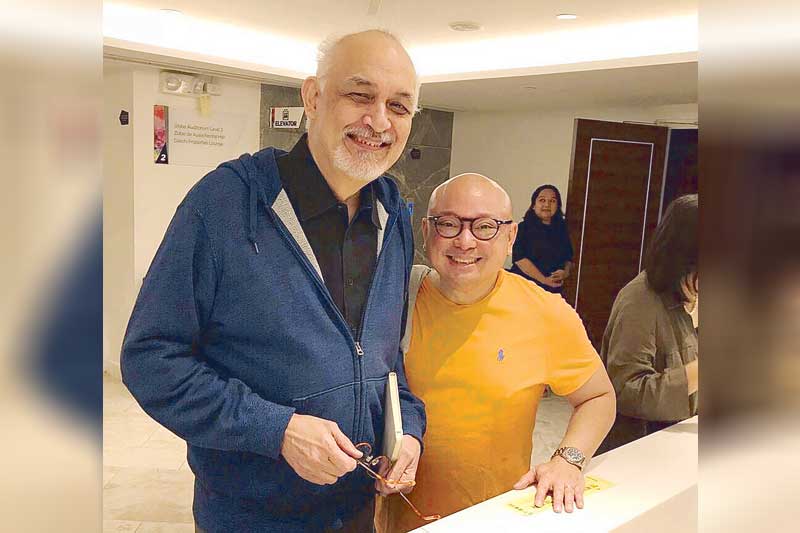 Leo Rialp with well wisher and fellow director Robbie Guevara at The Medium.
And of course, there's the singing. My two standouts here are Lara Maigue as the young Monica, purity and sweetness swept up in the malevolence of what her mother is up to; and Jay Valencia Glorioso as Madame Flora, troubled and introspective when need be, but callous, mean and calculating by nature. Together, they enchant and keep us glued to what's going on, casting darkness and light in varying measures.
I was fortunate enough to catch the opening night, and there are performances on Nov. 23 to 25. So trust me: if you're open-minded about being exposed to different genres of culture and the arts, if you're interested in seeing exciting Filipino talent, and if you're ready to support the more niche production companies trying to raise the bar of what is being offered to the public, you can't go wrong with The Medium.
Kudos to Leo, Jay, Lara, Dingdong, the producers, and the rest of the company for reviving this show.