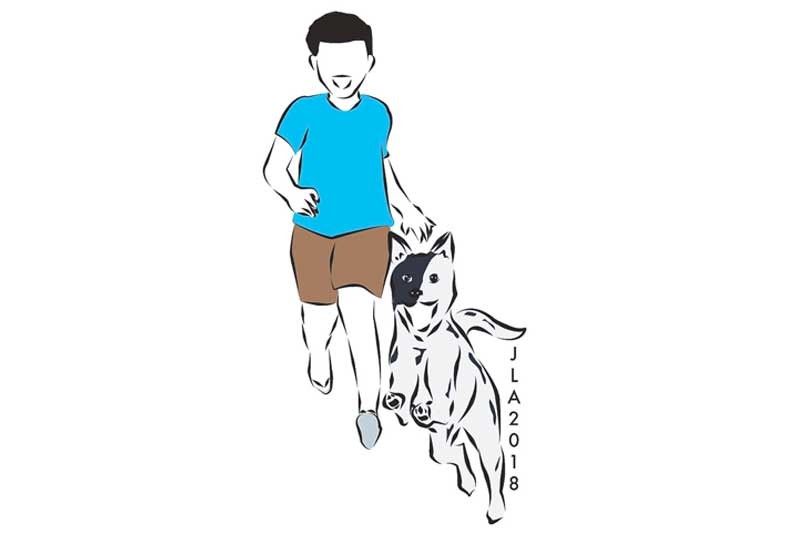 I still remember his face — resembling that of a handsome young man. His tail wagged every time he saw anyone of us coming home, from school, from the lake, from the farm.
He was a dog. But he was a man in many ways. His name was Dogman, an aspin whose face was a yin-yang of black and white. His stout body was proud in blotches of soft white fur and jet-black hair. Dogman loved to be cuddled and if you did not give in to him, he would insist till you played footsies with him.
He would walk my mother to the rice field early in the morning. And right after my mother started tilling the soil, he would hop on the paddies, playing alone. Soon he would be gone and in front of our humble home, some 30 minutes away, he would be the sentinel.
When my father needed to stay overnight in the farm to supervise the irrigation, Dogman would be with him as his bodyguard. He walked side by side with his master. But when the flashlight was poked far away from the paddy where they walked on, Dogman would chase the light. Playfully, my father would direct his flashlight here and there and Dogman would be dancing in the field by then, running after the illumination, barking in joy, leaping, jumping, prancing.
I was six then and on my way back home from school, he would be by the roadside. He would spot me from afar and run to me. Together we would walk home. Once, I tried to hang my bag around his neck, err, my red-yellow-blue striped fishnet that I used as my school bag. Dogman panted carrying it around his neck so I took it out. But he refused. A tug-of-war ensued between us until my notebooks and Ang Pamayanan book splattered on the ground. Dogman, apologetic, licked my soles protruding from my worn-out red Spartan slippers as I picked up my things.
He was the second dog I remember our family had. The first was Tigre, a sobriquet he earned because he had the stripes and growl of a tiger. He died of old age. Growing up, Dogman was there for me and my four brothers.
One day, Dogman did not come home. My father thought he was just in the neighborhood, found a partner, and would be home soon again. He never returned home.
Far and wide we searched for him. Far and wide he was gone. The six-year-old me cried. My father did not explain to me where Dogman went precisely because there was no explanation. My mother consoled me as I cried. For a year I mourned.
Where did Dogman go? Even the stars above my head, on nights when I would look for him in my heart, could not provide the answer.
When you're poor, your life is enriched by the relationships you forge. Mine was enriched by Dogman. In my childhood, Dogman was always present. A cuddle with him made me forget my hunger. A gentle stare from him made me forget about the harsh words said about me by other people. Once, a neighbor belittled my dream and Dogman barked at her. He made me feel OK.
When he went missing I was scarred. And scared to be attached to another dog again.
Forty years after he was gone, I still look for him from time to time. Dogman should have seen where I am now. The dreams I whispered to him when I was six have come to fruition. He was the first to know who I was — and that is still who I am now.
(For your new beginnings, e-mail me at bumbaki@yahoo.com. I am also on Twitter @bum_tenorio and Instagram @bumtenorio.)