(Left)Black and white tulle ball gown with black jet beading and black painting. (Middle)Lime green serpentine with pleated detail. (Right)Red ball gown with monochromatic red skirt and beaded top.
Frederick Peralta's life would make excellent material for Maalaala Mo Kaya. Born of humble beginnings, Peralta worked as a newspaper vendor, a jeans tailor in Binondo and helped his mother sell fish in the marketplace before realizing his dream of becoming one of Manila's most popular couturiers.
Truly a standout talent, Peralta has recently fallen into challenging times as medical concerns have left this veteran couturier in a weakened state. His industry friends have banded together to raise funds for his continuous care. Several of Peralta's runway pieces will be available for sale at the Manila Marriott Hotel on June 8, 4 p.m. to 10 p.m. (with a simple fashion show at 6 p.m.); and June 9 and 10, 10 a.m. to 8 p.m.
In his 30-plus years in the industry, Peralta garnered quite a number of awards and citations. Among them are the grand prize in the Asean Design Competition in Singapore in 1990 and the Internacional Concour des Jeunes Creatuer de Mode, Paris in 1994 where he was invited to present his collection with international designers John Louis Scherrer, Paco Rabanne, Ross Met and Ted Lapidus.
Frederick Peralta's kindness of heart and his gift for design and craftsmanship earned him the respect of many celebrities in fashion and media. Writer and LGBT-empowerment activist Melo Esguerra says, "Frederick Peralta's 'Pearl of the Orient' dress that won in Paris will forever be remembered as one of the most iconic creations in Philippine fashion history.
"Peralta has served as an inspiration to so many young designers all over the country. He is selfless in sharing his talent and expertise in design, patternmaking and construction to the wide-eyed dreamers."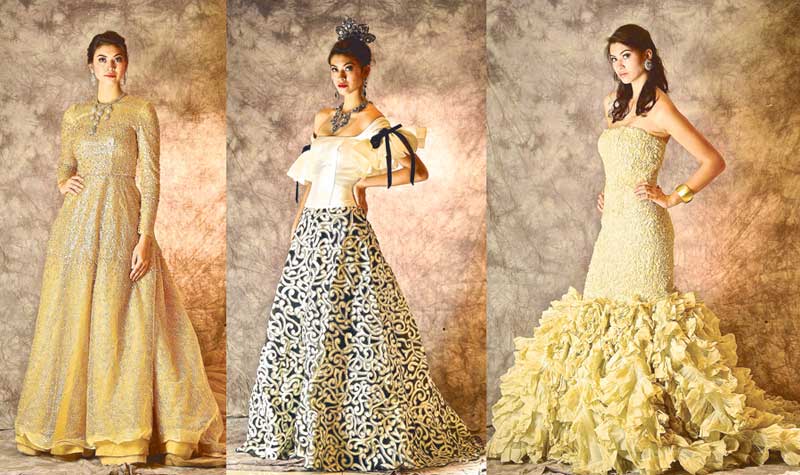 (Left)Matte gold long-sleeved gown with sequins.. (Middle)Spanish-inspired silk organza black and white gown with callado skirt detail. (Right)Strapless beige serpentine gown with ruffled organza tiers.
Fashion and Design Council of the Philippines (FDCP) member Joel Escobar shares, "I met Sir Frederick when I joined the FDCP competition many years ago. He was assigned to mentor me. He was so sweet and caring, para siyang tatay mo. He has a big heart."
PMAP model Raphael Kiefer recalls, "I remember the day I got a call to walk for a Frederick Peralta fashion show at Sofitel a long time ago. As a new model, this was what I was waiting for — my moment of validation as I finally got to walk for one of the giants in the industry. What made it more special was the fact that he was so kind that it became easy to do the job. There was no intimidation, no grandstanding and the clothes were so amazing that wearing them was a breeze."
FDCP's Len Nepomuceno Mortel recalls, "I have always admired Fred as a designer. His concepts are always new and his designs are very intricate. As a friend, I fondly call him 'Atchie' and he is one of my closest friends in the industry. Always loving and caring, never lost touch even when I moved to Thailand nine years ago."
Ramon Esteban of FDCP says, "One of Frederick's inspiring traits is he has always been very generous in giving compliments to his fellow designers. It clearly shows how much he is secure of himself, his artistry and his position in the industry. He will always be the master of dramatic couture."
FDCP's Kristel Yulo-Diaz shares, "Frederick took me under his wing years ago when I started out as a young designer. He never missed any of my shows. As a mentor, he expects you to produce your best work each and every time since he also holds himself to the same standard. As a designer, Frederick is one who has the gift to make a petite woman grand and a beautiful woman, a goddess. He is able to capture the glamour of show business and shower it into the creations that he makes for women on their special days. Anyone who will get his prized show pieces in the Marriott show will be the epicenter of the event where they wear Frederick's gowns."
Dong Omaga Diaz has this to say about his colleague: "Frederick is not only my friend and a colleague, he's my mother in the fashion industry! Thats exactly how he wanted me to treat him after I won the Lesage prize at the International Young Designers competition in Paris. It's the same competition where Frederick won the grand prize years before my turn and, indeed, that's what he is to me. My bond with Frederick is such that I would help him readily should he be in need."
Zen Zest proprietor and fashion maven Michelle Fontelera reminisces, "I've known Tito Frederick since I was eight years old. More than 30 years. I've seen his rise to fame and how he built his success. He really is very talented. One of my most memorable memories with him was joining him for a shoot in Subic when I was 10 years old. I was so amazed with his work and how fun it was to be a fashion designer. I think that his designs are world-class. He is also a very loyal friend because he still goes out with my other 'titos' from way back. He knows how to keep his friends and value them."
Former FDCP president JC Buendia says, "Frederick's heart is as big as his show-stopping ball gowns. He is everybody's 'Achi'."
* * *
Ladies who once only dreamed of having a Frederick Peralta haute couture gown will finally be able to acquire one at unbelievably reduced prices. Interested parties may call Yvette Bautista at 0966-4804601 and Marco Torres at 0917-7731020.