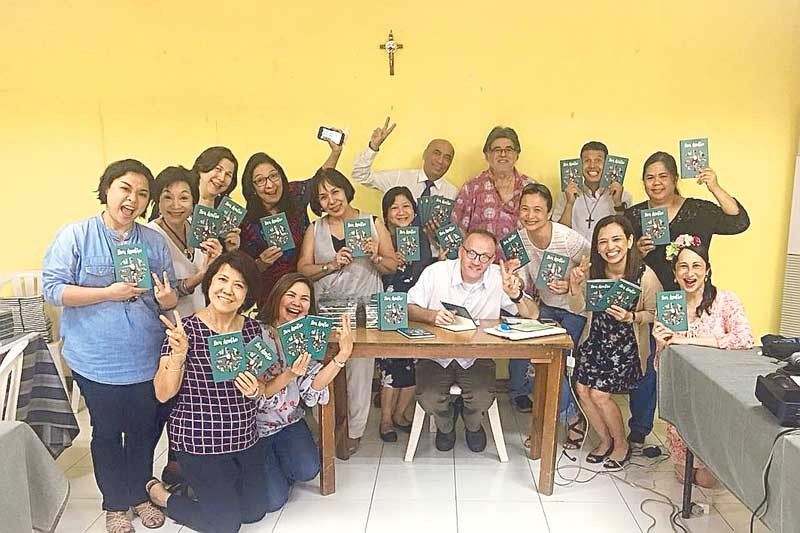 At the launch of Fr. James McTavish's book Form Apostles are SOW classmates (first row, from left) Judy Tan, Cynthia Rodriguez, Fr. James McTavish, Yvonne Romualdez, Emy Abaya and the author; (standing, from left) Tippi Reyes, Corito de Claro, Chari Veloso, Maribel Dionisio, Chickie Locsin, Joji Songalia, Raffy Rodriguez, Jay Sison, Fr. Vincent Guinoo and Marabel Viernes.
I go to "school" once a week and I enjoy it tremendously! Every Wednesday, I wake up extra early, really excited, I get all dressed up, then drive to class or carpool with my sisters. I abhor being late and am proud to say I have never been since we started our studies in School of the Word (SOW). Our bright and cheerful SOW classroom is located at Christ the King Parish Center in Green Meadows, Pasig City. My classmates are the nicest, warmest bunch of people and our team of teachers are the best!
Our head teacher is Fr. James McTavish, FMVD. He is a Scottish Catholic missionary priest and a member of the Verbum Dei Missionary Fraternity. Our very amiable Father James has bright blue eyes, a mischievous smile, was born in Scotland to a close-knit family of five, loves to play soccer and left a twin brother back home. He is a qualified medical doctor who graduated from Cambridge University in England and a surgeon specializing in pediatric plastic and reconstructive surgery. As a missionary, he did further studies in moral theology and bioethics in Rome.
So is he a doctor or a teacher? Well, he is also a prolific book writer. To date, he has authored nine books. His most recent book Form Apostles is about the late beloved founder of Verbum Dei, Fr. Jaime Bonet, who felt the call to make Jesus known to all people at the tender age of 14. In preparation for their mission, Father Jaime taught his missionaries to always keep themselves nourished with the word of God. Verbum Dei means "Word of God."
Father Jaime passed on his baton to the Verbum Dei missionaries in five continents worldwide.
In his initial dialogue with God at age 14, Jaime recalled that though his studies and sports were going very well, he wanted to be happier! So, he said to God, "If you exist, make me happier! I waited for the answer. He gave me such joy! A joy to me unknown, so exhilarating that I could not endure so much beauty, and it was increasing." At 14, he entered the seminary, and in a personal experience of dialogue with the crucified Christ, he felt the call to make our Lord known to all people, which became the heart of his vocation and the seed of the future foundation of Verbum Dei.
Last month, 10 of us SOW classmates had the privilege of accompanying our teacher, Father James, to PICC. It felt like a school field trip for us and we were excited to listen to his talk and sell the thousand booklets, which he wrote for pediatricians. When we arrived at the convention venue and saw the audience, Father James nervously said, "I wonder if Jesus was this nervous when he had to feed the crowd of 5,000." He prayed and proceeded to address 6,000 doctors who all listened intently as he shared his stories through a talk called "Wounded Healers Offering Their Lives for a Cause." His booklets were sold out.
One of the stories Father James shared was his own personal experience as a doctor.
"I studied medicine and qualified as a doctor at 24. At one moment in my life, I was doing my specialty training in Sydney, Australia. I got called to see a young man who was badly wounded. He was 26. He cut his wrist because he wanted to take his own life. I remember seeing this young man and I wondered. He had money, lived in a beautiful city, in a land of milk and honey where everything was provided yet he had no desire to live.
"We operated on him from midnight till 8 a.m. It was a difficult operation. I went to see him after and still he looked so sad. I told him, 'The worst is over! You will still be able to use your hand.' He looked so unhappy. He said, 'You fixed my hand but you didn't fix my life'."
Baffled, Father James brought this incident to prayer in adoration. "I really spoke to Jesus, man to man, about this boy who was still so unhappy."
"The gospel that day was about the fullness of life…And during that moment of adoration, I felt Jesus looking straight at me. It's not enough just to treat the external wounds. As a plastic surgeon, I had enjoyed my career so much, trying to reconstruct various wounds but Jesus, the Good Doctor, asked me to reconstruct his people. Now, I would like to ask you a question. How is Jesus asking you to give your own life in the world of today?"
Our Blessed Mother was a big influence in the life of the young doctor. While studying, he prayed for her intercession. He even promised that if she were to grant his specific request, he would commit to serve as a volunteer in Lourdes. He did pass with flying colors. But he forgot all about his promise to her. One day, he saw a sign that said doctors were needed in Lourdes. This time, he remembered and promptly obeyed her.
A month later, he received an invitation to attend School of the Word run by Verbum Dei, Australia. Five months later after attending a retreat, he experienced a deep yearning to become a missionary priest. So, he joined the Verbum Dei Missionary Fraternity. Here in the Philippines, where he has been assigned for the past 15 years, he continues to inspire many people to become good disciples of Jesus.
The fruit of our studies in School of the Word is a life-changing joy like no other. In John 10:10, Jesus said, "I came so that you may have life and have it more abundantly." Thanks to Father James and his team of Verbum Dei missionary priests, Fr. Felipe Vas Pardal, Fr. Vic Caritos, Fr. Iwao Ikegami and Fr. Vincent Guinoo who are good shepherds to our flock of sheep. We always leave the classroom feeling energized. They taught us that when we pray, we talk to God. And whenever we read His word, that is when God speaks to us. We are happily learning to pray with the word of God, to listen to Him and go into deep loving dialogs with Him.
School of the Word classes are ongoing from 9 a.m. to 11 a.m. If you wish to enroll, tuition is free. Let's SOW together every Wednesday.
* * *
(Would love to hear from you at miladayjewels@yahoo.com. If you wish to purchase a copy of Form Apostles, call Shayne at 890-6303 or 0922-8986749. All proceeds will go to the funding of Verbum Dei missionaries worldwide.)