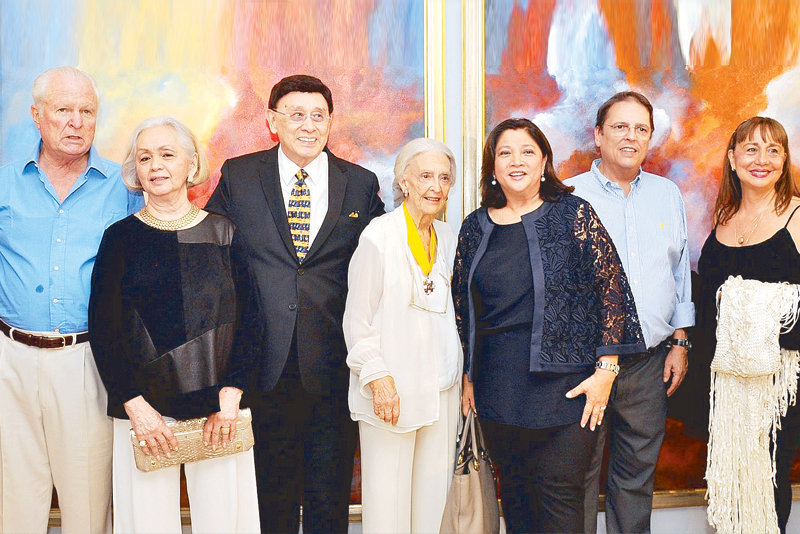 (From left) Alejandro Padilla, Nene Quimson, your columnist, Spanish painter Betsy Westendorp, Maricris Floirendo Brias, Tony Brias and Mayte Brias.
A celebration of art & life
"A true artist is not one who is inspired, but one who inspires others." — Salvador Dali
In celebration of her 90th birthday, well-loved Spanish painter Betsy Westendorp recently launched an eponymous two-volume coffee table book at the Metropolitan Museum of Manila recently.
With Spanish Ambassador Luis Calvo as guest of honor and some of Betsy's family and friends from the business sector, the launch of Betsy Westendorp was a lively gathering filled with people who came in droves to celebrate her stunning art and colorful life.
Betsy's book is a true retrospective of her lifetime's work — captivating portraits of heads of state and royals, to family and friends, as well as her trademark romantic landscapes and sunsets. It also showcases her enduring love for both Madrid and Manila.
Congratulations for a successful book launch, dear Betsy!
(Copies of the two-volume coffee table book titled Betsy Westendorp will soon be available for sale at the De La Salle University Publishing House and museums in Metro Manila.)
Greetings
Happy birthday to our celebrators today, Rosie Coyiuto, former President Fidel V. Ramos, singer Joey Albert and Sandy Prieto Romualdez.
Advance birthday greetings to Liza del Rosario-de Jesus, Carmen "Kimi" Cojuangco, Josine Elizalde, CADP boss Pedro Roxas, Josephine del Gallego and Alexis Rebano, March 19; The Philippines Yearbook's Grace Glory Go and Judith Agustin, March 20; Vivian Yuchengco and Bambina Buenaventura, March 21; culinary expert and restaurateur Margarita Fores and Anya Katigbak Cajucom, March 22; "Handkerchief Queen" Julie Shing, Loling Panlilio, Snooky Taylor and Co Ban Kiat Hardware vice president for IT and logistics Wesley Cobankiat, March 23; Carlos "Linggoy" Araneta, March 24.
Happy wedding anniversary to Ernest and Josie Rufino, March 23. May you share many, many more wondrous years together.
So, how was your week?
(For comments and inquiries, please e-mail me at jjlitton@indanet.com.)