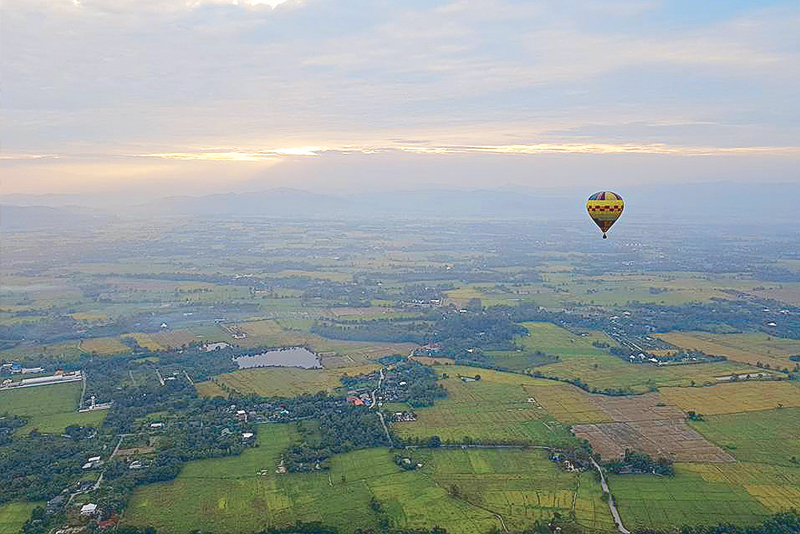 (The Philippine Star) - February 18, 2018 - 12:00am
There's a new kind of high that is being experienced now in Thailand. And quite literally, in Chiang Mai, you go up in the air, some 1,000 meters above the ground, on a hot-air balloon. Boom — silence erupts in mid-air! Serenity embraces you like a lover who never wants to let you go. You surrender to the quiescence. Enthralled.
Around you, as you comfortably move around the basket, is a day made fresh by the soft rays of the morning sun. The friendly wind makes love to your skin. Refreshing. Below are verdant patches of green. Chiang Mai's agricultural lands look like a giant mural in many shades of green.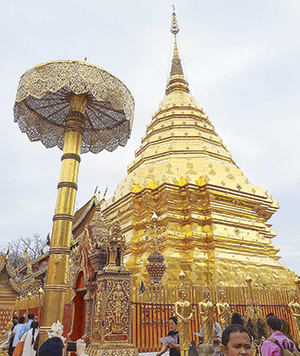 Inside the Doi Suthep Temple in Chiang Mai.
The scenery of Chiang Mai is calming at one turn, exhilarating the next. And the scent of the morning in mid-air is intoxicating, inspiring, liberating. That moment, you experience a new kind of high in Thailand.
Truth is, Thailand offers a new kind of high to its visitors with Tourism Authority of Thailand's (TAT's) newly introduced marketing concept "Open to the New Shades of Thailand." The "Amazing Thailand" brand is still in place but this time, it is supported by the powerful narratives called "The Million Shades of Thailand."
In the coming months, TAT will step up to give greater prominence to unique local experiences of Thailand in the world stage. These unique experiences are luxe in nature — tailored to fit the discriminating taste of guests to the Land of Smiles.
TAT emphasizes that new and exciting experiences are what "Open to the New Shades of Thailand" is all about. Even its partner airline, Thai Airways — recipient of three 2017 Skytrax Awards: World's Best Economy Class, World's Best Economy on Board Catering, and World's Best Airline Spa Facilities — is excited to bring the people of the world to the Land of Smiles, which, because of TAT's new marketing campaign, is also touted now as the Land of Luxury.
Luxurious trips are rolled out to be enjoyed by the discriminating visitors of Thailand. And luxury is spelled first by indulging in the spicy food finds.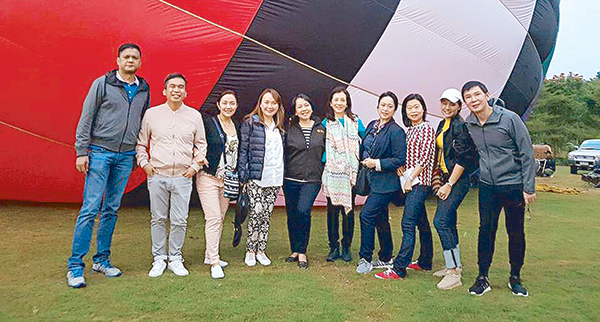 Ready to ride the hot-air balloon are (from left) Thai Airways GM Polapat Neung, the author, Bangge Mabanta, Lyn Pesuena, Malu Duen?as, Liaa Bautista, Olivia Limpe-Aw, Tourism Authority of Thailand's Wipaporn Waleesajjakarn, Booky Kamonwan and Richard Tiu.
A breakfast, lunch or dinner at Anantara Chiang Mai, Shangri-La Chiang Mai, The Whole Earth restaurant, Rabieng Na Maerim restaurant, Tulou Chinese Restaurant in Chiang Mai will surely bring gastronomic delight to a gourmand or a man with ordinary taste buds. (Thai Airways general manager Polapat Neung gave me a personal tour where we found good shopping bargains and sumptuous food hunts around Chiang Mai.)
A luxury trip to Chiang Mai also means feeding and bathing the elephants. For example, at the Thai Elephant Care Center in Chiang Mai, animal-loving people are in for a treat because the center is not a zoo (where animals are caged) but a sanctuary (where elephants roam around in a fertile land that measures several hectares with its own mountain, grazing area and river). Every elephant at the sanctuary has its own mahout. A mahout is a caretaker who serves as the elephant's friend, brother, parent, even lover.
I was a "mahout" for a day when I decided to feed Khum Muean, a 69-year-old elephant, with the grass I myself grinded at the sanctuary. I took it a notch higher when I helped bring Khum Muean to Maesa River to bathe him. Armed with a wooden bucket and a plastic brush, I gave the elephant his morning bath. Unknown to Khum Muean, I was doubly enjoying the experience. With sand I gathered at the river floor, I scrubbed the elephant's tusks. Elephants, in general, have sad eyes but I thought I saw a smile in Khum Muean's eyes that morning. His long tusks are solid ivory — smooth and aristocratic.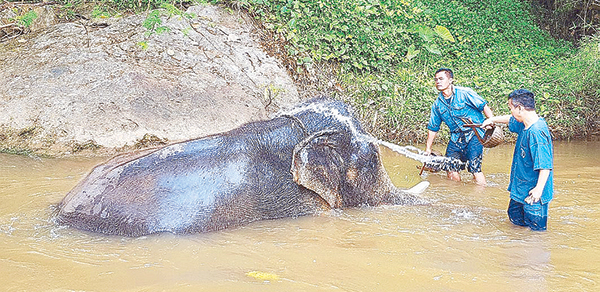 The author helping a mahout bathe an elephant at the Thai Elephant Care Center.
And if you think there's nothing aristocratic about making something out of the poo of the elephants, think again. Or think poo-sitive! Chiang Mai's latest tourist destination is the Elephant Poopoopaper Park, an initiative that supports the World Wildlife Fund for Nature. The park is an eco-friendly, naturally built, outdoor museum that focuses on introducing and explaining the unique steps involved in making the world-famous paper products from elephant poop fibers.
Thailand is also known for its therapeutic spas and massages. Perhaps one of the most luxurious massages you'll ever indulge yourself into can be had at the paradisiacal Jirung Health Village in Chiang Mai.
A treat to the senses, too, is the Orchid Garden of Chiang Mai, where the rarest varieties of orchids are in full bloom. Lovers of orchids will simply get lost in ecstasy adoring all the blooms.
Orchids, the country's national flower, always make their presence anywhere you go in Thailand, including in the Doi Suthep Temple in Chiang Mai, believed to be founded in 1383.
TAT says the whole of Thailand is ready with its "million shades" that mirror its culture in the food and hotels, even in the smiles of its people.
Chiang Mai proves that life is a beautiful journey — on a hot-air balloon, in a spa in the middle of a heritage hotel, in the teeming shopping market, in the billowing smoke of joy sticks in a temple, in the spice and tang and sweetness of Thai food.
You leave Chiang Mai feeling high.
(TAT can be reached at www.tourism thailand.org or e-mail tatsin@tat.or.th. Thai Airways has 14 weekly flights between Manila and Bangkok. For more information, call 580-8424 or e-mail rsvn.mnl@thaiairways.com.)
(E-mail me at bumbaki@yahoo.com.Have a blessed Sunday!)