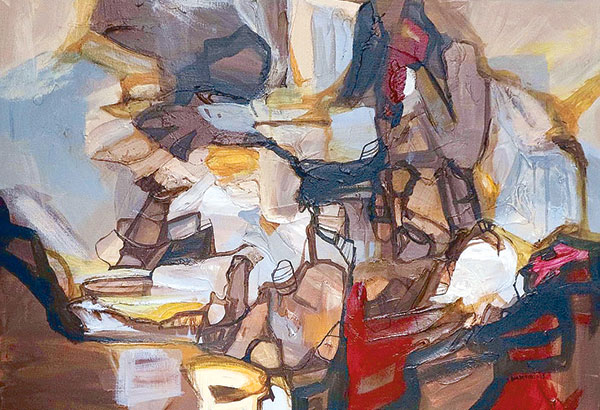 Anvil by Andre Baldovino.
Welcome the new year with Temper & Gratitude
(The Philippine Star) - December 31, 2017 - 12:00am
Every artist is a grateful being. His or her artistry is in itself a canvas of gratitude, splayed with the colors of experiences, enhanced by the lines of limitations that are always defined in the artist's world, and intensified by the strokes of life, good or bad.
Every artist demonstrates his or her temper when at work. Even the artist's inactivity is a temper in itself. Passion, urge, dedication, rage, kindness, humor, benevolence — all these and more define the artist's temper as he or she translates it onto the canvas.
Temper and gratitude are two abstract and symbolic topics that are clearly depicted in the works of artists Andre Baldovino and Charisse Valientes Cayaban who, on separate shows, will welcome the New Year with their respective solo exhibit.
Andre's one-man exhibit titled Temper will have a reception on Jan. 4 (though it already opened on Dec. 30) at the ArtistSpace of Ayala Museum in Makati City.
Charisse's solo show opening on Jan. 16, on the other hand, is titled Gratitude at the Sining Art Gallery of UP Los Baños.
Andre's Temper
Andre, 32, can marry peace and chaos on one canvas, even in one stroke. No wonder, for his first ever solo show, his collection of nine paintings in acrylic is titled Temper. It is perhaps the same "temper" that he unleashed when he decided to pursue Fine Arts (major in Painting) in UP Diliman after finishing Political Science at the Ateneo de Manila University. He has joined many group exhibits.
His impasto celebrates a texture that is heightened by triumph and defeat as he manifests in Anvil, where his style of abstract expressionism is displayed. Anvil (acrylic, 76 cm. x 101.5 cm.) seems to follow a narrative of obedience and defiance, of submission and noncompliance, of juxtaposing values that are tempered or hammered only by the artist's soul. Andre's brushstrokes are playful at times, meandering even; but there is always that palpable stroke or feeling of being subversive. Indeed, that is Temper.
Andre's childhood was exposed to the arts. "I always wanted to go into the visual arts because I looked up to my lolo, Dick Baldovino, who was a photographer, and Uncle Peping, a painter. I admired how they could make a living from their creativity," he says. National Artist Jose Joya is the brother of his lola Josie Joya Baldovino. "I grew up in his house filled with paintings and I grew up studying his art book collection."
In Titanium (acrylic, 122 cm. x 91.5 cm.), placid is the mood at first glance, what with calming teals and snippets of blue. Grays are muted in their expanse, rendering solid quiescence. But an impending intimidation seems to lurk around the artwork. That's the genius that is Andre Baldovino — he will keep you at ease but he will never allow you to keep yourself unguarded.
Temper is running high until Jan. 14 at the ArtistSpace of Ayala Museum in Makati City. Call Ayala Museum at 759-8288 for more information.
Charisse's Gratitude
A grateful heart is a heart in action.
A budding artist named Charisse Valientes Cayaban is mounting her first one-woman art exhibit not only to display her talent but also to show the kindness of her heart. Her exhibit titled Gratitude is a vehicle to raise funds for her beloved uncle who is fighting cancer.
Gratitude, with 15 artworks on exhibit, will open on Jan. 16 at the Sining Makiling Gallery of UP Los Baños in Los Baños, Laguna. The gallery is under the aegis of the university's Office for Initiatives in Culture and the Arts (OICA), whose director, Prof. Jerry R. Yapo, is gaining ground as a purveyor of the arts in a campus known for its sciences.
Charisse, 19, is a third year Fine Arts student at the University of the Philippines in Baguio. Her uncle, UPLB economics professor Rodge Valientes, was diagnosed with colon cancer in June 2017.
"Gratitude is my own little way of saying no one deserves to have cancer. It is also my way of showing support for my Tito Rodge," says Charisse, who has also participated in many joint exhibits. All proceeds of Gratitude will go to the chemo treatment and medical expenses of Charisse's Tito Rodge. (You may also visit gogetfunding.com/togetherforsirrodge.)
Charisse gathers her artworks, which she painted in 2017, and made a collection now dubbed as Gratitude. In her artworks are the pleas of an expressionist's heart, and prayers of an impressionist's will. In between is a world of abstraction deftly translated into the canvas through the genius of Charisse.
Her Fix You (oil, 29 in. x 29 in.) seems to be an anime rendition of the classic theme of Mother and Child. In what appears to be a flight from a plight, a sense tenderness still prevails. Despite the haplessness of the scene, Charisse, in Fix You, paints the platitude that hope springs eternal — "as long as there is the element of love, caring, understanding."
Her Summer at the Beach (oil, 16 in. x 20 in.) is a consoling breeze of optimism. Even the sun is white, or is it just smudged with the presence of the billowy clouds? Either way, Summer at the Beach is a warm prelude to happier, sunnier days to come.
Charisse's Cha (oil, 15 in. x 20 in.) is a wide-eyed realization about the joys and uncertainties of life. You stare at Cha and it evades you. Mystery unfolds. You gaze at it still and get drawn to the anima of the lady in the painting. You get a glimpse of her triumphs and tribulations but you will never fully understand the girl. But she seems to remain grateful.
A dose of Gratitude will run from Jan. 16 to 31 at the Sining Makiling Gallery of UP Los Baños. E-mail OICA at jryapo@up.edu.ph for more information.
(E-mail me at bumbaki@yahoo.com. Happy New Year!)