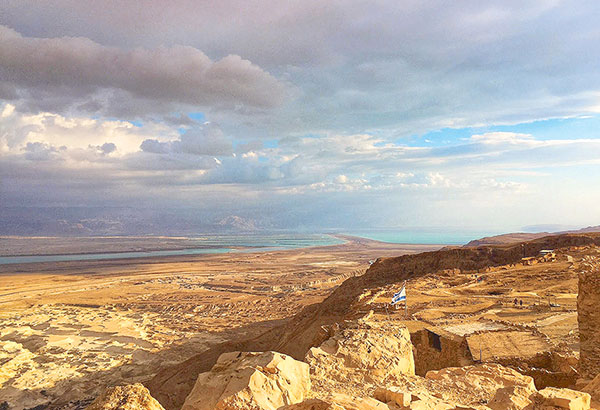 A view of the Dead Sea from the ancient palatial fortress of Masada.
MANILA, Philippines — There is a unique energy that embraces Israel, a country overflowing with culture, history and diversity.
As one sets foot in Israel — situated at the eastern end of the Mediterranean Sea — one can hear its heartbeat like a hypnotic incantation that seeps into the soul and lingers in the mind. Magical is this country that even after one who has embarked on a journey to Israel is already somewhere else, say, in a chaotic urban jungle, one is still often visited by the vivid memory of the magnificent treasures of the country.
What's more fascinating about this country, which is home to eight million people, is that the thousands of years of history it cradles impeccably intertwine with modern-day life. This is evident in many forms including architecture, fashion and art. It is also important to note that this land of living history is the birthplace of many technological innovations like the traffic navigation app, Waze, and today's office staple, the USB flash drive.
Millions of tourists, including Filipinos, flock to this country known for its world-renowned attractions and sacred destinations. In fact, in the recent report by the Israel Ministry of Tourism, there was a record-breaking 62-percent increase in Filipino tourists who traveled to Israel this year. Many Filipinos visit Israel because, aside from being visa-free for Filipinos, it is important for them to take the journey to the land associated with Christ's life, death and resurrection.
Jerusalem
Beyond its successful religious tourism, Israel also boasts a thriving art scene, cultural hubs and vibrant nightlife. In Jerusalem, which is probably the most visited site in Israel because of its Old City, one can marvel in the 50-year-old Artists Colony, a complex of artists' and designers' workshops and galleries at the foot of the Old City's Jaffa Gate. Here, traditional and antique crafts stand harmoniously alongside modern and contemporary art.
Also in Jerusalem, one can find the bustling Mahane Yehuda Market. In this marketplace, one can find herbs, spices, traditional snacks like falafel, bourekas (puff pastry) and rugelach, halva (a crumbly confection made of tahini or sesame paste) and a bounty of freshly squeezed pomegranate juice.
When one visits Mahane Yehuda Market, one gets ready to be stuffed with delightful treats as vendors are generous in giving out samples of food items that they sell! (This gesture is telling of Israeli culture — Israelis, in general, love to share.) Also, in this marketplace, standing alongside the authentic and traditional stalls are jewelry stores, souvenir shops, bars, restaurants and even microbreweries — a hit with the younger set of locals and tourists alike.
Masada & the Dead Sea
It is easy to fall in love with Israel as it reveals itself as a majestic portrait of nature. Just more than an hour's drive from Jerusalem, through the Judean Desert, is the Dead Sea, known to be the lowest place on earth. But before basking under the sun or having a mud treatment on the Dead Sea, it is a must to visit the ruins of the ancient desert fortress in the sky — Masada, a UNESCO World Heritage Site. One can only imagine how lavish this fortress/winter palace was back in the day of King Herod the Great. Today, the ruins of Masada add to the magnificence of the breathtaking, picture-perfect vistas of the Dead Sea and the Judean Desert.
As Masada is 1,500 feet from the level of the Dead Sea, one may take an hour-long hike (depending on one's pace) or a three-minute, $8-cable car ride to get to the top.
Tel Aviv
Yes, Israel is a country with stunning natural wonders. But one must not skip the vibrant city of Tel Aviv, Israel's cultural, commercial and financial center located on the country's Mediterranean coastline.
In the southern part of Tel Aviv sits the charming ancient port city of Jaffa, which is related to the biblical narrative of Jonah and the Whale. This picturesque area is considered the oldest part of Tel Aviv. It is known for its restored buildings, antique shops and its famed Old City, which is a culture hub for many contemporary artists, jewelry makers/designers and thespians. Facing the Mediterranean Sea is the Old Jaffa Port lined with quaint restaurants and bars, a perfect spot to have coffee while watching the sunset.
Aside from Jaffa, Tel Aviv has more than 70 neighborhoods with different characters. There's the popular tree-lined Rothschild Boulevard along the city's fashion, commercial and financial centers. Some of the city's most popular night spots and restaurants are also found along this iconic boulevard.
Tel Aviv's appeal comes from what is evident, a pattern that is also noticeable anywhere one goes in Israel: the past co-exists with the present. One example is how the 1930s Bauhaus buildings line the city's landscape together with the restored and more modern structures within the city. Traditional art and contemporary art are showcased through exhibitions and street markets like the 29-year-old Nahalat Binyamin Arts and Crafts Fair, where one can admire the impeccable works of artisans.
As one embarks on a journey back to one's homeland, there is always a lingering memory of Israel's magnificent treasures. Its awe-inspiring attractions and spellbinding natural beauty give birth to a profound force that brings one to genuflect before the splendor of God's creations.
(For more information, call the Israel Ministry of Tourism at 883-9550, e-mail Marketing-ph@goisrael.gov.il or visit www.goisrael.com.)