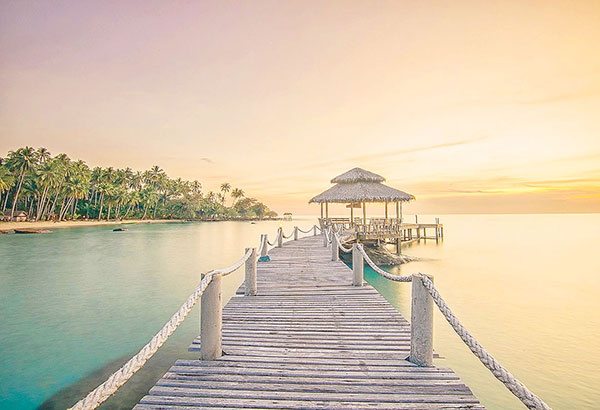 MANILA, Philippines — What a way to live a dream.
Filipinos who love to travel can now discover a new kind of adventure, one that brings together high living and the high seas with Genting Dream by Dream Cruises.
A pacesetter in the industry and the newest cruise line to venture into the Southeast Asian market, Dream Cruises delights Filipino travelers by offering inspirational experiences of luxury, which are Asian at heart and international in spirit.
In the past decades, Singapore has transformed into a thriving hub and dynamic destination, which caters to all sorts of travelers — luxury jet-setters, explorers, adventurers and casual backpackers — and it's easily accessible by all airlines and national carriers. This is what makes Singapore the perfect home and port for the cruise liner.
"We are truly excited to deploy Genting Dream in Singapore, a popular and well-developed travel hub for Filipinos and other Asians in the region," said Dream Cruises president Thatcher Brown. "Through this new home port, we hope to give Filipinos more convenient access to our cruise tours and be their guides as they explore the most exciting corners of the world. We are pleased to support the Philippines' steadfast commitment to the tourism industry, as we cater to a growing number of sophisticated Filipino, Singaporean and broader Asian Pacific fly-cruise vacationers."
Starting this December, Filipinos can now book the ultimate worry-free getaway as they can now fly and cruise from Genting Dream's newest homeport in Singapore.
Now, for as low as $898 per person, you can avail yourself of a complete "Fly & Cruise" package, including a hassle-free round-trip airfare from Manila-Singapore-Manila via Philippine Airlines flight on Economy "U" Class, luxurious five nights on board the ship with inside stateroom accommodations, and round-trip land transfers, inclusive of airline and cruise taxes. This promo is valid until Dec. 31.
To make it more enticing, jetsetters and discerning travelers can experience the comfort of lavish travel at half the price as the ship also offers a whopping 50-percent introductory promo, alongside a special Quad promo, which gives you bigger, better deals on other Genting Dream five- and two-night packages with itineraries covering Straits of Malacca, the Java Sea to Surabaya and North Bali, and High Seas Cruises.
Get ready to indulge in the comfort of authentic Asian hospitality and the finest experiences from around the world.
Cruising in style
The Genting Dream is a floating, integrated resort that's designed in a bespoke fashion for the Asian market. Built in Germany last year, the ship boasts over 1,600 regal staterooms, which feature private balconies, a theater, spa and pools, and other venues for fun activities.
For extended families and groups, the ship provides 100 connecting rooms, ensuring that you get to spend as much time together with your fellow cruise-mates. Also, two floors of lavish suites in the exclusive Dream Mansion will feature European butler service and special guest privileges, allowing you to indulge in the ultimate, stress-free vacation.
To enjoy the full adventure out at sea, try the Waterslide Park, the mini-golf course, the rock climbing wall, the Crystal Life Asian Spa and other fun activities hosted on board. Once you've revved up your appetite, you can head to the numerous dining spots like the Red Lion, Blue Lagoon, Crystal Life Cuisine, the Lido and many more.
Fun at sea
On the massive cruise ship, discover a slew of activities that's aimed to delight the kids and the kids at heart.
Swim like a mermaid, go on a space camp under the night skies, and even meet a real-life NASA astronaut. Children can explore their creativity and unleash their talents in performing with the new "Little Dreamers" program, which features the first Faber-Castell Art Workshop at Sea and the Reach for the Stars junior talent show.
To cap a truly sparkling holiday, families and guests can also experience Fireworks at Sea.
Adults at play
While the kids have fun, the adults are free to relax and lounge. For soothing afternoons, head to the Crystal Life health and wellness facilities, which offer the largest Asian reflexology spa at sea. Indulge in some retail therapy with cruise ship's dedicated shopping avenue that stretches over 1,100 square meters with all duty-free shops!
For something more adrenaline-pumping, the Genting Dream also boasts a six-slide waterpark, and a ropes course with "far-out" zip line for families and group team building activities.
Chill by the poolside or the seaside, or even at the bar-side of the world's first Johnnie Walker House and the world's first Penfolds flagship Wine Vault at sea. Delight as well in the sumptuous buffet and multi-course meals prepared by celebrity chef Mark Best at his restaurant.
Discover the new definition of "luxury traveling" with Dream Cruises.
(For inquiries, call Dream Cruises at 836-6080 or e-mail salesmanila@gentinghk.com.)