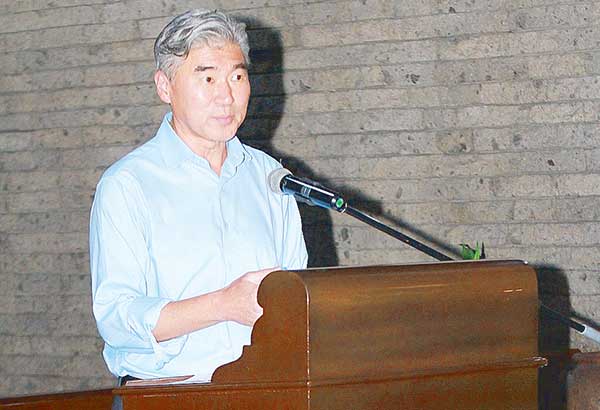 US Ambassador Sung Kim welcomes the Filipino Young Leaders Program (FYLPRO) delegates.
Outstanding young Fil-Ams visit the Phl
(The Philippine Star) - October 14, 2017 - 4:00pm
The 2017 delegates of the Filipino Young Leaders Program (FYLPRO) were in the Philippines for a week-long immersion program to give them a better perspective of the country of their heritage by interacting with government leaders, business executives, social entrepreneurs and innovators in various sectors.
We give credit to former Ambassador to Washington Joey Cuisia, in cooperation with the Ayala Foundation, for the excellent idea he started five years ago in selecting 10 outstanding young professionals from Filipino communities across the US. The program gives them access to a wide network of captains of industry and government who can provide the young professionals with valuable insights that would be useful in their respective advocacies.
This year, the 10 young selected delegates — Marjorie Baltazar, Amanda Bernardo, Ryan Dalusag, Ireneo Reus III, Eric John David, Tyler Dos Santos-Tam, Rebecca Elmore, Christal Simanski, Ryann Tanap and Ray Villanueva — were hosted by US Ambassador Sung Kim to a cocktail reception at the official residence of the American diplomat in Makati City.
I had an opportunity to interact with these young men and women through a short Q&A session during their visit to the Department of Foreign Affairs. They wanted to know what we will focus on as ambassador to Washington. Of course, we will work to ensure that the relationship between the US and the Philippines will stay on an even keel and keep it strong and stable.
They asked questions about the implications of US President Donald Trump's visit to Asia and the Philippines, the economy, investment prospects in both countries and other issues. However, what resonated the most is the question on what would make Filipinos unite.
While Filipinos may disagree on so many things, it is during the most difficult times — like the onslaught of Super Typhoon Yolanda — that we see them uniting and working together. The deadly natural disaster awakened the spirit of bayanihan among Filipinos all over the world who pitched in to help the victims — and this is something that we would like to encourage among Filipinos, young and old alike, wherever they may be. - Photos by Ramon Joseph J. Ruiz