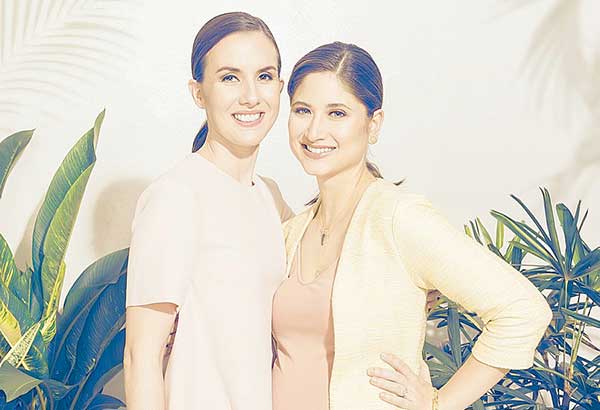 Sofia Borromeo and Xandra Rocha-Araneta.
MANILA, Philippines — Sofia Borromeo, with her Filipino bespoke brand Sofie B, and TV host and blogger Xandra Rocha-Araneta forged a union for their love of fashion with the latest local collaboration aptly called Sofie y Xandra.
When asked who the Sofie y Xandra woman is, Xandra said, "Both Sofie and I are very low-key dressers, so we wanted the line to be 'no-fuss' wardrobe staples that can take you from day to night. Something you throw on without having to think about because you know you always look good in it."
The RTW collection is stylish, versatile and proudly Filipino made.
According to Xandra, her favorites in the collection include the transitional Olivia top, which "moves beautifully and flatters every body type." Then there's the best-selling wide-legged Chloe pants, with gentle pleating that "dances" as you walk. Xandra's pants idea was beautiful executed by Sofie.
"Sofie came up with the perfect pattern to produce pants that look flattering on ladies with a more petite frame and those with fuller thighs and curves!"
While the current designs only come in sizes small to large, Sofie y Xandra accepts special custom orders for larger frames. In fact, the inception of designs came about during Xandra's pregnancy. She confessed, "I thought about spots that I wanted to hide or highlight to result in a clean, flattering look."
We can only expect more must-have staples from Sophie y Xandra.
(Visit Sofie B showroom at Fairways Tower in Bonifacio Global City. Taguig. For more information, visit @sofieyxandra on Instagram.)