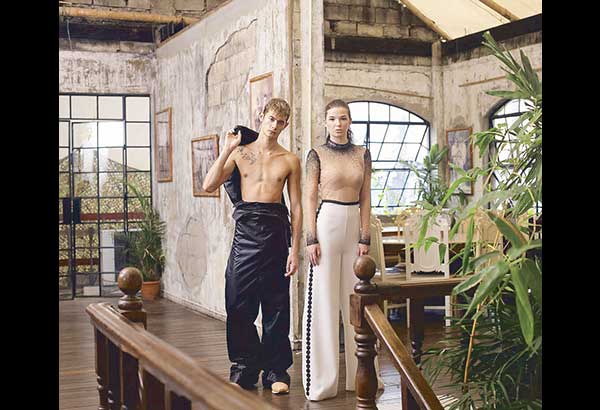 The movies in Rhett's mind
Philippine fashion is on a roll as the "ber" months unfold.
The recently concluded successful fairs like ArteFino and MaArte took to the spotlight artisanal creations, some of the country's seasoned designers and retail brands. Now, taking the stage to present the latest trendsetting and forecasting styles is Bench Fashion Week, which is slated from Sept. 7 to 10, at The Playground, Bench Tower, Bonifacio Global City, Taguig.
Included in this season's roster of curated list of presenters is notable designer Rhett Eala. After making waves at the season of pageantry with his iconic fringe gowns, Eala took a hiatus. While on a much-needed break, he found inspiration from something close to his heart — the world of cinema.
Period films have always captivated the fancy of the brilliant designer as the beauty of history and costumes tickles his imagination. "I am mostly in love with the art direction and the costumes. And the history and tragedies. The colors and ceremony of dressing up. And the effect on people's perception and emotions," he said.
Cinematic masterpieces such as Sofia Coppola's Marie Antoinette, Akira Kurasawa's Last Samurai, Wong Kar-wai's 2046 and In the Mood for Love are just some of Eala's favorite films that brought fascinating ideas for his latest collection.
Rethinking costumes into modern-day wear, he transforms these into current pieces by using urban silhouettes. For women's wear, dresses, gowns, jumpsuits and tiered ball skirts are practically reinterpreted for today's wardrobe. Defined by function and form, Eala's latest stylized menswear showcases up-to-date robes, kimonos, jumpsuits, wide-leg pants, knit shirts and cropped jackets.
Eala's latest collection is a "cinematography" of contemporary earth tones with inserts of pink. "Color plays an integral role as it sets the mood, tone, emotions and feel in film and more so in fashion," he said. Adding textural and voluminous appeal are yards of taffeta, silk chiffon, linen, tulle, crepe and nylon silk organza. The art of detailing remains a constant in his pieces. Adding depth of style to his modern design is outstanding hand work as seen on painting, embroidery and beadworks.
The overall look that Eala will present on Sept. 9, Saturday, at the Bench Fashion Week is a cinematic statement of wearable fashion. It has a sense of the unstructured and easy, which is what the now of dressing is all about.
"There is a certain realness in cinema that can be realized in fashion. Whether aspirational, inspirational or entertainment, the truth about film is that it's a reflection of time, culture and life in general," Eala concludes.
Photography by Jo Ann Bitagcol • Creative direction and styling by Luis Espiritu Jr. • Makeup and hairstyling by Baba Parma • Models: Briana (IM Agency)
and Jonathan Jackson (Mercator) • Clothes by Rhett Eala and men's mules by Zarah Juan • Shot at the Ruins, Poblacion, Makati City.