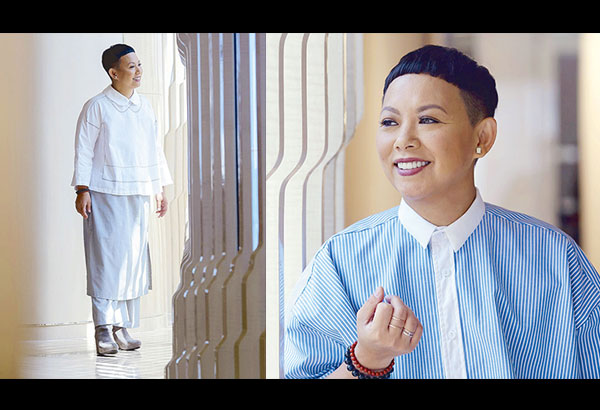 Rita Nazareno: Funny Girl
MANILA, Philippines - Life has brought Rita Nazareno to many journeys — from the safe haven of the limelight, down to more perilous roads. Wherever she went though, this spirited woman always had but one question: Where's the fun in that?
During the shoot, Rita, cheerful and bubbly, went around playing with a yoyo. But while she confesses to forever being part child, her story tells you that she is strong, beautiful, unconquerable.
If career were the measure, Rita had paid her dues in gold. And she has the hardware to show for it. Rita was living the life of a successful TV producer in the US, where she worked as the creative services director of the NBC-affiliate in Houston and senior producer at Fox 11 in Los Angeles. There, she received a string of recognitions for her work, culminating with an Emmy for Good Day L.A. in 2005. (The Emmy now sits on a mantle in her mother Vicky's home.)
Not long after that victory, she got a call that would change her life. "I got a call from my mother, who was the only one actively involved in the business from her generation, telling me 'Pagod na ako (I'm tired), it's your turn, come back and help me…'" she shares. And almost immediately, she said yes.
"Staying in the US had always been an option but I chose to come back anyway. It wasn't all obligation though, a big part of it was upholding my grandmother's legacy, and of course, continuing the work that my mother had done as well," says Rita. So after taking a year off and pursuing her master's in Design Management at the London College of Fashion, Rita found herself back home.
As the creative director of S.C. Vizcarra, Rita became involved in marketing and infusing new ideas for the home-grown brand founded by her grandmother Segundina in 1925, which has made a name for itself by utilizing the art of weaving in luxury handbags and home accessories. Later on, Rita would start her own line Zacarias 1925, a more modern sister to the original S.C. Vizcarra that showcases Rita's modern and quirky designs.
To many, winning an Emmy could easily be the pinnacle of success. But to Rita, the honor is in being able to work with the fine craftsmen and artisans in their workshops. "They are incredible, unbelievable. I am yet to come up with a design that they couldn't execute and weave into life," she exclaims. These artisans and workers, and the work they do together — they are the highest point of Rita's career, the Holy Grail of her creativity.
Still, life wasn't all roses for this fun-loving, yoyo-twirling designer. For somewhere along the road, breast cancer happened. "That was a different experience, to say the least!" she says with a shrug.
But never one to despair, Rita just soldiered on. "Looking back, it seems like my life has always been in fast-forward mode. That's why I'm just always trying to find the 'funny' in everything. There are dark days, definitely, but then you also find the 'funny in that'," she explains.
Eventually, she won that battle, and through it all, she was fun.
After all, Rita is her own Funny Girl.
Photography by JO ANN BITAGCOL • Creative direction by Luis Espiritu Jr. • Makeup by SARI CAMPOS for MAKE UP FOR EVER • Hairstyling by HYATT LAUREL • Fashion styling by BANG MARTINEZ • Jewelry by Miladay Jewels • Striped top by Joey Samson • Shot on location at the PRESIDENTIAL SUITE of Conrad Manila