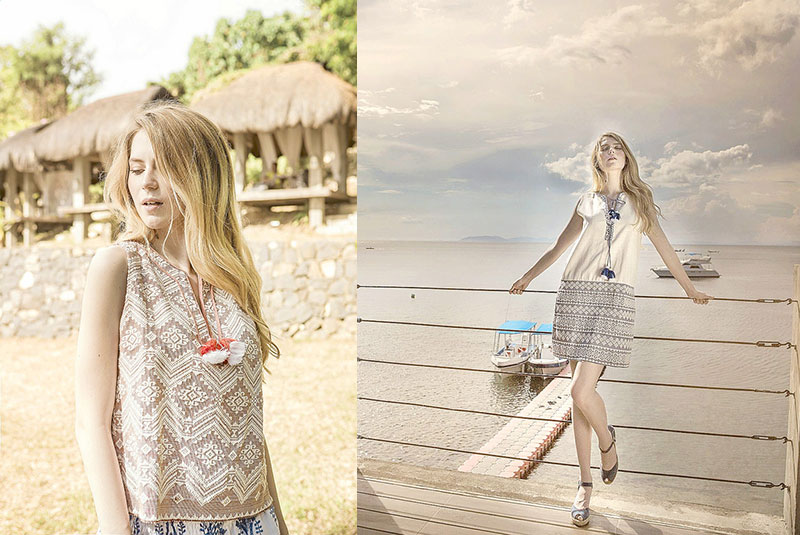 Orange woven top with tassels (left) and blue and white woven dress both by Mich Araullo.
Memories of our youth are so precious and as we age with grace we recall these things fondly. More often than not, the things we like and probably already have are reflections of our childhood, which have made an impact on our lives. From our home to things and to the company we keep, our memory puts a smile on our faces. For some, they revive their youth fashioned through endless possibilities, making the past present and into their future.
Lanai successfully opened its doors in cosmopolitan Manila in July 2016 with a distinct lifestyle concept. From the triumvirate of tastemakers of Maria Parsons, Bianca and Natalia Zobel, a new cult of chic has sprung and created a relatively fresh genre in concept stores. Inspired by things the trio love and grew up with, Lanai brings the past to present by presenting modern forms in classic elegance, which they now call "new nostalgia."
This discerning space called Lanai is an amazing tapestry of fashion, home decor and blooms. It captivates the city's purveyors of style in an arresting collage of beauty in its various incantations. It channels the uniqueness of eclecticism, the curated decorative ornaments, sculptural pieces de resistance, forward fashion, special gifts, masterpiece flower arrangements and gastronomic offerings. All these are reflections of the trio's lifestyle sensibilities as they promote the art of gracious living.
In fashion, Lanai is a fusion of global finds and more importantly a platform in showcasing Filipino designers. Furthermore, it values the preservation of local culture and tradition by keeping the arts alive. Weaving, embroideries and various handcrafted materials are modernized through contemporary RTW. Part of Lanai's focal identity and direction is promoting indigenous materials and textiles, supporting sustainable livelihood communities and pushing promising Filipino designers.
This house of style has become a relevant platform for fashion and design. Under its defining aesthetics, Lanai houses a good mix of the seasoned and local retail brands on the rise. Its well-edited roster of local designers and home finds include Filip+Inna, Natalya Lagdameo, Amarie, Linea Etnika, Kassa, Ken Samudio, Hey Jow, Merriam Battara, Great Women, Aranae, E. Murio, Mich Araullo, Mamasan, Lollipop, Peachtree and My Domesticity.
In less than a year, Lanai has gained a reputable cult following of style setters, fashion insiders, designers and under-the-radar personalities. Moreover, it has become a medium to promote design and style expositions. It celebrates the Filipino artisan and encourages the elevation of local fashion. It is a visionary channel that animates the concept of loving local and making it global.
(Lanai is located at Unit C4, Building C, Karrivin Plaza, 2316 Chino Roces Extension, Makati City or visit www.Lanai-Manila.com.)
Photography by Mau Aguasin • Creative direction and styling by Luis Espiritu Jr. • Makeup and hairstyling by Baba Parma • Associate stylists Bang Martinez and Diane Lasam • Model by Mavina of Elite • Shot on location at Aiyanar Beach and Dive Resort (www.aiyanar.com) • Special thanks to Tessa Neri and Patrice Ramos Diaz