The stunning & exquisite that is Bulgari
-
Johnny Litton
(The Philippine Star) - November 23, 2014 - 12:00am
A gathering of leading personalities from the metro's elite circles recently took place at the relaunch of Bulgari's newly renovated flagship store in Greenbelt 4, Makati City.
Guest of honor and special guest of Rustan Group of Companies chairman emeritus, Ambassador Bienvenido Tantoco Sr., was Italian Ambassador Massimo Roscigno, who gave the opening remarks during the grand affair.
Also present were Bulgari High Jewelry senior marketing director Giampaolo Della Croce and regional managing director for Asia Pacific Wei Ling Wong. Both top Bulgari executives were warmly welcomed to the event by the hardworking Bulgari Philippines team led by country manager Mario Katigbak.
Among the many highlights of the evening was the opportunity of the guests to see the luxury brand's latest pieces from its elegant collections — the MVSA High Jewelry, the new DIVA and the LVCEA watch set. The festivities continued at the nearby Ayala Museum, which was transformed into a majestic venue, giving homage to the brand's Roman heritage as the image of the iconic Bulgari Via Condotti store was the main backdrop to the elevated white platform with four Roman pillars.
Accompanied by the 30-piece String Minstrels Orchestra, renowned theater actress Monique Wilson added sparkle to the affair by impressing the guests with her performance. A gastronomic feast was prepared by Makati Shangri-La Manila's executive chef Paul Lenz and executive pastry chef Romain Renard, with five food stations serving a selection of hot and cold dishes, dessert-and-drink pairings inspired by the gems or precious metals used by the luxury brand — ruby, pearl, quartz, jade and pink gold.
Congratulations to the entire Bulgari team for this splendid affair!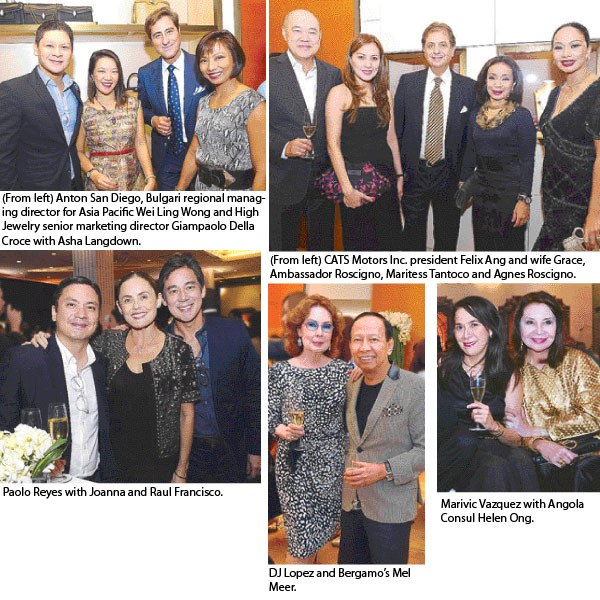 GREETINGS
Advance birthday greetings to Rose Orbigo and Felipe Salvosa II, Nov. 24; Sharon Azanza and Basil Ong, Nov. 25; Belinda Litton and Antonio Cojuangco, Nov. 26; STAR president and CEO Miguel Belmonte and Guatemala Consul Mellie Ablaza, Nov. 27; golf enthusiast Alex Prieto, Nov. 28; Gilberto Duavit, Nov. 29.
So, how was your week?
(For comments and inquiries, please e-mail me at jjlitton@indanet.com.)