FCCP: 35 years & counting
-
Johnny Litton
(The Philippine Star) - November 9, 2014 - 12:00am
The vibrant colors of Asia took center stage at the Main Lounge of the Manila Polo Club in Makati City as the Friends for Cultural Concerns of the Philippines Inc. (FCCP), headed by president Cristina Galang-Caedo, celebrated its 35th year with an Asian-themed ball.
Dubbed "Celebrate Asia," the noteworthy event featured the remarkable presentations of the cultural dances of Japan, Indonesia, Thailand, China and India. One other highlight of the night was the awarding of plaques of appreciation to the organization's charter members for their "sincere commitment and dedication for the advancement of the beautiful heritage of Philippine art and culture."
The lovely evening ended with everyone trooping to the dance floor and showing off their amazing moves.
Congratulations to Cristina Galang-Caedo and team for organizing this momentous affair! More power to the entire FCCP organization!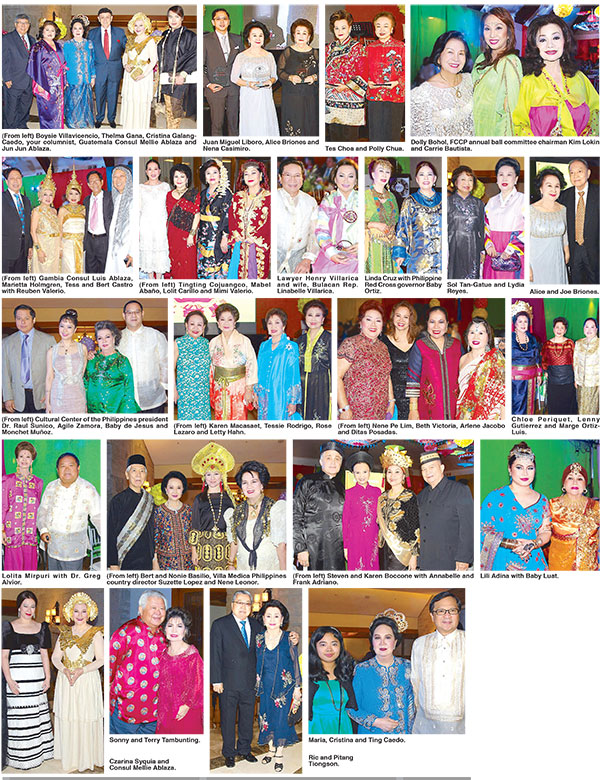 GREETINGS
Happy birthday to our celebrators today, Nympha Valencia.
Advance birthday greetings to AA Patawaran, Nov. 10; Vice President Jejomar Binay, actress Janice de Belen, Arnel Manganti and Letty Jacinto Lopez, Nov. 11; Renna Hechanova Angeles and Sugar Leaf's Angelo Songco, Nov. 12; Noel "Toti" Cariño, Nov. 13; Doris Magsaysay-Ho, Wedding Connections' Pam Rebano and Mila Magsaysay-Valenzuela, Nov. 14; Amelia del Rosario-Aquino, Teddy Locsin Jr., Snapshots' Christine Litton and Gerard Ramos, Nov. 15.
So, how was your week?
(For comments and inquiries, please e-mail me at jjlitton@indanet.com.)