The very first time we met furniture designer Milo Naval in 2009, we knew he was special. After one afternoon of browsing through his brilliant designs at OMO, his furniture showroom at LRI Building on Reposo St., Makati City, there was so much more he wanted to share with us. He had just arrived from the beautiful province of Sorsogon when he met up with us and with infectious excitement, he invited us to sit at his table. As we admired the warm, modern touches of our surroundings, my colleague and I realized there was even more to the man than his successful furniture company.
On his camera he had captured the serene beauty of Sorsogon reflected by forested mountains, centuries-old trees growing by the coastline, the bountiful sea, beaches, lakes, waterfalls and springs. "One day I would love to spend more time there," he told us as he pointed longingly at the picturesque scenes. He was seated right across us but somehow we felt his soul was already in Sorsogon. Little did we know this chance meeting was just a prelude to many blessed surprises that Milo was to create for us to enjoy in the years to come.
In December 2011, he surprised our Healing Servants Foundation by designing and producing the most playful pieces of furniture made of colored pencils for a Christmas exhibition. Believing in his heart that education is the cure for poverty, Milo donated the proceeds of these unique and colorful pieces to the education of underprivileged children at the Divine Healer Academy, our pet project, a mission school in Sorsogon — the source of his inspiration.
This time, he whispered that he was already "designing his dream." He did not divulge of it yet but he said: "Soon, I will invite all of you."
In February 2014, our Servants team was in Sorsogon to host a students' retreat and Milo invited us to dinner. It was a cool evening after some rain and the air was invigorating. We arrived in a lush tropical coconut grove full of giant fern trees in Sitio San Lorenzo in Bibincahan, Sorsogon. We walked into a tropical contemporary structure that led us to an open sala looking out into a pool surrounded by forested gardens. There were the statement furniture pieces of Milo I had admired — low wooden dining tables made of slabs from fallen trees and comfortable rounded stools padded with woven rattan and leather. Slatted sliding doors opened up lots of cross ventilation. Wide low loungers and ottomans provided lots of family bonding space.
"Welcome to Siama Hotel," Milo gently hushed to us. His pretty wife Kat and adorable daughter Alex were there to welcome us, too.
Over a delightful dinner of clam soup, chicken caldereta with pili, laing, kare-kare, sweet buco juice and guinatan, Kat shared that the hotel was named after her beloved grandfather, Lolo Siama. "The 30-room hotel and all the furniture pieces were designed entirely by my husband Milo," Kat said.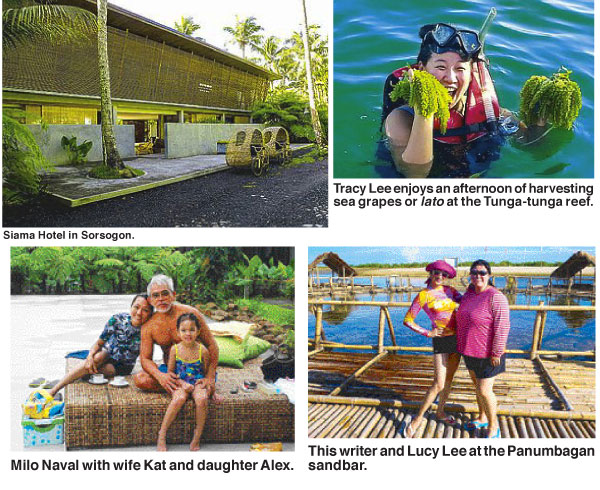 Milo also designed a unique outdoor garden spa on stilts in Siama. The spa is fenced by towering bamboo where one can enjoy a hilot massage under the stars.
For love of the province, not only did Milo open up a lovely hotel but he also became Sorsogon's tourism director. This position, which he so generously volunteered for, was spawned by his genuine concern for the people and a driving passion for Sorsogon, the hometown of his beloved wife.
Last month, our Servants team was back in Sorsogon to host a teachers' recollection when we received a text invite to a seaweed lunch. We took our sweet time that day not knowing what we had said yes to. We drove to a coastal town called Pilar. It was a scenic drive that took a little over an hour from Siama hotel. Milo stopped at the port area. Bewildered we disembarked from the van not seeing any restaurant. Instead we were led to a shaded banca for an exhilarating ride on the ocean. Twenty minutes later, relaxed by the fresh sea breeze, we caught sight of our destination. Was I dreaming? I had to remove my sunglasses! We were approaching a sandbar peeping out of shallow aquamarine waters in the middle of the sea.
By this vast five-kilometer Panumbagan sandbar, a floating facility of covered huts made of bamboo and anahaw creatively designed by Milo awaited us. We alighted from the boat like children, darting from one hut to the other, peering at the shallow waters where schools of starfishes, little fish and hermit crabs swam peacefully about. And in one of the huts we found our seafood lunch. Laid out on banana leaves were honey-chili ginger crabs, shrimps in coconut milk, steamed rice and grilled fish. We feasted on freshly harvested sea grapes or crunchy lato with a refreshing dip made of sweet crunchy Indian mangoes, diced white onions, in a mixture of calamansi juice, brown sugar and vinegar. For dessert, the sugary mangoes and melt-in-your-mouth milky suman were a perfectly delicious combination.
Our memorable boating trip included a visit to Tunga-tunga reef for snorkeling and fish feeding, lato harvesting and bird watching. Back in Siama for an evening swim under the dazzling moonlight, we recounted how much we enjoyed and thanked Milo profusely for the total experience that again caught us by surprise.
From Siama hotel, Milo continues to scour the province for exciting destinations to share. His hotel is also an answer to the need for deluxe accommodations in Sorsogon, where visitors can live comfortably while visiting the many scenic sights of the province. Milo graciously treats hotel guests like visitors in his own home. And yes, he will be very happy to arrange a sandbar picnic for your family, too.
(Would love to hear from you at miladayjewels@yahoo.com.)