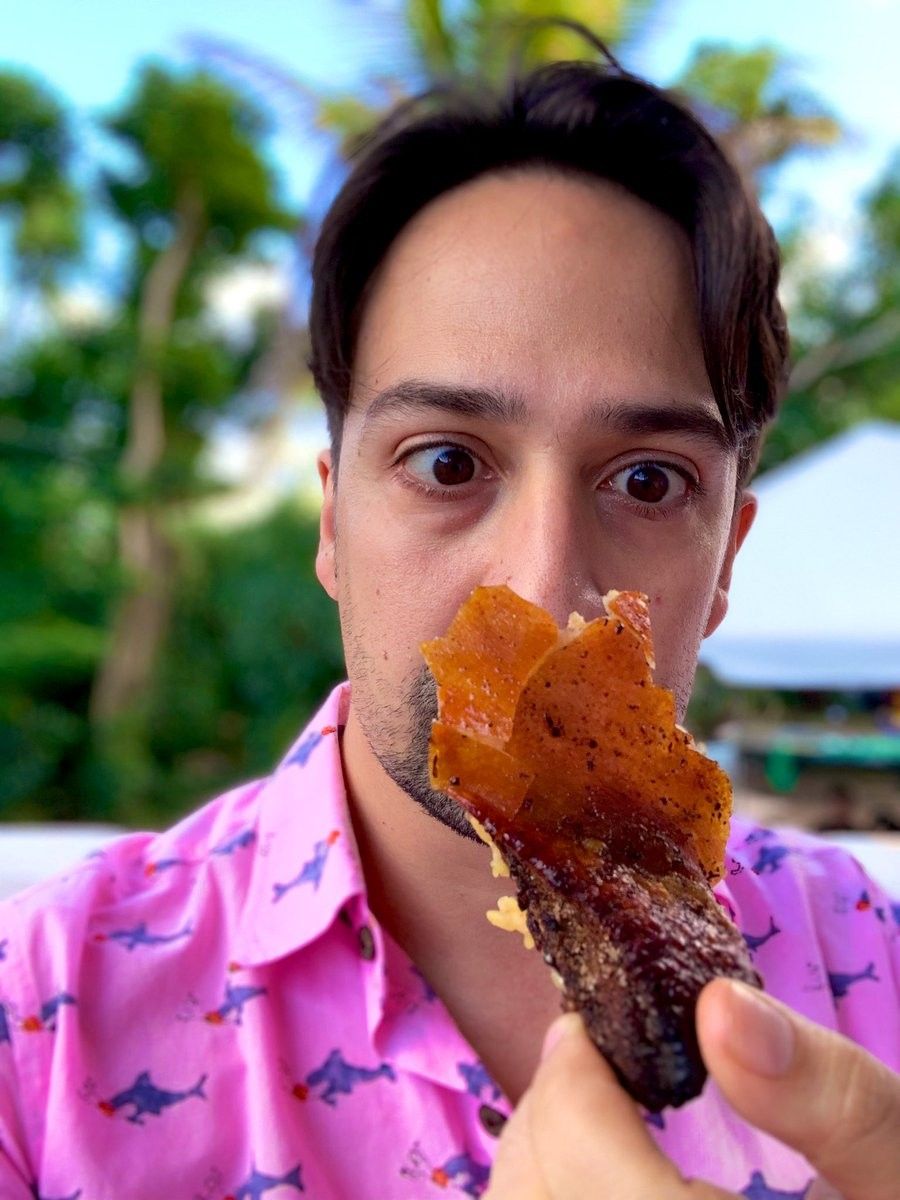 The 'Hamilton' star shows his love for lechon skin
Lin-Manuel Miranda's Twitter account
'Hamilton' star Lin-Manuel Miranda shows off 'crispiest part of lechon' on Twitter
MANILA, Philippines — New York-born Puerto Rican actor, writer and creator of hit-broadway musical "Hamilton" Lin-Manuel Miranda showed off the "crispiest part of lechon" on his Twitter account on Wednesday.

The crispiest part of the lechón ???? pic.twitter.com/Ua8K4NuLzM

— Lin-Manuel Miranda (@Lin_Manuel) January 1, 2019
Lechon is a whole roasted pig, often served at parties and festivals in Spain, Latin America, including Caribbean countries like the Dominican Republic and Puerto Rico, as well as in the Philippines.
Philippine Lechon is THE Best Lin ! Have you tried it?

— Christine Babao (@ChristineBBabao) January 1, 2019
The tweet got over 13,000 likes and 600 retweets.

While it's likely Miranda was showing off the Puerto Rican dish, TV personality Christine Bersola Babao replied to the photo, "Philippine Lechon is THE best Lin! Have you tried it?"

Miranda is in Puerto Rico reprising his role as Alexander Hamilton for a two week run of "Hamilton," to raise funds for arts organizations in Puerto Rico.
The show is still one of the hottest tickets on broadway in New York City, USA, and generated an estimated $1.9 million (P100 million) a week in its debut run, according to the New York Times.
There are also productions currently playing in San Francisco, London, Chicago and is also on tour in the United States.
After the hurricane devastated the American territory in 2017, Miranda released "Almost Like Praying", a collaboration song with other Latino superstars like Jennifer Lopez, Mark Anthony and Luis Fonsi, among others.

Miranda has raised millions since releasing the song for the island's relief efforts.
Aside from lechon, the Hamilton star shared photos of other Puerto Rican dishes he's been eating since coming to the island, where he is preparing for the show's debut night on January 12.
In this photo, Miranda shows off Puerto Rican pastry Pan Sobao:
Look kids, a pan sobao eating another pan sobao pic.twitter.com/RZKu0vNwrI

— Lin-Manuel Miranda (@Lin_Manuel) January 2, 2019

Here he's having a Limber de Parcha or a Puerto Rican icee:
Limber de Parcha ???? pic.twitter.com/p7qSMRY8tw

— Lin-Manuel Miranda (@Lin_Manuel) January 1, 2019
This one is Alcapurria, a local fritter dish:
Alcapurria ???? pic.twitter.com/4OPxiOPEQy

— Lin-Manuel Miranda (@Lin_Manuel) January 1, 2019

The lechon skin in Miranda's photo may be from Puerto Rico, but the multi-awarded actor is no stranger to Filipino culture.
He sent Filipino Twitter into a frenzy in 2017, when he posted a photo with Filipina singer Rachelle Anne Go, who is currently in the London's West End production of "Hamilton", using Filipino slang words.
In the tweet, he called Go Lea Salonga's "beshie"— and called Salonga "mamsh" and "hi dood pare."
Hey mamsh @MsLeaSalonga your besh says hi dood pare pic.twitter.com/tPFf2ug0nl

— Lin-Manuel Miranda (@Lin_Manuel) November 28, 2017

And during the original run of Hamilton in 2015, Miranda guested Salonga to sing "A Whole New World" with her in an episode of "Ham4Ham", a mini-show where some cast members would entertain theatregoers waiting in line for the lottery for a chance to watch "Hamilton."
During that performance, Salonga surprised Miranda and sang him a Taglish song he wrote for his Filipina ex-girlfriend, who happened to be a friend of Salonga's.

In 2016, when Ham4Ham and the ticket lottery went online, Miranda did a Taglish version of the "Taglish" Commandments, a parody of song "The Ten Duel Commandments" from Hamilton.
Miranda has been nominated for five Tony Awards and won three times for Best Original Score for In the Heights, Best Book of a Musical and Best Original Score for Hamilton.
Miranda is also in "Mary Poppins Returns" playing the role of Jack alongside British actress Emily Blunt, who stars in the film playing the title role of Mary Poppins. The film has already been released in the United States and is expected to be released in the Philippines after the Metro Manila Film Festival.