Group mulls creation of 'underground tunnels' vs intense EDSA floods
October 11, 2023 | 5:24pm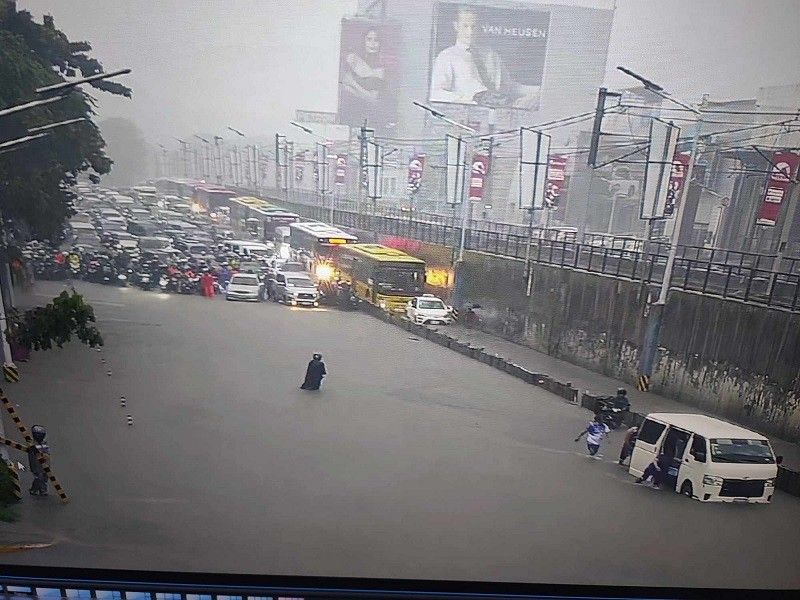 MANILA, Philippines — A coalition supported by business and civil organizations once again enjoined the government to consider the construction of "underground storm drainage tunnels" as a permanent solution to Metro Manila floods, particularly along EDSA.
This was the call of the Green EDSA Movement (GEM) as flooding in major national roads continue to cause "severe and costly disruption to the economy and all other sectors of society."
"It is common knowledge that the topography of certain key sections of EDSA, particularly at the intersections of Ortigas Avenue and Boni Serrano Avenue where Camp Crame and Aguinaldo are located, is depressed and are large natural basins of flood water," said GEM in a statement.
"It is apparent that the storm gravity drains are incapable of draining the large volume of rain water after strong downpours and the lakes that form become impassable to motor vehicles, including public buses."
"As a consequence, kilometric vehicular pile ips occur with traffic at a standstill."
A section of EDSA Camp Aguinaldo Northbound became viral online last September 23 as knee-deep flood waters rendered vehicles immobile.
Eduardo Yap, chairperson of the Management Association of the Philippines' infrastructure committee, earlier suggested said underground drainage tunnels as a "doable" and long-term fix for the problem. Yap also serves as the founding convenor of GEM.
The coalition endorsed the aforementioned as a possible engineering solution to the Department of Public Works and Highways (DPWH) and Metro Manila Development Authority (MMDA), stating that it will only cause "minimal disturbance to traffic" as construction work will primarily be done underground.
Said tunnels, they said, could be extended to the nearest available creek or large impounding lagoons such as in the Wack Wack Holf course and Camp Aguinaldo, regardless of distance.
"Typical drainage methods tried before are not suitable for EDSA as their construction will need a large area that will cause intolerable disruption during its long construction period, while the required right of way will not be available," continued GEM.
"These unsuitable flood control methods include sub-surface covered drainage culverts as in Buendia Avenue and the section of EDSA between Taft Avenue and Roxas Boulevard; and large underground stormwater catchment similar to the one at Maysilo rotunda in Mandaluyong."
A similar deep tunnel sewerage system is said to be up and running in Singapore by the end of 2026, a project that has been more than 20 years in the making.