EDSA floods captured as rains paralyzed major roads
September 23, 2023 | 4:29pm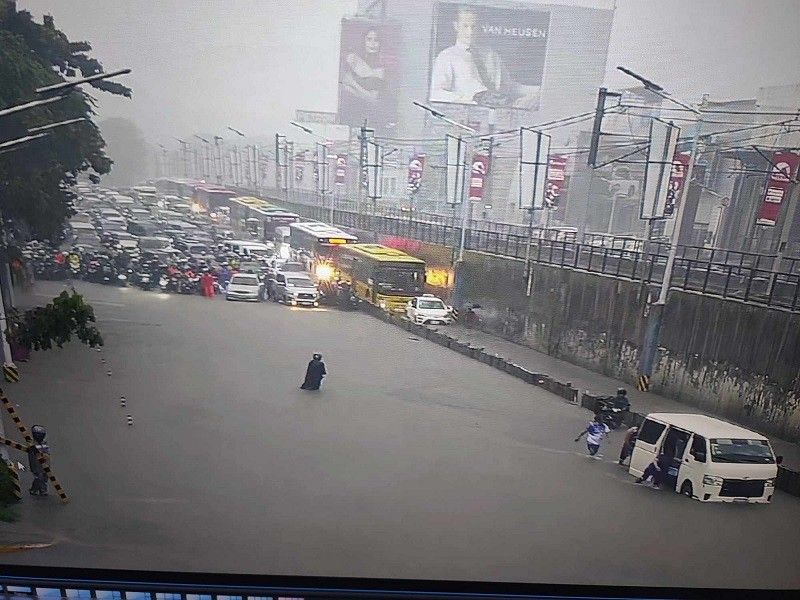 MANILA, Philippines — Various roads around Metro Manila were left unpassable due to a heavy downpour of rain on Saturday afternoon, leaving swarms of vehicles immobile on one side in front of a pool of water.
A photo which gained significant attention was that of EDSA Camp Aguinaldo Northbound, with floods reaching knee-deep high, making it unpassable to light vehicles at around 1:54 p.m.
A taxi cab could also be seen plying dedicated EDSA Carousel lane, effectively blocking buses. The original photo of the area at around 12:20 p.m. garned over 6,500 reactions and over 5,000 shares.
The floods eventually subsided in one of the National Capital Region's busiest roads at around 2:17 p.m.
However, flooding persists in the following areas and shows no signs of subsiding:
East Ave (National Kidney Inst.) as of 1:25 p.m. - 13" (half tire)
Edsa Centris NB as of 1:20 p.m. - 10"(half knee)
Espana dela Fuente as of 1:20 p.m. - 12" (half tire)
Espana Vicente Cruz as of 1:07 p.m. - 8"(gutter)
España - Antipolo as of 12:33 p.m. - 6" (half gutter)
España - Dela Fuente as of 12:33 p.m. - 8" (gutter)
Two low pressure areas are currently inside the Philippine area of responsibility on Saturday, resulting in scattered rains althroughout the archipelago. The southwest monsoon is also currently bringing rains in the country.
One LPA was monitored 125 kilometers west of Iba, Zambales today while another was found 85 kilometers northeast of Infanta, Quezon, said PAGASA in a livestream at around 5 a.m.
"Fortunately, it's unlikely that the two would intensify into tropical cyclones," according to DOST-PAGASA Weather Specialist Aldczar D. Aurelio in Filipino. — James Relativo