Marcos expects drop in rice prices as harvest season starts
September 23, 2023 | 6:06pm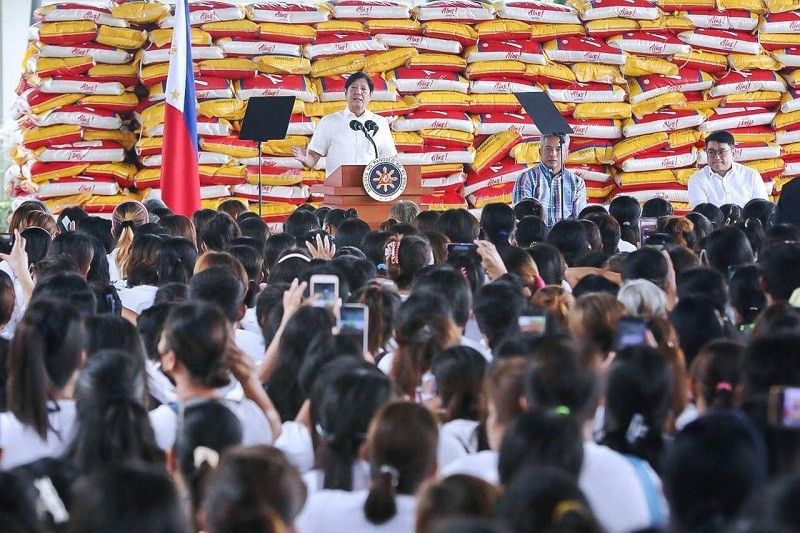 MANILA, Philippines — President Ferdinand Maros Jr. and the Department of Agriculture expect an improved palay harvest for the remainder of 2023, a development that could potentially lead to a significant drop in rice prices.
Marcos, currently standing as DA secretary, reported this to the public in a rice distribution event in Iriga City, Camarines Sur on Saturday.
"The Department of Agriculture says that our yield would right now would be higher than it was before, that's why in the production side things will be better," said Marcos Jr. in Filipino.
"I think, when harvest time comes... we will see a drop in prices... Market forces. Maybe if the market prices go down we could lessen the controls that we recently put in place."
The government earlier mandated a P41 per kilo and a P45 per kilo price ceiling for regular milled rice and well-milled rice as prices skyrocketed in the market.
This prompted the Department of Social Welfare and Development to provide aid to small traders affected by the cap on prices.
The already controlled prices, however, are still very far from his earlier campaign promise of driving rice prices to P20 per kilo.
The president reiterated his optimism to reduce the price of rice to P20 this year even if his colleagues in the DA earlier said that it would be unlikely to be achieved in two years.
For the meantime, the said price cap and cash aid to rice retailers would have to stay while the government is setting up a new palay buying price range for the National Food Authority to help farmers and secure inventory.
The United States Department of Agriculture (USDA) earlier this month projected that Philippine rice importation will teach 3.8 million metric tons during the marketing year of 2023-2024, making the agricultural country the world's top importer of said good.
Marcos on Friday distributed around 1,200 sacks of rice to beneficiaries of Pantawid Pamilyang Pilipino Program (4Ps) beneficiaries in General Trias, Cavite.