DMW assures OFWs affected by Kuwait ban: All will be deployed eventually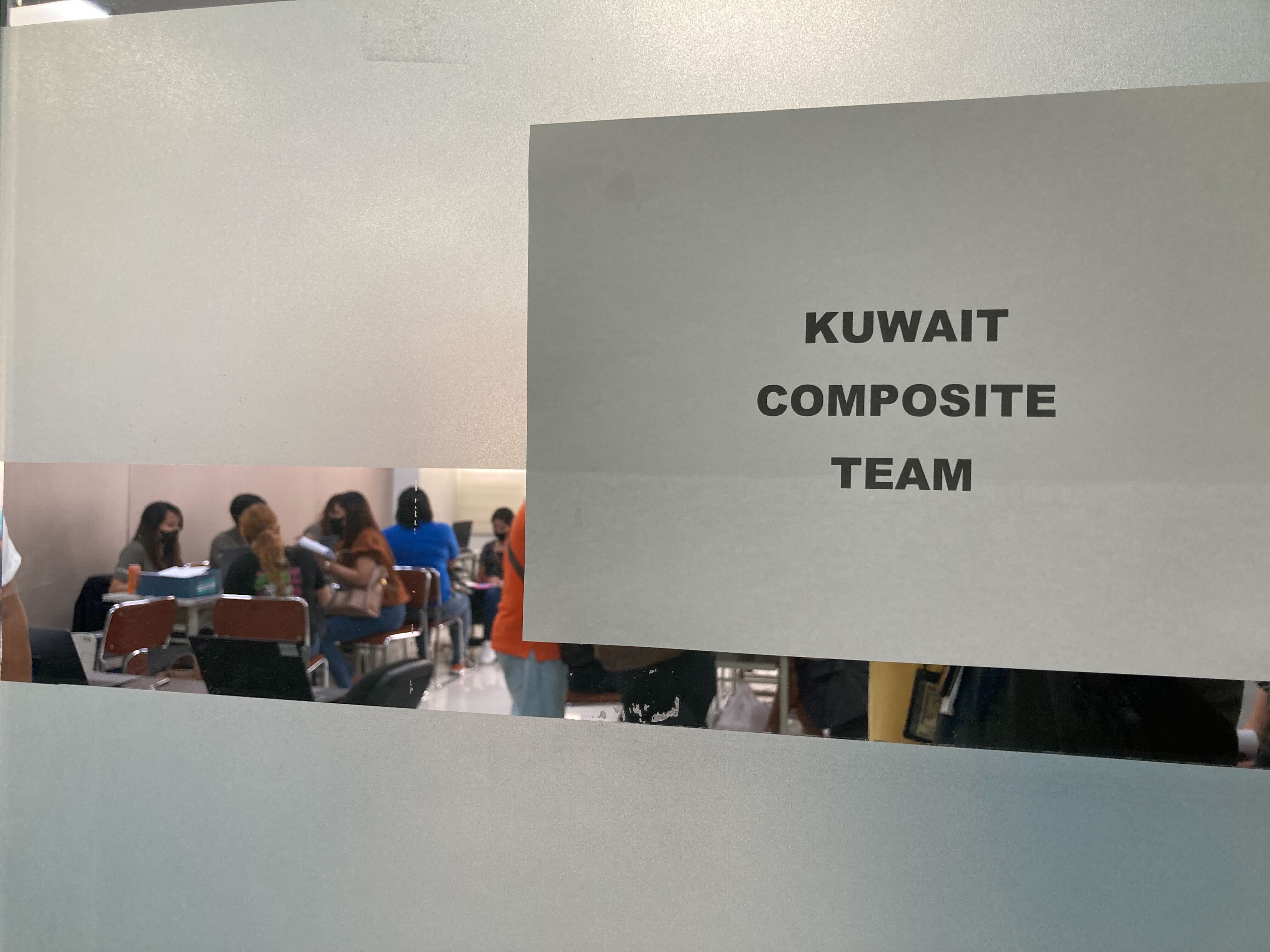 MANILA, Philippines — The Department of Migrant Workers said all overseas Filipino workers whose deployments were affected by Kuwait's entry ban will get help finding jobs in the Philippines or in another country.
The government's job-matching program for 815 OFWs was in full swing on Thursday, over two weeks after news of the Kuwaiti visa suspension broke.The first batch of 32 OFWs was given P30,000 in assistance and had their job placement processing was done soon after.
"The recruitment industry and partner recruitment agencies have welcomed them and many have signified that they are willing to take our workers so that means no one will be left behind, no one will lose anything," DMW Assistance Secretary for Licensing and Adjudication Francisco Ron de Guzman said in Filipino during a briefing.
"This is all temporary. What we've been saying is this is just a slight delay, much like having a delayed flight. They will all be deployed eventually."
RELATED: OFWs affected by Kuwait visa suspension to receive gov't aid
Since many of the OFWs' documents — such as their medical exams and their passports — are still valid, workers would only have to process a new visa for another country. The DMW said most recruitment agencies are open to shouldering the cost that may be incurred to process new documents..
The DMW first gave way to the OFWs' respective recruitment agencies to step in, in case they have existing job orders that would fit the worker's skills. However, OFWs are free to switch agencies if they prefer other opportunities.
The department has also been reaching out to OFWs who already have their Overseas Employment Certificate but were affected by the entry ban.
Some OFWs also said they are waiting for notification from the company that recruited them to see if they can be relocated to a branch in a different country.
Lost time and money
While OFWs at the briefing noted the Philippine government was quick to provide assistance, many said they still felt lost and scared. Getting the proper documents as well as requirements needed for their supposed work in Kuwait took weeks or months to complete and cost thousands of pesos to secure.
"When I found out about the suspension, I just felt depressed. I did not expect that to happen at all because I was expecting that I can already be deployed, I'm just thinking of what I can do for my family," Allen — who declined to be identified by his full name — told Philstar.com in Filipino at the sidelines of the briefing.
Allen, who is from Pangasinan, got his OEC a day before the visa suspension was confirmed.
He was supposed to work at a children's park in Kuwait. He said he spent between P40,000 to P50,000 — he had to borrow most of the amount — to process his documents to be able to work overseas.
Other OFWs noted that visa and ticket expenses were shouldered by the company that recruited them. Such was the case for Tina — a pseudonym —and others recruited by a mall retailer who have so far spent P25,000 each as a downpayment.
However, even with the lower deployment cost, the cost of the deferred deployment is adding up.
"We're losing more money now… I resigned in March to give myself a little bit of time to rest too but it's all adding up now," Tina said.
While Tina already has an interview lined up, she said she'll look for a temporary job in Manila to cover some of her daily costs. She would have already been in Kuwait working as a sales associate if not for the ban.
RELATED: Toll of Kuwait's visa suspension: At least 130 OFWs offloaded, sent back daily
What happened to talks?
Foreign Affairs Undersecretary for Migrant Workers Eduardo de Vega floated that the suspension of visa issuance could be Kuwait's "bargaining chip" after Manila suspended the deployment of household workers to the Gulf nation in February.
It came a month after the killing of Filipino domestic helper Jullebee Ranara in January this year.

Kuwait is also reportedly not happy with the Philippines providing shelter for runaway and distressed OFWs in its foreign service post there.
Bilateral talks were held last week, from May 16 to 17, although there was no indication that the suspension had already been lifted.
"The Philippines remains open to constructive dialogue on how to address current concerns," the Philippine government said in a statement on May 18.
READ: In Kuwait talks, Philippines emphasizes duty to protect citizens abroad
Employers and prospective migrant workers have no choice but to wait and see how things develop.
'Staying is not an option'
Meanwhile, the DMW said it is also offering job placement services to help affected OFWs who may choose to work in the Philippines instead. Among those whom the DMW has reached out to so far, none have taken up the offer.
"Other countries really pay their workers more if you compare it to the offers here in the Philippines," Tina said.
If she was able to push through with her Kuwait employment, she said her salary would have ranged from P27,000 to over P30,000 monthly. Tina said sales associates here only earn around P17,000 to P18,000.
"The benefits here are okay," Tina said. "But commodity prices are rising and we are getting more obligations that is why we are looking to become OFWs instead so we can still save money."
"Even if we're away for just two years, when we come back, we'll have the capital to start a business."