DFA: Law requires shelters in Kuwait and other countries with many OFWs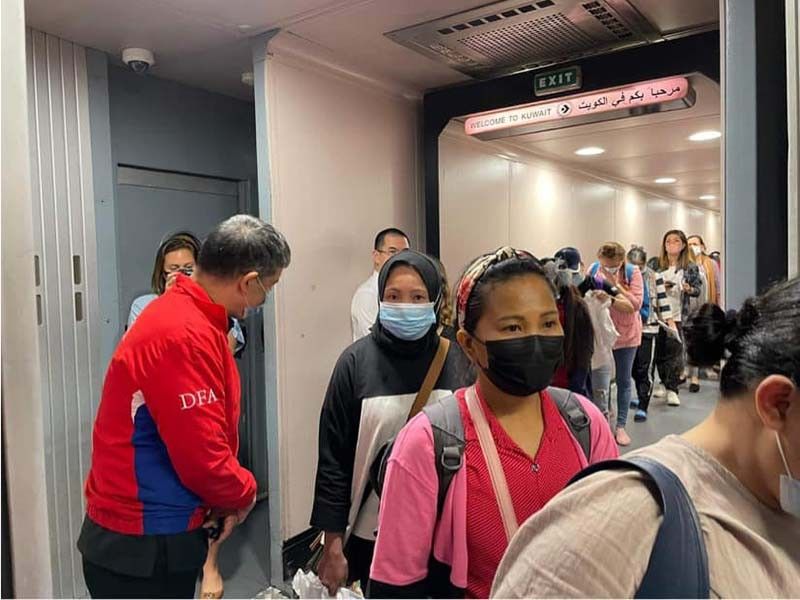 MANILA, Philippines — The Philippines said it will be firm on keeping shelters for overseas Filipino workers required by Philippine law despite talk that it is among reasons that led to Kuwait suspending issuing new visas to Filipinos.
Philippine and Kuwaiti diplomats are set to start negotiations on the issue on Tuesday afternoon, Kuwait time. A team from the Department of Foreign Affairs was already on their way there on Monday evening.
Kuwait's decision came as a surprise, Undersecretary for Migrant Workers Eduardo de Vega said. He said even the Kuwaiti Ministry of Foreign Affairs did not know of the suspension as it was the Interior Ministry — the agency in charge of local government affairs — that announced the policy.
Local media from Kuwait broke the news last Wednesday and the DFA confirmed the decision on Thursday. Details of what led to the suspension remain murky although de Vega noted that Kuwait has for years been complaining about Manila's shelters for runaway OFWs.
"We know that they have an issue over that because that's what they've been telling us for a while now. That's why we expect it to be among the things we will discuss," de Vega told Super Radyo DzBB in Filipino on Monday evening.
"Actually – honestly, if that's their issue then it would be non-negotiable for the Philippines because we will not close down our shelters there since it is required under our law."
The Migrant Workers And Overseas Filipinos Act Of 1995 requires the establishment of Migrant Workers and Other Overseas Filipinos Resource Centers "in countries where there are large concentrations of Filipino migrant workers."
There are over 275,000 documented Filipinos working in Kuwait.
In a separate interview with ABS-CBN's "TeleRadyo" on Tuesday, De Vega said the Philippines' shelters in Kuwait are currently housing 466 OFWs.
Review of 2018 labor agreement
Exploratory talks to improve the 2018 bilateral labor agreement had between the Philippines and Kuwait were set following the death of a Filipino domestic worker deployed in Kuwait in January. The following month, the Philippines suspended the deployment of household workers to the Gulf state.
De Vega believes that the visa suspension — it covers other professions beyond household workers and potentially other entry visas — is Kuwait's "bargaining chip" in the talks.
"We did not think that a week before negotiations, they would impose this," de Vega said.
Migrant workers' group Migrante has warned against using bans and similar measures as negotiating tools, saying these measures "treat migrant workers line ping pong balls and they become a bargaining chip."
Migrante chairperson Arman Hernando said on ANC's "Rundown" last week that "the issue is not with the bilateral labor agreement, but with the system of work there, particularly the kafala system."
The kafala system, which is in place in Bahrain, Jordan, Kuwait, Lebanon, Oman, Qatar and the United Arab Emirates, requires migrant workers to be sponsored by a citizen or company in the host country. Saudi Arabia previously used the kafala system, but abolished it in March.
"It prohibits the exercise of so many rights of our fellow Filipinos and gives employers in Kuwait license to abuse them," Hernando, who described the policy as "very stringent", said.
The visa suspension only applies to new applicants so those with existing residence visas are not affected. Out of the total OFWs deployed in Kuwait, 196,000 are household workers, while 30% work in industries such as tourism and hospitality.
DFA Assistant Secretary for Middle East and African Affairs Mardomel Celo "Boy" Melicor is leading the Philippine delegation, while other officials from the Department of Migrant Workers and its attached agency, the Overseas Workers Welfare Administration, is also part of the Philippine team heading to negotiations this afternoon.
The DFA is in charge of bilateral labor agreements, while the DMW oversees the deployment of Filipino workers abroad.