Immigration eases requirements for foreign nationals with Filipino families traveling to Philippines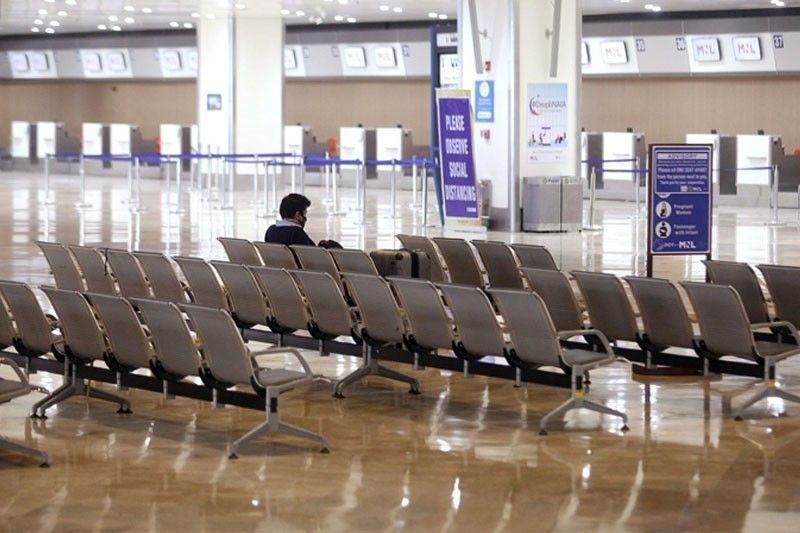 MANILA, Philippines — The Bureau of Immigration on Monday said arriving foreign spouses, children and parents of Filipinos no longer need to present an entry exemption document (EED) to enter the country starting August 1.
Previously, these foreign nationals can only enter the Philippines if they have valid 9(a) tourist visa and an EED issued by the Department of Foreign Affairs through embassies or consulates abroad. Failure to present the EED will lead to their exclusion.
But Immigration Commissioner Jaime Morente said Monday that this new policy is in compliance with the latest resolution of Inter-Agency Task Force for the Management of Emerging Infectious Diseases that further eased requirements from foreigners related by marriage to Filipinos.
"Under the new IATF resolution, foreign spouses, children and parents of Filipinos will only be required to present 9(a) tourist visas beginning on Sunday," BI added.
The bureau added that the pandemic task force has also instructed the DFA to put on the visa of these foreign nationals this note: "EED not required per IATF Resolution No. 128 (2021)."
Morente stressed that these new guidelines are only for foreign nationals who are not accompanied by the Filipino spouse or parents in going to the Philippines. They should first apply for a 9(a) tourist visa from the Philippine consulate abroad to be allowed to enter the country.
Those who are travelling with their Filipino family member are eligible for the Balikbayan program and may be allowed to enter the country visa-free, for one-year, the BI chief explained.
BI Port Operation Division Chief Carlos Capulon, meanwhile, stressed that while requirements for foreign nationals with Filipino families have been eased, the travel ban on ten countries placed amid risk of the more transmissible Delta variant of the coronavirus remains.
Travelers from Malaysia, Thailand, Bangladesh, India, Indonesia, Nepal, Oman, Pakistan, Sri Lanka and United Arab Emirates are currently not allowed to enter the country.
The ban is in effect until July 31, until expanded or extended by the IATF. — Kristine Joy Patag
As It Happens
LATEST UPDATE: September 21, 2021 - 10:14am
Find the latest travel and tourism news from around the world amid the coronavirus pandemic. Main image by AFP/Romeo Gacad
September 21, 2021 - 10:14am
The United States announces it will lift COVID travel bans on all air passengers in November if they are fully vaccinated and undergo testing and contact tracing.
The unprecedented restrictions had kept relatives, friends and business travelers around the world separated for many months as the pandemic grinds on.
Jeffrey Zients, coronavirus response coordinator for President Joe Biden, tells reporters the new "consistent approach" would take effect "early November." — AFP
September 20, 2021 - 1:08pm
Fiji plans to reopen for international tourists by November, aiming to rebuild a pandemic-devastated economy while battling a Delta-variant coronavirus outbreak.
"Our goal is to free our country –– and our economy –– from the rut of the pandemic," Prime Minister Frank Bainimarama said in a statement last week.
Once 80 percent of Fiji's eligible population is vaccinated, it will offer quarantine-free travel to visitors from a "green list" of locations.
Of Fiji's eligible population, 66 percent is now fully vaccinated and Bainimarama predicts the country's target will be met by November 1.
Fiji's green list includes Australia, New Zealand, Japan, Canada, Korea, Singapore and parts of the United States.
Visitors would need to be fully vaccinated and test negative for COVID-19 prior to departure.
Once in Fiji, they would stay in designated zones where all contacts, from hospitality staff to tour operators, would be fully vaccinated. –– AFP
September 17, 2021 - 9:23am
The government pandemic task force updates the list of Red List countries.
Travelers from Grenada, Papua New Guinea, Serbia and Slovenia will not be permitted to enter the Philippines.
This new classification will take effect from September 19 to 30.
September 15, 2021 - 7:57pm
Iran resumes commercial flights to neighboring Afghanistan, where the Taliban took control last month.
"Today Mahan Air carried passengers between Mashhad and Kabul airport," Fars news agency reports, referring to Iran's second-largest city, in the northeast, and the Afghan capital.
"At present, this airliner is returning to Mashhad with passengers." — AFP
September 13, 2021 - 7:22am
South Africa's President Cyril Ramaphosa on Sunday announced plans to introduce Covid-19 "vaccine passports" amid widespread scepticism of the jab, ahead of an easing of movement restrictions this week.
After sluggish vaccine procurement and a delayed roll out, Africa's worst-hit country for Covid is now struggling with low take-up, particularly among men.
In a televised address to the nation, Ramaphosa stressed that an immunised adult population was key to fully reopening the economy and avoiding a fourth infection wave. — AFP