NTF: No foreigners, non-OFW Filipinos into the Philippines from March 20 to April 19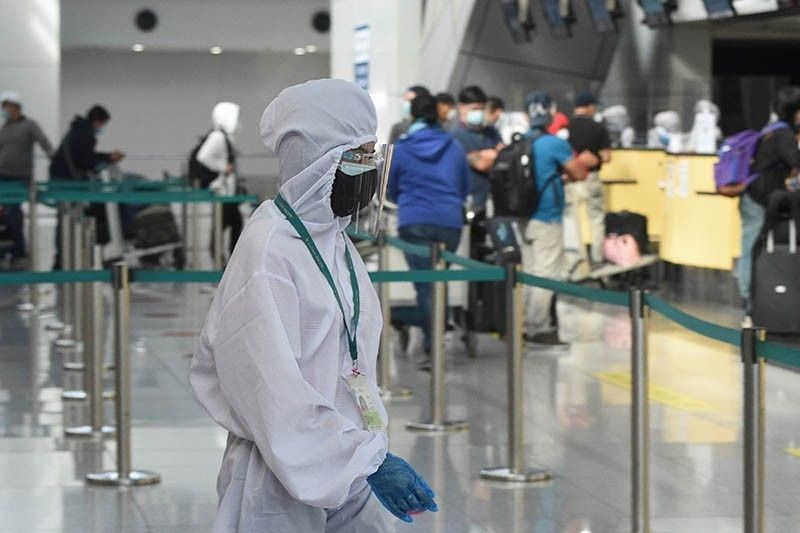 MANILA, Philippines (Corrected 1 p.m., March 17)— The National Task Force Against COVID-19 is restricting travel into the Philippines from March 20 to April 19 in response to rising COVID-19 cases in recent days.
According to a memorandum circular signed by Defense Secretary Delfin Lorenzana, the country will suspend the entry of foreigners and "Returning Overseas Filipinos who are non-OFWs" except for the following:
Holders of 9(C) visas (seafarers)
Medical repatriation and their escorts endorsed by the Department of Foreign Affairs-Office of the Undersecretary for Migrant Workers Affairs or the Overseas Workers Welfare Administration
Distressed ROFs endorsed by the Department of Foreign Affairs-Office of the Undersecretary for Migrant Workers Affairs
Emergency and humanitarian cases
The NTF memo cites the 5,404 new COVID-19 cases recorded on Monday and Department of Health data showing cases of the B.1.1.7 variant—18 out of 59—and the B1.351 variant—1 of 32 cases—among ROFs.
One case of the P.1 variant has also been confirmed in an ROF from Brazil, the memo said.
Philippines bans foreigners and overseas Filipinos who are not migrant workers from entering from March 20 to April 19 to "prevent entry" of COVID-19 variants.

The 1,500 daily passenger limit on carriers coming from abroad was likewise expanded from just NAIA to all airports. pic.twitter.com/jH8iY6rG3j

— Prinz Magtulis ??? (@prinzmagtulis) March 16, 2021
Aside from the temporary suspension of entry, the memo also limits the number of inbound international passengers to 1,500 a day.
The Civil Aeronautics Board announced the cap on arrivals earlier Tuesday, saying only arrivals into the Ninoy Aquino International Airport would be limited to 1,500 a day. passengers
The cap was initially supposed to run from March 18 to April 18. "Airlines operating in NAIA that will exceed the allowed capacity will be meted with the appropriate penalty," CAB said.
(Editor's note: This article has been corrected to reflect that the P.1 variant was first detected in Brazil and not the Philippines as earlier reported. The variant first detected in the Philippines is P.3. We regret the error.)
As It Happens
LATEST UPDATE: March 8, 2023 - 1:04pm
Find the latest travel and tourism news from around the world amid the coronavirus pandemic. Main image by AFP/Romeo Gacad
March 8, 2023 - 1:04pm
Hong Kong carrier Cathay Pacific reports its first annual operating profit since 2019 as the airline fights to return to pre-pandemic flight capacity.
"Cathay Pacific has experienced three challenging years due to the Covid-19 pandemic, with 2022 very much being a year of two halves," chairman Patrick Healy says in a statement announcing the results..
Cathay is still trailing regional rivals such as Singapore Airlines, with Hong Kong's axing of harsh pandemic curbs -- including mandatory hotel quarantine and strict testing requirements -- only beginning in the fall of last year.
The airline operated at one-third of pre-pandemic passenger flight capacity in December but expects to reach 70% of that figure by the end of 2023, the company says. — AFP
March 3, 2023 - 3:28pm
German airline giant Lufthansa says Friday it returned to annual profit in 2022 after two years of losses, its fortunes lifted by rebounding demand as economies reopened after COVID-19 shutdowns.
The group reported a net profit of 791 million euros ($839 million) for last year. This compares to a net loss of 2.2 billion euros in 2021 and 6.7 billion euros in 2020.
"Lufthansa is back," says the company's CEO Carsten Spohr. — AFP
March 1, 2023 - 5:58pm
People hoping to take advantage of a Hong Kong scheme to give away half a million free airline tickets face hours-long online queues on Wednesday, as the Asian financial hub bids to woo tourists back.
The city last month launched a campaign to reboot its reputation as "Asia's world city", after years of strict pandemic-related travel restrictions and a crackdown on sometimes violent pro-democracy protests.
On Wednesday, Hong Kong became one of the last places in the world to drop its outdoor mask mandate, which city leader John Lee said was a sign that it was "resuming normalcy". — AFP
February 23, 2023 - 10:36am
Australian airline Qantas says Thursday it bounced back into profit in late 2022, hailing a "huge turnaround" after swallowing massive losses throughout the COVID-19 pandemic.
The national carrier posted a second-half profit of Aus$1.43 billion (US$974 million) before tax, after accumulating Aus$7 billion in losses across the previous three years.
Chief executive Alan Joyce says surging demand for flights had boosted the company's fortunes while announcing a plan to buy back Aus$500 million in Qantas shares. — AFP
February 22, 2023 - 5:06pm
Kenya's revenue from its vital tourism industry surged to more than $2 billion last year but remains below pre-pandemic levels, the government says Wednesday.
International tourist arrivals jumped by more than 70% to 1.48 million as travel rebounded following the COVID-19 outbreak, while revenue shot up 83% to 268 billion Kenyan shillings ($2.12 billion).
The United States was the biggest market, with 16% of arrivals, followed by Uganda, the United Kingdom and Tanzania, Tourism Minister Peninah Malonza says at a press conference. — AFP