DOLE: 133,315 workers displaced in January
February 15, 2021 | 12:00am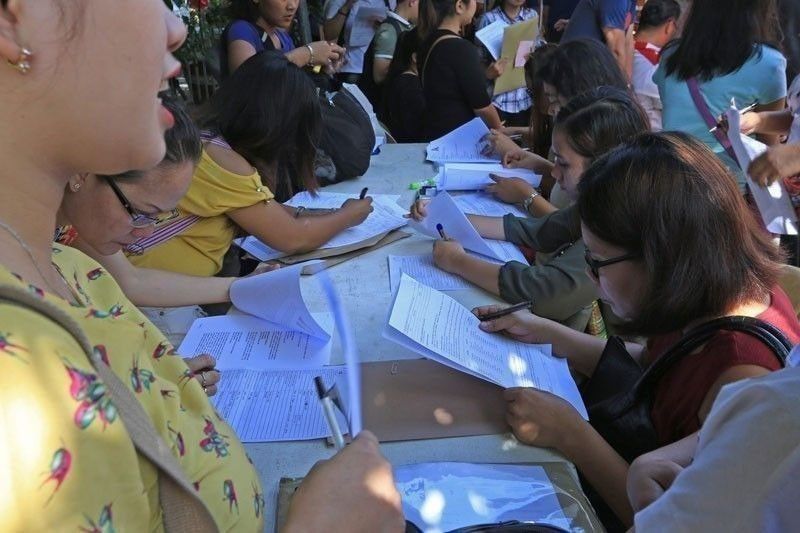 MANILA, Philippines — The number of displaced workers surged in January, as more establishments adopted flexible work arrangements and temporary closures, according to the Department of Labor and Employment (DOLE).
The latest DOLE Job Displacement Monitoring Report showed a total of 133,315 workers nationwide losing their jobs or suffering income loss in the first month of 2021.
Out of the total number of displaced, DOLE said 108,089 workers from 2,799 establishments were affected by flexible work arrangements (FWAs) and temporary closures.
There were 25,226 workers from 1,421 establishments who were affected by permanent shutdowns and retrenchments.
The number of displaced workers rose by 19,741 or 78 percent compared to the figure during the same period last year.
Based on DOLE data, 91 percent or 1,279 firms resorted to reduction of workforce, and 142 reported permanent closures.
The National Capital Region posted the biggest number of affected workers by retrenchment and permanent shutdown with 15,324, followed by Central Visayas with 3,671, and Calabarzon with 1,957.
Most displaced workers were from construction and other service sectors.
DOLE noted that temporary closures led to the displacement of 30,733 workers while the rest were placed under reduction of workdays or work hours as well as forced leave and other forms of FWAs.
A majority, or 672 establishments that adopted FWAs, were small enterprises while 604 of those that opted for temporary closures were micro enterprises.
DOLE said retrenchment was mostly recorded in small enterprises while the higher number of permanent closure were in micro enterprises.
Efforts against child labor
Meanwhile, with the easing of quarantine restrictions, DOLE is fast-tracking efforts to drastically reduce child labor in the country.
Karen Trayvilla, DOLE Bureau of Workers with Special Concern (BWSC) director, said the department's different regional offices are already accelerating the profiling and providing services to remove young people from child labor.
Trayvilla said the profiling of child labor was temporarily suspended with the imposition of quarantine restrictions due to the pandemic last year.
But she said various programs aimed at eliminating child labor are now being stepped up.
Trayvilla expressed optimism that the DOLE could free over half a million children from the bondage of child labor by 2022.
"We understand that one of the root causes of child labor is poverty, but we are doubling our efforts to eliminate this. We have encountered difficulties in the implementation of the program due to the COVID-19 pandemic, but now we are ready to intensify the profiling of children in the country," Trayvilla said.
Child labor is defined under the law as any work or economic activity performed by a child that subjects him to any form of exploitation or is harmful to his health, physical, mental, or psychosocial development.
As part of the Philippine Development Plan for 2017-2022, Trayvilla said, DOLE is working to withdraw 30 percent, or roughly around 630,000, of the 2.1 million children engaged in child labor.
Based on a 2011 survey done by the Philippine Statistics Authority, there are about 2.097 million children aged five to 17 years old who are classified as child laborers. Of the number, 2.049 million are in hazardous forms of child labor.
Among the worst forms of child labor are slavery, prostitution and drug trafficking.
"Because of this pandemic, we are worried that child labor cases might increase. However, in terms of statistics, it is still undetermined, but if you observe the recent news, child pornographycases are rising because they are being used to produce pornography, since internet usage is prevalent particularly during the lockdown days," Trayvilla said.