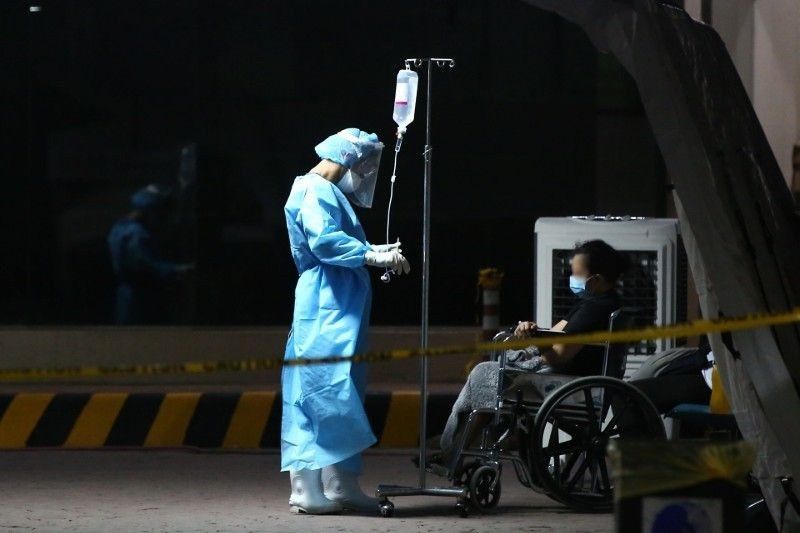 Addressing a virtual press briefing from Malacañang yesterday, Health Undersecretary Leopoldo Vega said the two-percent surge raised the rate of critical COVID-19 cases to 3.1 percent on a national scale.
The STAR/Miguel de Guzman, file
DOH: COVID-19 critical care cases spiking
MANILA, Philippines — Health officials are closely monitoring a two-percent increase in the rate of critical cases of the coronavirus disease 2019 in the last two days and will determine if it will cause a change in the quarantine status of Metro Manila by Oct. 1.
Addressing a virtual press briefing from Malacañang yesterday, Health Undersecretary Leopoldo Vega said the two-percent surge raised the rate of critical COVID-19 cases to 3.1 percent on a national scale.
Vega, who is also the incident commander of Metro Manila hospitals, said the Department of Health (DOH) has mobilized surveillance units to verify the extent of critical cases reported in both public and private hospitals.
"You know, this 3.1 percent is an increase by two percentage points, which we noticed since two days ago," he said in Filipino.
Vega said DOH officials were surprised at the surge, but downplayed any worries about a shortage in beds at Metro Manila hospitals, saying the capacity for "critical care" cases has not been strained.
"We are now validating in the intensive care units and critical units because you will notice that there are still adequate beds in Metro Manila. We also have adequate number of ICU beds," he said.
"But we're also trying to find out the reasons why there is an increase of two percentage points," he added.
He acknowledged that this "new development" should be verified from the ground and that the patients who turned critical should be profiled.
Asked for the profile of these patients, Vega said he cannot provide details yet. "None yet, I haven't (checked) that's very new eh. There was a sudden surge of two percentage points and we were also surprised, but this is not yet alarming because the capacity of our health systems is there," he said.
Following this development, the Inter-Agency Task Force for the Management of Emerging Infectious Diseases (IATF) will need to review the doubling rate of the infections and critical utilization rate of hospitals.
"So, once we have looked into the matrix of critical care utilization, and we have a downward trend, and then the doubling time is beyond at least 11 to 14 days – by that time, we will be able to also decrease the number of positive cases," Vega said.
He said a thorough review of the matrix is necessary in the next week or two in order to determine the Philippines' average positivity rate before the IATF decides on deescalating the general community quarantine to modified GCQ in Metro Manila.
"We really need the data (first)," he said.
Deaths reach 5,127
On a national scale, the DOH reported the number of COVID-19 cases soared to almost 300,000, while the number of fatalities reached 5,127 as of presstime yesterday.
It said an additional 2,180 cases, mostly coming from Metro Manila, brought to 296,755 the total confirmed COVID cases nationwide. The DOH said nearly 84 percent of the new cases were detected in the last 14 days.
The DOH said 36 additional deaths pushed to 5,127 the total COVID-related deaths in the country. Of the 36 deaths, 23 occurred in September while the rest happened between April to August.
Metro Manila recorded the most number of new COVID-19 infections with 802. It was followed by Laguna (292), Batangas (152), Cavite (144) and Negros Occidental (87).
As of Sept. 22, Vega said the ICU bed capacity in the NCR has 65 percent occupancy, while isolation beds are 54 percent occupied. There are 706 total ICU beds, while 3,900 isolation beds allocated in Metro Manila hospitals.
Vega said about 54 percent of the 1,800 total ward beds are also occupied, while 39 percent of the 837 total units of ventilators are now in use.
Roque chides bishop
Meanwhile, presidential spokesman Harry Roque Jr. said Archbishop Ramon Arguelles should "stick to your job" after the prelate suggested that people may not wear face masks and just rely on their faith in facing the risks of acquiring COVID-19.
"Well, for the Bishop: Sir, I hope we speak our roles in society. The Bishops are needed (to work on the) faith of the people. But science has proven the wearing of face masks is effective to thwart COVID-19," Roque said.
"I hope we can use our influence in society to help the country in the fight to lessen the cases of COVID. Well, we should encourage the wearing of face mask rather than discourage it," he added. – Mayen Jaymalin