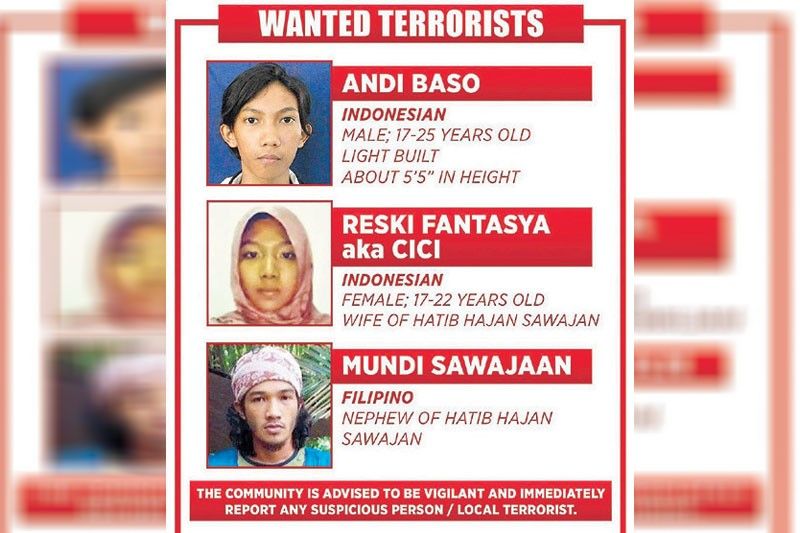 The city government has identified three terrorists who may launch attacks in Zamboanga City.
STAR/ File
Zamboanga on alert for 3 Sayyaf bombers
Roel Pareño
(The Philippine Star) - August 30, 2020 - 12:00am
ZAMBOANGA CITY, Philippines — Two Indonesian members of the terror group Abu Sayyaf – including a woman – and a Filipino militant may have slipped into the Zamboanga peninsula to launch terror attacks, officials said yesterday.
The city government issued the warning as it offered a bounty of P3 million to any civilian who would be able to provide information that could lead to the capture or neutralization of the three terrorists.
City Mayor Maria Isabelle Climaco-Salazar identified the three as Mundi Sawadajaan, a Filipino; and Indonesians Andi Baso, about 17 to 25 years; and Reski Fantasya alias Cici, 17 to 22 years old and wife of Abu Sayyaf leader Hatib Hajan Sawadjaan.
Mundi, nephew of Hatib Hajan Sawadjaan, was tagged as the mastermind of the twin suicide bombing attacks last Aug. 24 in downtown of Jolo that killed 14 people and injured 78 others.
Salazar, chairperson of the Regional Peace and Order Council (RPOC), has coordinated with the Department of the Interior and Local Government (DILG), Western Mindanao Command (Westmincom) chief Maj. Gen. Corleto Vinluan Jr., 1st Infantry Division chief Maj. Generoso Ponio, and Regional Police Office 9 (PRO) director Brig. Gen. Jesus Cambaya Jr. concerning the terror threat in the Zamboanga peninsula.
"From blue to red alert, we have to increase our alert status because we were given information by National Intelligence Coordinating Agency (NICA) regional director Ariel Perlado that the suicide bombers in Jolo have escaped and are posing a terror threat in Zamboanga peninsula," Salazar said.
"Whether it's a vehicle attack or suicide bomber we're asking our security forces down to the barangay level to be on alert so that we will be able to prevent, preempt and deter acts of terrorism in our areas of jurisdiction," Salazar said.
The local chief executive also urged the Philippine Navy and the Philippine Coast Guard (PCG) to step up patrols in the waters around the peninsula.
Checkpoints have also been intensified to block the entry of militants as well part of health protocols enforced to check the spread of COVID-19.
"With the twin explosions in Jolo last Monday and previous terrorist acts, our authorities should never let their guard down and our residents should also do their part to cooperate," Salazar said.
Col. John Antonio Divinagracia, commander of Joint Task Force Zamboanga (JTFZ), confirmed having received reports about new terror threats.
"But those were raw information. Based on our coordination in Sulu and Basilan, they were also verifying this information," Divinagracia said.
He said his task force began a security realignment right after the Jolo blasts in anticipation of follow-up attacks.
2 AGS men killed
In a related development, two suspected Abu Sayyaf members were killed in a firefight with Army Scout Ranger commandos in Sulu yesterday morning. The encounter occurred in the jungle of Patikul town, Sulu as government forces launched a search and destroy operation against the group behind the suicide bombing attacks in Jolo, an army official said.
Brig. Gen. William Gonzales, commander of Joint Task Force Sulu (JTFS) and the 11th Division, said the encounter began when elements of the 3rd and 5thScout Ranger Battalions ran into the fleeing militants at about 9:45 a.m in the mountains of Patikul. Authorities have yet to identify the two alleged terrorists killed. The army rangers also recovered two assault rifles.
Gonzales said the fresh offensive was part of the operation against Mundi Sawadjaan and his cohorts responsible for the Jolo attacks. "The troops are continuously tracking down Mundi Sawadjaan and his cohorts," Gonzales said.— Romina Cabrera