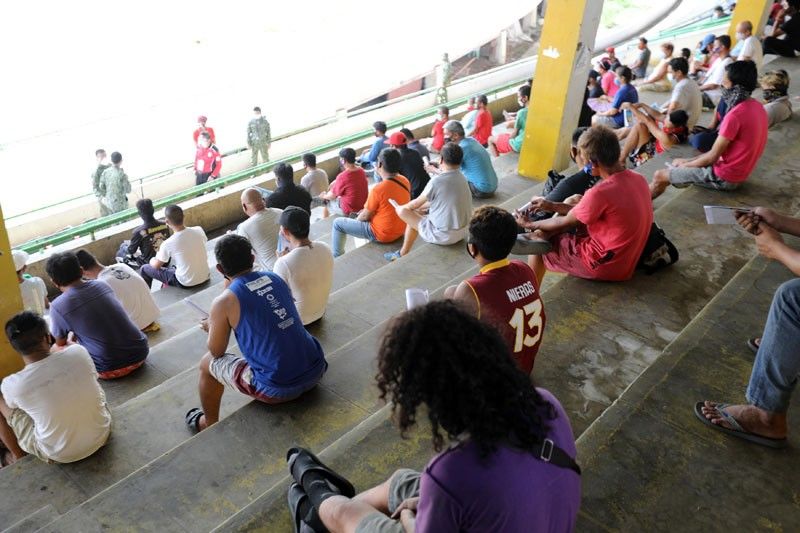 DILG Secretary Eduardo Año said the government has received complaints from 596 people against 886 local officials. A total of 195 cases have been filed before the prosecutor's office.
Boy Santos
DILG calls for ordinances to jail quarantine violators
MANILA, Philippines — The Department of the Interior and Local Government (DILG) is urging local governments to pass resolutions punishing quarantine violators with imprisonment as it reminded the public to strictly comply with health protocols to arrest the further spread of coronavirus disease 2019 (COVID-19).
"We have encouraged our mayors to pass ordinances so that the implementation will be uniform and all violators should be punished with imprisonment so it will serve as a lesson and they will no longer violate (quarantine measures)," DILG Secretary Eduardo Año said during a meeting of the government's pandemic task force in Davao City last Tuesday.
Año said the government has received complaints from 596 people against 886 local officials. A total of 195 cases have been filed before the prosecutor's office.
Meanwhile, 182 administrative cases have been filed against barangay officials while 19 show cause orders against mayors who failed to properly distribute the aid for low-income households and displaced workers have been referred to the ombudsman.
"This effort is continuous and that includes violators who committed violations in Cebu City while it is under ECQ (enhanced community quarantine) like the holding of feasts, gambling and holding of a procession," Año said.
"We will do it because our countrymen really need to comply with minimum health standards. It is really the key to avoiding contamination," he added.
Cebu has reverted to ECQ, the strictest lockdown scenario, because of a spike in the number of infected persons and a high utilization rate of critical healthcare facilities.
Año said local governments are doing a good job in implementing quarantine measures and are ready to implement the second phase of the National Action Plan.
He said under the plan, local chief executives would serve as information managers, crisis managers and leaders in the fight against the coronavirus disease 2019 (COVID-19).
The government, Año said, is continuously assisting persons stranded because of the lockdowns.
He said 4,180 stranded persons from Cordillera, Ilocos, Cagayan, Central Luzon, Central Visayas, Mimaropa, Northern Mindanao, Davao region, Zamboanga peninsula and SOCCSKSARGEN regions were sent home from July 4 to 5.
Another 5,296 stranded persons were assisted from July 6 to 7.
Digitized transactions
The DILG also ordered local officials to shift to digitized transactions to protect people from COVID-19.
Año directed mayors to fast-track the issuance of permits and clearances in setting up the necessary infrastructure such as cell sites to improve internet connectivity nationwide.
With people needing to stay indoors to avoid getting infected with the virus, Año said going digital is the best option as the country is moving toward the new normal.
"The millions working from home, the students looking forward to online learning and the workers who depend on the digital economy are all expecting the government to address the gaps in our internet infrastructure," he said in a statement.
Digital platforms, according to DILG spokesman Undersecretary Jonathan Malaya, will not only ensure the public remains safe from COVID-19, it will also boost economic growth.
Malaya said local governments have a key role in bolstering the digital platforms not just in government service but also in building business and consumer confidence.