Pimentel: I did not delay proceedings on Makati Med incident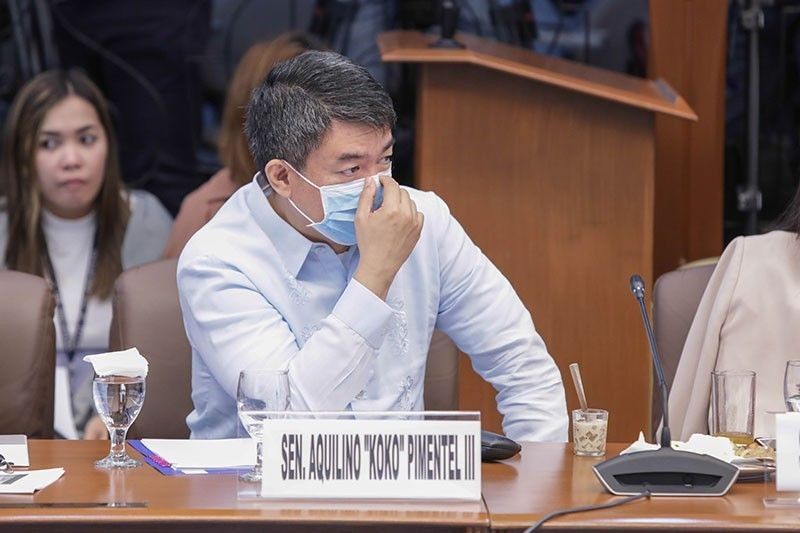 MANILA, Philippines — Sen. Aquilino Pimentel III only asked the Department of Justice for one extension on the filing of his counter-affidavit to a complaint filed against him for breaking quarantine protocols in March and should not be blamed for delays in the case, he said in a letter to Philstar.com.
The senator wrote the letter in response to a July 1 Philstar.com story on the new deadline for him to file his defense.
"I only received a copy of an Order of the DOJ asking me to file my Counter-Affidavit on June 19, 2020. I asked for an extension of time to file my Counter-Affidavit only once, in the interest of justice and equal/fair treatment, and the DOJ granted me an extension until July 15, 2020, which it found to be 'reasonable'," he said.
"Clearly, the delay cannot be attributed to me," he said, claiming also that the article had insinuated that it was.
The article noted that "by July 15, [lawyer Rico] Quicho's complaint, filed through electronic mail on April 6, would have been pending before the DOJ for more than three months."
It also noted that the delay was due to the COVID-19 pandemic as well as procedural requirements. Those requirements, according to Prosecutor General Benedicto Malcontento in June, include Quicho's "submission of original complaints and attachments."
RELATED: Preliminary probe into Pimentel's quarantine breach reset anew
The Makati Medical Center previously admonished Pimentel for breaking its containment protocol when he brought his then-pregnant wife to the hospital while he was waiting for the results of his COVID-19 test, which turned out to be positive.
Pimentel has since apologized for breaking the hospital's containment protocols.
The MMC said they "noted" Pimentel's apology.
The National Bureau of Investigation also said in April that it would conduct a fact-finding investigation into Pimentel. It has yet to release an update on the investigation.
RELATED: DOH: Koko breached quarantine protocols
Supermarket trip was before COVID-19 test
Pimentel also stressed that had not yet taken a COVID-19 test when he went to a membership supermarket in Taguig on March 16. Philstar.com apologizes for the error and has corrected the July 1 story.
The senator took a COVID-19 test on March 20 after developing "flu-like" symptoms on March 14, which had prompted him to go on self-isolation. He had a 38°C fever on March 18 and, according to a CNN Philippines report, "had mild cough and diarrhea" as well as a sore throat.
S&R Membership Shopping confirmed the senator's shopping trip on May 26 in response to social media post about that had been circulating online.
"As a result, S&R employees who were in contact with the senator were already placed in quarantine [while] S&R BGC also took extra disinfection steps," it said in a statement.