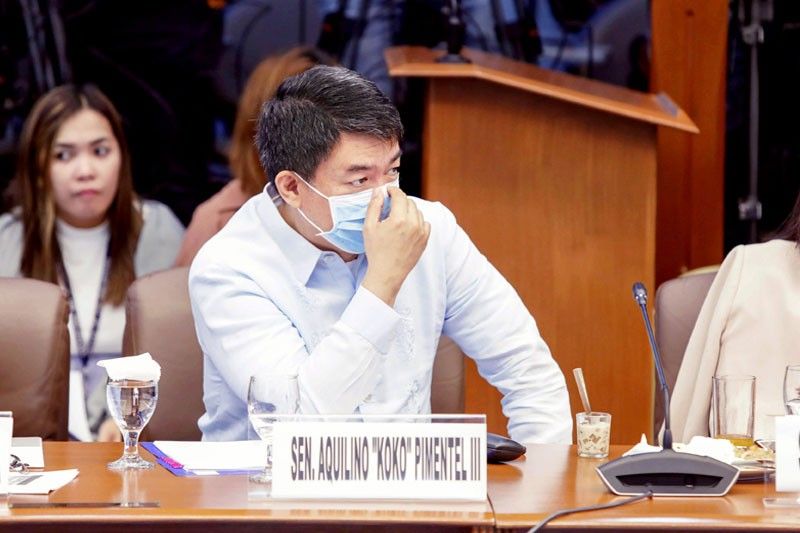 Sen. Aquilino Pimentel III, shown in photo during a recent Senate hearing, apologized to the Makati Medical Center yesterday. The MMC head said he could not speak for their individual members on whether the apology would be accepted.
Geremy Pintolo/ File
DOH: Koko breached quarantine protocols
Pimentel also shopped at S&R, attended 2 parties
22 MMC staff on quarantine; DOJ cool to filing raps
MANILA, Philippines — Sen. Aquilino "Koko" Pimentel III breached quarantine protocols when he showed up at the Makati Medical Center (MMC) on March 24 despite being aware that he might be infected with the coronavirus disease 2019 or COVID-19, Health Secretary Francisco Duque III said yesterday, as he vowed no special treatment for politicians.
"We will coordinate with the agencies," Duque said at a press briefing when asked what steps would be taken against Pimentel.
Pimentel also went to the BGC branch of S&R when he was supposed to be on home quarantine and admitted attending two birthday parties.
Justice Secretary Menardo Guevarra appeared cool to indicting Pimentel for what the MMC decried as his "irresponsible and reckless actions," calling for "compassion" during the crisis.
Pimentel apologized to the MMC yesterday for the "unfortunate incident."
MMC medical director Saturnino Javier said "we take note of the apology" for the quarantine breach, but in an interview yesterday, he said he could not speak for individual members of their staff on whether the apology would be accepted.
Up to 22 MMC personnel are on home quarantine because of Pimentel's visit.
Duque denied reports that he called up the MMC to tell its
management to admit Pimentel's wife Katheryna who was expecting to deliver her baby. Javier confirmed that there was no such call.
Duque said laboratories at hospitals were under strict instructions to observe the "first in first out policy" in processing specimens and to hasten the processing of the results so that those testing negative could be discharged immediately from the hospital.
As this developed, a group of lawyers bared plans to file charges against Pimentel for breach of quarantine protocols.
Lawyer Rico Quicho said the senator should have kept in mind the interest of the general public when he decided to go to the hospital despite being tagged as a person under investigation (PUI) for COVID-19.
"We cannot let such ineptitude into positions of power. We will rely on the full force of law – we are looking into criminal, civil, administrative charges. Not only to make him accountable, but also to set an example," Quicho said in a statement sent to The STAR.
"We condemn the selfish actions of the senator and we are committed to seeking accountability," he added.
"Having children myself, I understand the humanity in wanting the best for his wife and baby, but as a lawyer and a senator, he should have had the common sense to prioritize the country's welfare," said Quicho, who was part of the defense team of the late Chief Justice Renato Corona during his impeachment trial in 2011.
While it is expected that he was concerned for the welfare of his wife and their baby, Quicho said it would have been proper if Pimentel regarded also the safety of the medical staff he exposed to danger for disregarding the protocols set by the Department of Health.
"But as a father, more so a public servant, he should also know the virtue in sacrifice, lalo na't maraming buhay ang nadamay at maraming frontliners ang na-expose (especially since many lives were affected and many frontliners were exposed). His selfish act led to the quarantine of a whole department and greatly handicapped critical medical services," Quicho said.
He argued that Pimentel may have violated public trust, which is the fundamental principle that every public official swears to uphold.
Quicho cited Art. XI, Sec. 1 of the 1987 Constitution, which provides that "public office is a public trust."
"Maybe the senator would find value in learning about sacrifice from our frontliners risking their lives and the daily wage earners who have no choice but to stay at home," he added.
With at least nine doctors succumbing to the virus, Quicho said the senator's selfish actions endangered the safety of badly needed medical staff.
"The pandemic demands that we revisit our definition of patriotism because our devotion to and vigorous support for public health would translate to devotion to and vigorous support for our families. If we protect our frontliners and each other from the virus, we protect our families too," he said.
"The least we can expect from the senator is honesty and fidelity. He is in no way 'essential' to the situation at hand nor is his concern pressing and life-threatening enough to merit his display of wanton disregard for the well-being of others," Quicho said.
Quicho also noted the way the matter is assessed by the Department of Justice (DOJ), which seemed to sweep Pimentel's actions under the rug.
"Do we look to the DOJ who interprets the law harshly and rigorously against us normal citizens but asks that we 'temper the rigor of the law with human compassion' when it comes to a senator?" he said.
"Our indignation will not just pass. Accountability does not take a back seat dahil lang may (just because there is a) pandemic. May this also serve as a needed reminder that the rule of law is superior to the rule of any public official," Quicho said.
Compassion
Reacting to Pimentel's action, Guevarra said, "During abnormal times like these, when people are prone to commit mistakes or violations of the law, the DOJ will temper the rigor of the law with human compassion."
"But this is not to say that the DOJ will not act upon the filing of a proper complaint by any interested party," he added.
Malacañang, for its part, said no one will be exempted from the law after various sectors called for an investigation of Pimentel.
"The equal protection clause of the Constitution imposes equal treatment to all. Any transgressor therefore must be dealt with in accordance with law," presidential spokesman and chief presidential legal adviser Salvador Panelo said yesterday.
But in an interview with a local paper, Panelo said "it's not his (Pimentel) fault."
"There are no exemptions for any person on these health protocols. Those holding high positions in the government are enjoined to set an example to their constituents by strictly observing them," he added.
Appealing for understanding and compassion, Pimentel apologized to the management and staff of the MMC for going to the hospital premises and accompanying his expectant wife despite being on home quarantine for COVID-19.
Pimentel said he went to the MMC to accompany his wife at around 6 to 7 pm on March 24, or hours before her scheduled delivery by Cesarean section.
"Once again, I would like to sincerely and profoundly apologize to the management and staff of the Makati Medical Center for this unfortunate incident. I never intended to do any harm to anyone," Pimentel said in a statement.
"I shall be open to any communication the MMC would want to have with me about this. I just ask for everyone's understanding and compassion and allow me first to recover from COVID-19," said the senator.
Pimentel maintained that no doctor ordered his COVID testing done on March 20. He got the result on Tuesday, March 24, the same day he showed up at the MMC. He was supposed to have been on home quarantine since March 14.
"It was my own initiative, as an expectant father, after learning that my other colleagues had themselves tested and out of precaution because I was living with a pregnant wife who was nearing the time of childbirth. Never did I have persistent cough and persistent fever," he said.
"I apologize to MMC for being in their hospital in the evening of March 24, 2020, which they deemed to be a breach of their safety/containment protocols," he added.
Meanwhile, S&R, a membership shopping club also confirmed that Pimentel was at its branch in Bonifacio Global City last March 16.
In a post on its official Facebook account at 1 p.m. yesterday, S&R said the CCTV footage showed Pimentel checking out at counter 13 at exactly 1:59 p.m.
In the FB post, S&R said they reviewed their CCTV after a post made the rounds that Pimentel was seen at the S&R branch in BGC.
"Upon learning this, we immediately reviewed our CCTVs and validated the transaction with our front-end personnel. It was confirmed that the senator was at S&R BGC on March 16, 2020," S&R said. – Cecille Suerte Felipe, Ghio Ong, Elizabeth Marcelo, Evelyn Macairan
Related video: