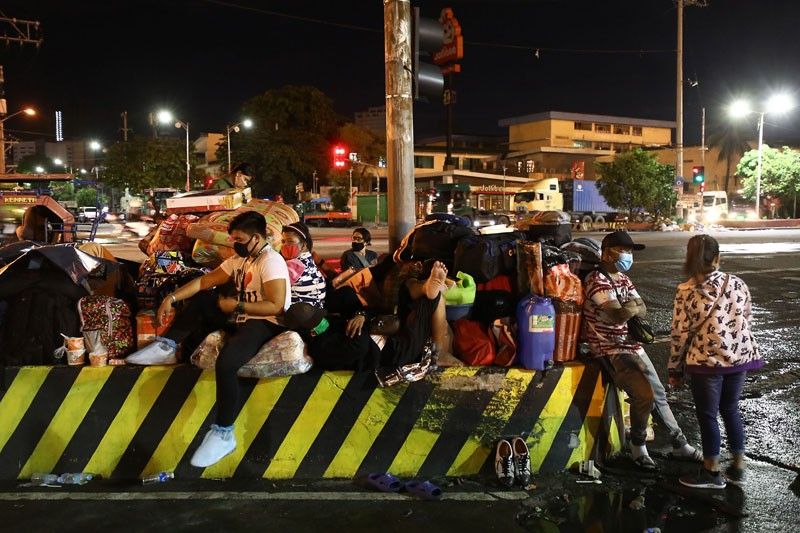 The clarification was made yesterday by the Department of the Interior and Local Government (DILG) and the Joint Task Force COVID-19 Shield after stranded passengers at the North Port Passenger Hub in Tondo, Manila were reportedly required to present swab test results.
Miguel de Guzman
Government stops return of stranded individuals in 5 areas
MANILA, Philippines — The government has approved a moratorium on sending home of locally stranded individuals or LSIs to five areas because of limited quarantine facilities and existing quarantine restrictions.
Presidential spokesman Harry Roque said the moratorium covers LSIs bound for Western Visayas, Eastern Visayas and Caraga regions, Cebu Island and Mactan.
"They do not have quarantine areas, especially Caraga. Cebu Island and Mactan, meanwhile, are under ECQ (enhanced community quarantine). Region 6 (Western Visayas) and Region 8 (Eastern Visayas) need more spaces for quarantine facilities," Roque said at a press briefing yesterday.
The Inter-Agency Task Force on Emerging Infectious Diseases (IATF) approved the moratorium yesterday afternoon.
Carlito Galvez Jr., chief implementer of the national policy on coronavirus pandemic, said the IATF would discuss a policy on locally stranded individuals on Thursday.
"We will submit our protocol this coming Thursday. Part of the consideration is the possible conduct of PCR tests in the receiving LGU (local government unit)," Galvez said.
"For LGUs without capability, the national (government) will conduct the PCR. What we will possibly do is conduct a strict identification of LSI because many are taking advantage," he added.
Galvez said there are about 127,000 names in the list of stranded individuals.
At the same briefing, Roque responded to reports that the departure of a ship bound for Dumaguete and Zamboanga was delayed because its passengers were required to undergo swab tests.
"That ship will be allowed to sail. PCR (polymerase chain reaction) test was not required," Roque said.
Roque said under existing protocols, passengers departing from Metro Manila should secure health certificates. They would then undergo PCR tests once they reach their destination. If the conduct of tests is not possible, they would be required to undergo quarantine for 14 days.
Some local officials previously urged the national government to ensure that stranded persons are free from coronavirus or any illness before they are sent home to their provinces.
Local officials of Negros Occidental lauded the earlier decision of Defense Secretary Delfin Lorenzana who is also the chair of the National Action Plan on COVID-19, to suspend for two weeks the trips of LSIs to Regions 6 and 8 to curb the spread of the virus.
Negros Occidental Gov. Eugenio Jose Lacson had earlier requested the IATF to suspend the return of LSIs to the province to allow the concerned local officials to prepare quarantine facilities.
Bacolod City Mayor Evelio Leonardia said the two-week moratorium on LSI arrivals is very much welcome, stressing also that it will enable them to clear up quarantine facilities for more arrivals.
He noted that 75 percent of COVID-19 positive cases in Bacolod City were identified as homecoming LSIs and overseas Filipino workers.
Negros Occidental has recorded 78 COVID-19 positive cases, while Bacolod City has 41 as of June 28.
Lorenzana advised the LSIs to stay where they are and wait for the results of reverse transcription - PCR tests.
Lorenzana said the two-week suspension will enable the task force to establish a better procedure so that returning residents are free of the virus and also for local government units (LGUs) to improve their isolation capacities.
"The suspension shall provide us with the opportunity to put in place systems and infrastructures so that the local governments can cope with the returning LSIs," he stressed.
Lorenzana said Samar and Leyte also recorded an increase of COVID-19 cases, which the LGUs attribute to the influx of returning residents from Metro Manila to Eastern Visayas.
Senators reminded yesterday authorities to strictly but humanely implement health and safety protocols in transporting stranded Filipinos.
Senate President Pro Tempore Ralph Recto and Sen. Christopher Go in separate statements said concerned agencies must be consistent and considerate in implementing the protocols to ensure the welfare of the stranded.
Recto cited the thousands of LSIs at North Harbor in Manila where the government effort to send "them home by boat was no Dunkirk-like evacuation, and yet it failed."
"The huddled, hungry, drenched stranded travelers painstakingly complied with all the health and police requirements, only to be denied boarding because of a new requirement. Their dreams of going home capsized on land," Recto said.
He said "transportation protocols should not change as often as the sea tide."
"The North Harbor fiasco is a wake-up call as loud as a ship horn blast to those responsible for the sea travel of residents who are medically cleared to return to their homes," Recto said.
Go clarified the difference between the Hatid Tulong initiatives and the Balik Probinsya, Bagong Pag-asa (BP2) program of the government that both transport those wishing to return to their home provinces.
He said the BP2 was based on President Duterte's executive order creating a council of 17 departments to implement short term and long term programs to help those wishing to return to their home provinces from Metro Manila to settle and have a sustainable livelihood.
Interior Secretary Eduardo Año said LSIs seeking to return to their provinces are not required to present COVID-19 swab test results to be allowed to proceed with their trips.
The clarification was made yesterday by the Department of the Interior and Local Government (DILG) and the Joint Task Force COVID-19 Shield (JTF) after stranded passengers at the North Port Passenger Hub in Tondo, Manila were reportedly required to present swab test results.
"PCR testing is not required for LSIs. The proposed protocol of requiring them to undergo PCR testing has not yet been approved, although this is for their point of destination," Año said in an interview aired over Teleradyo.
JTF commander Lt. Gen. Guillermo Eleazar had earlier said that travelers bound for other areas in Visayas and Mindanao need to present the results of their nasal swab tests before boarding ships.
The passengers in the Tondo port reportedly learned of the new requirement on Saturday while waiting for their trips, prompting them to sleep outside the terminal, with some getting wet when rain swept thriough the area Sunday night.
They have since been allowed to enter the terminal and have been allowed to proceed with their trips, according to the DILG.
Año said there might have been confusion on the part of the JTF.
"For now, the current protocols are still the medical clearance certificate, travel authority and then for the local government who has jurisdiction over the point of destination, the 14-day mandatory quarantine," he said.
Last week, Malacañang said stranded individuals and overseas Filipino workers will soon be required to undergo COVID-19 swab tests before they could return to their provinces so that local government units will no longer have to worry that the returning residents will become carriers of the virus.
Meanwhile, Eleazar, the Philippine National Police deputy chief for operations, said he has ordered police commanders to defer the issuance of travel authority for LSIs heading to any part of Western Visayas. Neil Jayson Servallos, Paolo Romero, Jose Rodel Clapano, Gilbert Bayoran