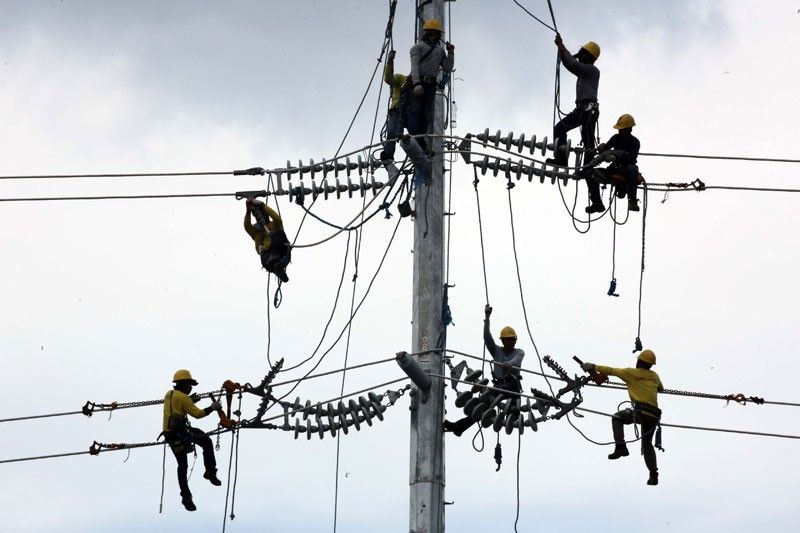 Meralco linemen install electrical wiring along Commonwealth Avenue in Quezon City yesterday.
Boy Santos
ERC issues guidelines on payment of electric bills
MANILA, Philippines — The Energy Regulatory Commission (ERC) has issued new guidelines for staggered payment of electricity consumed within the quarantine period, particularly for households with low consumption.
ERC chair and CEO Agnes Devanadera said the new guidelines are for areas still under modified enhanced community quarantine (MECQ) until May 31. The first payment will be on June 15.
Under the guidelines, the power regulator classified consumers based on their monthly electricity consumption.
The ERC directed distribution utilities to conduct actual meter readings not later than June 8 and then issue new billing to customers, reflecting the actual consumption and the corresponding amount due.
With the new guidelines, power distributor Manila Electric Co. (Meralco) said it will issue new electricity bills in compliance.
"We will comply with the ERC order and will operationalize it bearing in mind and ensuring that our customers will understand their bill. We will support the implementation using various information materials and platforms to make it easy to understand. Rest assured that we only have our customers' satisfaction and interest in mind as we implement this order," Meralco spokesman Joe Zaldarriaga said.
Those consuming 200 kilowatt-hours (kwh) and below are now considered lifeliners, Devanadera said, and are allowed staggered payment of up to six monthly installments for their electricity bills falling due within the enhanced community quarantine (ECQ) and MECQ periods.
Meanwhile, those consuming more than 200 kwh a month would be given staggered payment option of up to four equal monthly installments for bills falling under the same period.
"Those consuming 200 kwh and below, these are the people who are the lifeliners. Their bill will be subjected to six months installment. And those who are consuming above 200 kwh as of February, they will be given a reprieve of four months installments," Devanadera said.
The ERC guidelines also said power distributors should only start billing consumers for electricity bills falling under the quarantine periods by July 15.
"The first monthly amortization to be made not earlier than 15 June 2020, without penalties, interests and other fees," it said.
Devanadera said informal workers can only go to work by June, when public transportation is made available under loose quarantine rules.
"For the installment option, consumers can pay every 15th of the month starting June," she said.
"Rules are not much of difference between the ECQ and MECQ. There's no access to public transportation so informal workers cannot go to work. That's why those consuming 200 kwh below should be given a different treatment," the ERC chief said.
The ERC also said electricity bills falling due in June, or after the lockdown periods, should be paid not earlier than June 30, without penalties, interest and other fees.
Meanwhile, the power regulator also continues to suspend the collection of the Universal Charge-Environmental Charge (UC-EC) equivalent to P0.0025 per kwh until further notice, to reduce electricity rates.
The universal charge (UC) is a pass-on rate to consumers, which is also used to finance missionary electrification and the environmental fund.
Metro Manila, which accounts for more than a third of the Philippine economy, as well as Laguna, Bataan, Bulacan, Nueva Ecija, Pampanga, Zambales and Angeles City are now under MECQ.
Only the cities of Cebu and Mandaue in the Visayas remain under ECQ while the rest of the country is under GCQ.