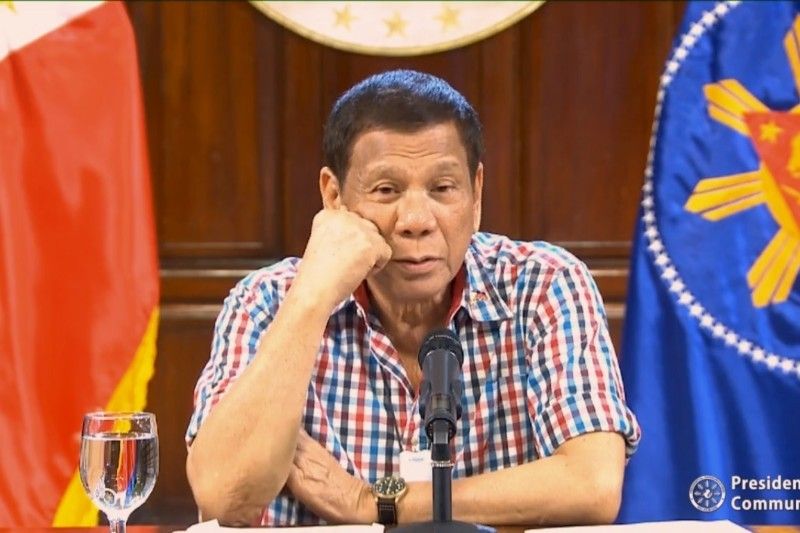 In this March 16,2020 screengrab, President Rodrigo Duterte addresses the nation.
Screengrab / Presidential Communications Operations Office
Duterte asks public for 'discipline' in following quarantine rules
Armed Forces, police have been enforcing quarantine measures since March
MANILA, Philippines (Updated 10:49 p.m.) — President Rodrigo Duterte on Thursday ordered the police and the military to prepare to enforce physical distancing guidelines amid the enhanced community quarantine prompted by the novel coronavirus outbreak.
This, despite security forces already manning quarantine checkpoints since mid-March.The inter-agency task force on COVID-19 also said over the weekend that military and police teams will be sent to public markets to prevent crowding.
"I'm just asking for your discipline. If you don't believe me, the military and the police will take over. I am ordering the police and military now to be ready. They will enforce social distancing and the curfew," he said in Filipino in his livestreamed public address Tuesday night.
"It will be like martial law. You choose," he said, adding he does not want that but he would be forced to do it "if the fate of the country is at stake and you have no discipline."
READ: All barangay checkpoints now under PNP
He acknowledged later in his speech, though, that the lockdown of Luzon—a measure since adopted by local governments in the Visayas and Mindanao—is "a cruel action by the government" as he reminded authorities that people have to go out to find food and other necessities for their families.
"Whatever we do here, there has to be humanity in it. It's just a matter of enforcing the law," he added later on.
As he has done in previous addresses even before the COVID-19 outbreak, Duterte also took the opportunity to lash out at critics and the Left.
"For the sake of the country, I will identify Filipinos who can do nothing but criticize. All politics, the prettyboys. They don't even do anything. Full of corruption," he said.
READ: Duterte volunteers Philippines for clinical trials of potential Japan-made COVID-19 vaccines
"By the time elections come, I'll tell you who you should choose. It's obvious who they are anyway. What have you done for the country except for talk and criticize?"
Duterte's endorsement—and his rants against candidates he said should not be elected—saw his political allies handily winning the May 2019 senatorial elections.
The administration PDP-Laban, though, has since seen a series of defections at the House of Representatives, a common phenomenon during the latter part of a president's term.
'Cure possible within days'
The chief executive said the lockdown may be lifted soon, adding a cure could be on its way in a matter of days, though he did not mention where that would come from.
READ: Philippines early to adopt travel ban, lockdown but not first to do so
"We might see a cure in a few days. Once they perfect it and they are ready to market the medicine, I will lift immediately. Not a single moment of delay, because I am also tired," he said.
"In the fullness of God's time, the antibodies and vaccines will come," the president also said.
At Tuesday night's Special ASEAN Summit, President Duterte told Japanese Prime Minister Shinzo Abe that the Philippines is ready to participate in clinical trials of a Japan-made drug, Avigan, as a possible novel coronavirus (COVID-19) treatment.
Earlier Thursday, the Palace also said it hopes China would prioritize the Philippines if it develops a vaccine for the pandemic.
Hospitals warned against rejecting patients
Duterte again warned hospitals against rejecting patients, even going as far as threatening them with shutdown.
READ: Palace hopes 'BFF' China will prioritize Philippines once it develops COVID-19 vaccine
"Nine hospitals refused to accept patients. Therefore, I am asking the Department of Health to start the investigation. I'm sorry, but there are rules to follow. You're a hospital. You are the sanctuary of the sick. You do not choose the ailment of the patient," he said.
"That is your problem. You are a hospital. If you can't be a hospital, I might as well just close you down."
The Department of Health on Thursday afternoon recorded an additional 207 cases of COVID-19, driving the official tally to 5,660.
Related video: