All barangay checkpoints now under PNP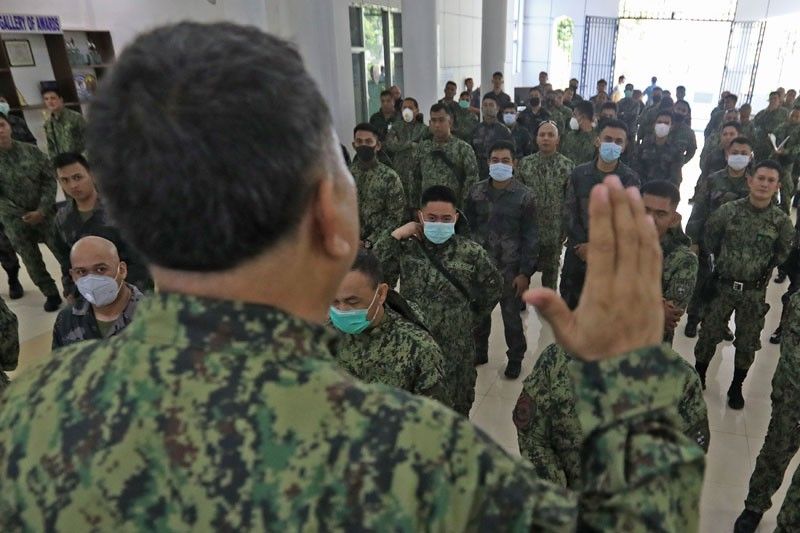 MANILA, Philippines — Following reports of inconsistencies and abuses being committed by village officers in the implementation of the enhanced community quarantine, the Philippine National Police (PNP) has placed all barangay checkpoints under its supervision.
PNP Directorate for Operations director Maj. Gen. Emmanuel Luis Licup issued the directive that placed under police control all quarantine control points (QCPs) or checkpoints established by local and barangay officials.
"All unit commanders/COPs (chiefs of police) shall ensure that all established QCPs at the municipal and barangay levels are properly supervised," Licup said yesterday.
He said all checkpoints would only be operated with the supervision of police officers.
Licup said this would ensure the guidelines laid out by President Duterte and the Inter-Agency Task Force for Emerging Infectious Diseases (IATF) are followed.
Undersecretary Jonathan Malaya, spokesman for the Department of the Interior and Local Government (DILG), said they received reports that the movement of cargo trucks delivering food, medicines and other basic commodities are being restricted at checkpoints.
The agency has also received complaints from citizens of arrogant barangay peacekeeping officers manning checkpoints.
The checkpoints were put in place to restrict the movement of people who should be in their homes during the quarantine period to contain the coronavirus disease 2019 (COVID-19).
Licup said only those exempted from the quarantine such as health workers, those involved in the delivery of basic commodities, members of households authorized to buy goods and media workers with accredited passes are allowed to pass security checkpoints.
The Pambansang Lakas ng Kilusang Mamamalakaya ng Pilipinas (Pamalakaya) complained that delays and even outright blocking at many checkpoints nationwide of trucks transporting food have caused an increase of prices in the markets.
Pamalakaya cited yesterday reports that drivers of vehicles loaded with food have been delayed by the checkpoints.
In Central Luzon, rice traders recently reported that 30 trucks of rice from Nueva Ecija were held for inspection on their way to Metro Manila.
It also noted that fish vendors from Bacoor City were recently unable to travel to southern cities of Metro Manila where they usually sold their fish.
Pamalakaya chairman Fernando Hicap said that transport delays lead to price increases of food items because of the additional cost of fuel.
Hicap said that while Agriculture Secretary William Dar announced the establishment of "food lanes" to allow easy passage of trucks transporting food, medicine and other vital products, this has apparently not reached road enforcers.
Hicap also reported that Cordillera farmers dumped their carrots down a ravine because they could not find buyers and the farmgate price fell to as low as P1 per kilo last Monday.- With Ding Cervantes