Duterte: We can win this war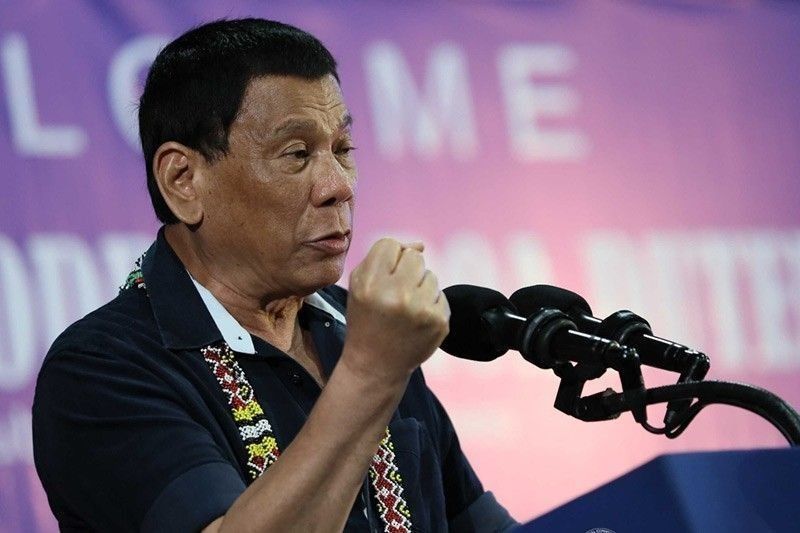 MANILA, Philippines — Filipino resiliency in times of crisis will help the nation pull through in the fight against the coronavirus disease 2019 (COVID-19), President Duterte said on Tuesday night, after he assured Filipinos that the government is on top of the situation.
"Nothing is more formidable and resilient than the Filipino spirit. Matindi ang kalaban (The enemy is formidable). But we will not surrender. Hindi tayo susuko. Tayo ay lalaban (We will fight)," Duterte said.
He appealed for "more understanding and utmost cooperation" from the public, expressing belief that "we will emerge triumphant" in the war against COVID-19.
"Yes, things will not be easy. [But] we Filipinos are tough. Mas malakas ang Pilipino sa anumang hamon. Now, we all must do what we can and must. Para sa ating bayan," he said, noting that Filipinos are not one to back out of a fight, especially if it's for country.
"I look forward to the day that we Filipinos can finally claim victory [in] this war and emerge as a stronger and more united Filipinos and Philippines," Duterte said.
Duterte's long-awaited assurance to the public came amid a cloud of uncertainty after several private hospitals in Metro Manila announced that they are no longer accepting patients infected with COVID-19 since they have reached full capacity.
At least five doctors have died, while scores of health professionals were either sick or quarantined due to the disease.
In a slum area in Quezon City, a 56-year-old man was found dead after he experienced symptoms of the disease earlier in the day.
He was not tested for COVID-19, but he left a letter to his bereaved family asking his wife to be brought to a hospital for treatment for having symptoms.
Duterte delivered his television address last Tuesday evening after facilitating a video conference from Malacañang with members of the Inter-Agency Task Force for the Management of Emerging Infectious Diseases (IATF) who were at Camp Aguinaldo in Quezon City.
"To the Filipino people, rest assured that your entire government is working hand-in-hand to safeguard your health, safety and well-being in the face of the threat posed by COVID-19," the President said.
"We will address all the different issues brought about by this pandemic as well as ensure the protection of all of our people, especially those who are serving in the frontlines," the President said.
Duterte assured the public that the government is ready to provide food, water and other essentials throughout this ordeal.
"Financial assistance will also be extended especially to those in the margins and the vulnerable groups. Halos lahat ho makatanggap," he added, emphasizing no one would be left out.
Salute to medical workers
Late Tuesday evening, Duterte also expressed his admiration for the medical doctors, staff and all the frontliners, particularly the five doctors who died treating COVID patients.
Touched by their dedication to their jobs, the President also took the opportunity to "salute" the brave and dedicated frontline medical workers who have continued to treat and save more patients despite the high risk of being infected by COVID-19.
"First, let me reiterate my sincerest gratitude to all our courageous frontliners in this war, especially our healthcare workers – our doctors, nurses, medical technologists and other allied health professionals," Duterte added.
He admitted how he was touched by the dedication of these people.
"I am saddened by the news that the virus has claimed the lives of our doctors along the way. Lahat po sila ay bayani and not only that, talagang bumilib ako. Bihira akong sumasaludo ng tao pero 'pag mga doktor natin, mga health workers na nadisgrasya, talagang saludo ako sa inyo," said Duterte, saluting the doctors and health workers who died in the line of duty, calling them heroes.
He did not identify the doctors who died but among those who succumbed after exposure to COVID-19 were: Israel Bactol, a cardiologist at the Philippine Heart Center; Greg Macasaet, an anesthesiologist at Manila Doctors Hospital; Rose Pulido, an oncologist at the San Juan de Dios Hospital, and a pulmonologist from Pangasinan.
There were tributes also to Raul Diaz Jara, a cardiologist and internist and former president of the Philippine Heart Association, but his family did not disclose the cause of death.
The President also expressed gratitude to the able officials and staff of the IATF "for staying on top of this situation."
Duterte showed his appreciation for the brave men and women of the Armed Forces of the Philippines (AFP) and the Philippine National Police (PNP) for ensuring peace and order in these trying times.
Duterte also thanked "the gracious members of the private sector who are forgoing profit to alleviate the suffering of our people."
He addressed the valiant volunteers "who are bravely supplementing our frontliners; to the noble civil society organizations who are working tirelessly in calling for donations and performing charity work."
"Thank you very much for your kindness, compassion and generosity," Duterte said.