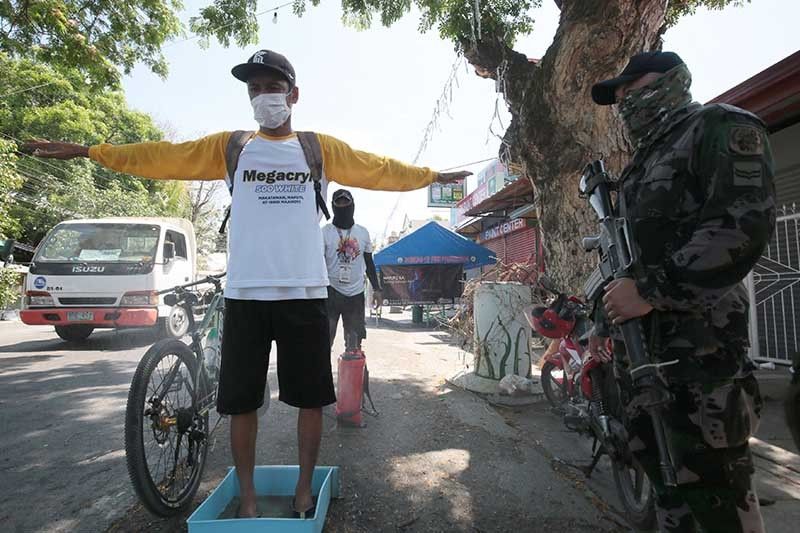 Motorist crossing the border of Rosales and Balungao towns in Pangasinan gets disinfected last March 24, 2020.
The STAR/Michael Varcas
Philippines logs 84 new COVID-19 cases, national total now at 636
MANILA, Philippines (Updated 4:50 p.m.) — The confirmed new coronavirus infections in the Philippines soared toward 636 Wednesday afternoon as President Rodrigo Duterte approved a bill granting him additional powers to address the escalating health crisis in the country.
There are now 636 cases of the coronavirus disease (COVID-19) in the country after health authorities detected 84 new cases.
Three additional deaths were recorded, bringing the national toll to 38.
The country's 36th fatality was a 56-year-old Filipino male from Quezon City with no travel and exposure history. Identified as Patient 319, he passed away on March 22 due to community acquired pneumonia secondary to COVID-19.
A 57-year-old male from Caloocan City also passed away on March 16 but was only confirmed positive for COVID-19 on March 21 due to acute respiratory distress syndrome secondary to community acquired pneumonia high risk and COVID-19.
The man, identified as Patient 326, had no travel and known exposure history.
The country's 39th COVID-19 death was Patient 29, a 82-year-old Filipino female from Marikina City. She had a travel history to the United States and had exposure to a known COVID-19 case.
She passed away on March 23 due to shock multifactorial, ARDS secondary to COVID-19 pneumonia and acute renal failure secondary to sepsis.
Data from the Department of Foreign Affairs also showed that two overseas Filipinos have died from the virus—one in the Asia Pacific region and one in Europe.
As of March 24, 169 overseas Filipinos in 25 countries and regions have been infected by the new coronavirus. The DFA said 77 are undergoing treatment while 90 have recovered or have been discharged.
Meanwhile, DOH reported six recoveries, raising the number of recovered patients to 26.
With authorities stepping up testing, they are expecting that the number of cases in the country will balloon in the coming days.
Widespread testing is crucial in the fight of virus-hit countries such as South Korea and Singapore against the pandemic as it allows authorities to isolate and treat infected people.
With the Bayanihan to Heal as One Act of 2020 signed, Duterte is given the authority to reshuffle funds in this year's budget to provide assistance to 18 million low-income households.
The measure also ensures that healthcare workers get special risk allowance on top of their hazard pay.
The coronavirus pandemic has infected nearly 418,000 people across the globe and killed more than 18,000 since the virus first emerged in China late last year.
As It Happens
LATEST UPDATE: September 22, 2020 - 6:44pm
Follow this page for updates on a mysterious pneumonia outbreak that has struck dozens of people in China.
September 22, 2020 - 6:44pm
Spain's health minister on Tuesday calls on residents of Madrid to limit their movements and social contacts to the "essential" to put the brakes on a surge in COVID-19 infections, a day afer new restrictions came into effect in part of the region.
Spain is struggling to contain a second wave of the virus, which has already infected over 670,000 people and claimed over 30,000 lives, one of Europe's highest tolls.
Madrid has become the epicenter of the contagion with a rate of infection of nearly 700 cases per 100,000 inhabitants in the last two weeks — nearly three times the national average. — AFP
September 22, 2020 - 5:26pm
WHO statistics show the coronavirus pandemic appears to be accelerating worldwide, with new cases soaring last week to a new seven-day high of almost two million, even as new deaths decreased.
In a fresh global update, the World Health Organization says that during the week ending on September 20, 1,998,897 new cases of the novel coronavirus were registered around the world.
That marks a six-percent increase over a week earlier and "the highest number of reported cases in a single week since the beginning of the epidemic," the UN health agency says. — AFP
September 22, 2020 - 4:11pm
The Department of Health reports 1,635 more people got infected with the coronavirus disease, which brings the national tally to 291,789.
There are 50 new deaths and 450 additional recoveries.
September 22, 2020 - 7:22am
The novel coronavirus has killed at least 961,531 people since the outbreak emerged in China late last year, according to a tally from official sources compiled by AFP at 1100 GMT on Monday.
At least 31,110,400 cases of coronavirus have been registered. Of these, at least 21,082,500 are now considered recovered.
The tallies, using data collected by AFP from national authorities and information from the World Health Organization (WHO), probably reflect only a fraction of the actual number of infections. — AFP
September 21, 2020 - 6:42pm
A Chinese primetime TV drama about the coronavirus pandemic has been slammed by social media users, who accused it of sexism for downplaying the role of women in battling the deadly outbreak at ground-zero.
China has largely brought the virus under control since it first emerged late last year, though Beijing has rushed to reshape the official narrative following criticism that it mishandled its initial response and punished whistleblowers.
But the new show, "Heroes in Harm's Way" — first aired by state broadcaster CCTV on Thursday — has triggered a fierce online backlash for its depiction of women in the virus battle.
One controversial scene set in the virus ground-zero city of Wuhan showed female bus drivers being reluctant to volunteer for a delivery team due to family commitments — while their male colleagues did not hesitate.
Users on the Twitter-like platform Weibo re-posted state media news reports praising real-life female bus drivers and volunteers, and argued women had been vital in transporting supplies and medical staff around the locked-down city.
"Women have made such a huge contribution to (fight) the epidemic... The pandemic is still not over, but they rushed to smear (women)," read one comment with over 15,000 likes. — AFP