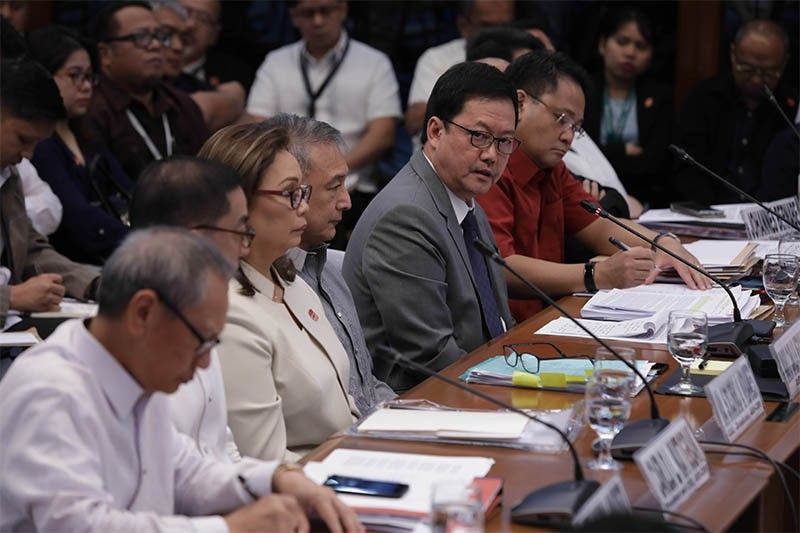 Justice Secretary Menardo Guevarra is one of the resource persons at the Senate inquiry into bills on ABS-CBN's franchise renewal and the network's supposed violations held February 24, 2020.
The STAR/Geremy Pintolo
NTC to issue provisional authority to ABS-CBN
MANILA, Philippines — National Telecommunications Commissioner Gamaliel Cordoba at a hearing on Tuesday said that the commission intended to issue provisional authority to broadcast giant ABS-CBN despite concerns that this would only further exacerbate the network's plethora of legal troubles.
This came as the House Legislative Franchise Committee, chaired by Rep. Franz Alvarez (Palawan), tackled ABS-CBN franchise renewal at Tuesday afternoon's hearing.
Provisional authority allows the broadcast giant to continue operating while their franchise renewal is still pending in Congress.
ABS-CBN Corporation's current legislative franchise, which was approved by virtue of Republic Act 7966, expires on May 4, 2020.
On February 26, House Speaker Alan Peter Cayetano and Alvarez wrote and asked NTC to issue provisional authority to the network to operate "from May 4, 2020 until such time that the Congress has made a decision on its application."
The broadcast company has been in hot water after government lawyers on February 10 accused the network of "unlawfully exercising their legislative franchises under Republic Act No. 7966 and Republic Act No. 8332" by, among other allegations, operating the Kapamilya Box Office pay-per-view service.
Rep. Edcel Lagman (Albay) said that provisional authority was just "alternative relief" that puts ABS-CBN "into a quagmire of legal problems," saying that this did not alleviate the need to have their franchise renewed.
A separate Senate hearing, whose legitimacy Cayetano called into question, found that the broadcast giant complied with all laws and regulations.
Within the lower chamber, ranking lawmakers have gone on record to say that they were asked to withdraw support for a resolution urging the House Committee on Legislative Franchises to act on bills for the renewal of the network's franchise.
READ: House reps asked to withdraw support for ABS-CBN resolution, solon says
Others have said that hearings for the bill were being stalled because they did not have clearance from Cayetano, who has admitted he held personal complaints against the network.
This is despite Cayetano's consistent promise that the franchise renewal would be given a fair and objective hearing in the Duterte-dominated House.
Duterte has repeatedly said that he will see that ABS-CBN's franchise will not be extended, although the Palace has also said that the president, whose words often translate into policy, will not meddle in the affairs of Congress. — with report from Kristine Joy Patag
As It Happens
LATEST UPDATE: July 22, 2020 - 8:59am
ABS-CBN Corp. stopped broadcasting on its TV and radio stations on May 5, 2020 after the National Telecommunications Commission issued a cease and desist order. The network's franchise had lapsed on May 4 without action by the House of Representatives.
July 22, 2020 - 8:59am
Lawmakers of the Makabayan bloc ask the House committee on legislative franchise to submit the report and the adopted resolution denying the franchise of ABS-CBN to the plenary for ratification.
In a letter addressed to Rep. Franz Alvarez (Palawan), Rep. Carlos Zarate (Bayan Muna Party-list) points out that the decision of the House panel to deny ABS-CBN a new franchise requires the approval of the entire lower chamber of Congress.
"Again, we reiterate that it is the duty, and in fact the right, of every member of the House to voice the opinion of their constituents through a plenary vote," the letter reads.
July 16, 2020 - 6:35pm
ABS-CBN's sports production department announces that it will stop operations after non-renewal of the legislative franchise of the media giant.
The network said in a statement Wednesday that it is forced to cease some business operations and implement a retrenchment program covering the network and its subsidiaries.
July 15, 2020 - 6:59pm
ABS-CBN announces it will implement a retrenchment program effective August 31 as it has been forced to cease operations of some of its businesses.
"We are doing all we can to mitigate the pain that will be felt by those affected, including paying out separation and retirement benefits and providing job placement programs. The loss of their jobs comes at a time when the uncertain and perilous impact of the COVID-19 pandemic further makes our decision truly difficult, but inevitable," the network also says.
"As much as it hurts us to implement this retrenchment program, this is the only way to ensure the continued employment of the rest of our Kapamilya," it also says as it wishes those affected by retrenchment well.
"For all that you have done for ABS-CBN, maraming salamat po."
July 13, 2020 - 10:22am
More than 500 journalists and media workers express solidarity with thousands of ABS-CBN workers who risk losing their jobs after a House panel denied the broadcast giant a new franchise.
In a statement released Monday, various journalists, editors and workers from different media organizations condemned the "unjust and cruel" decision of the House of Representatives committee on legislative franchises.
"One media outfit shut down because of the whims and trivialities of those in power is one too many, especially at a time when the public needs credible and independently verified information to make informed choices," the statement read.
July 12, 2020 - 6:33pm
Reporters covering the Senate on Sunday say the decision by a House panel to reject ABS-CBN's application for a new franchise "showed us that these lawmakers have become a heavy burden, a compounder of problems, and a worsener of woes to our already suffering nation."
They cite the potential loss of thousands of jobs while the country is dealing with the COVID-19 pandemic and say that the "serious economic repercussions" of the network shutdown are already being felt.
"The call of some lawmakers for Filipinos to move on is insensitive and an insult to the intelligence of the people," they also say.