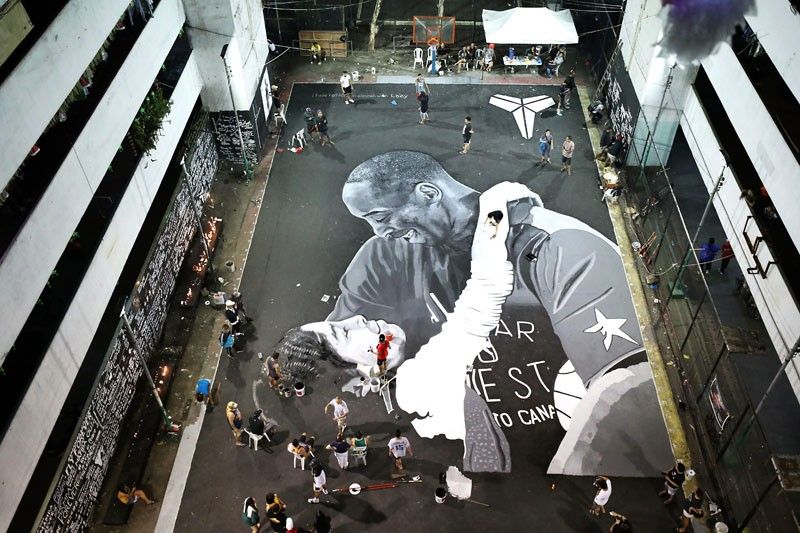 Members of art group Tenement Visual Artists paint a mural of the late NBA legend Kobe Bryant and his 13-year-old daughter Gianna on a basketball court in Taguig on Monday night.
Miguel De Guzman
Fans create giant Bryant mural on Taguig basketball court
MANILA, Philippines — Basketball fans commemorated the death of NBA legend Kobe Bryant by painting a giant mural at a court in Taguig City.?
As a way to commemorate the late Bryant and his daughter Gianna Marie who died with seven others after their helicopter crashed last Sunday in Los Angeles, Filipino artists created a mural at a basketball court in Taguig City of one of the greatest Los Angeles Lakers. ?
The art group Tenement Visual Artists created the basketball court-sized mural as their way of paying their respect to the NBA icon. ?
The tenement court in Taguig City, a popular streetball site, was painted black and in the middle was a painting of Bryant hugging Gianna. ?Bryant's "Black Mamba" logo was placed on the upper right side of the mural. ?
Rapper Mike Swift, also a basketball fan and one of those who painted the mural, said in a video posted on his Facebook page that fans from various places have joined and were already painting the mural as early as Monday morning.?
A freedom wall, painted black and with a logo of the Black Mamba, was also placed in commemoration of Bryant. ?
Messages of love and support for Bryant poured out from Filipino fans, reputedly the most passionate in the world. ?
Aside from the personal messages, some painted excerpts from Bryant's Oscar-winning short film "Dear Basketball," while some painted messages from athletes themselves. ?
The popular tenement court had attracted NBA stars like LeBron James and Paul George who visited the court years back.? Murals for James and Michael Jordan were previously painted on the court.