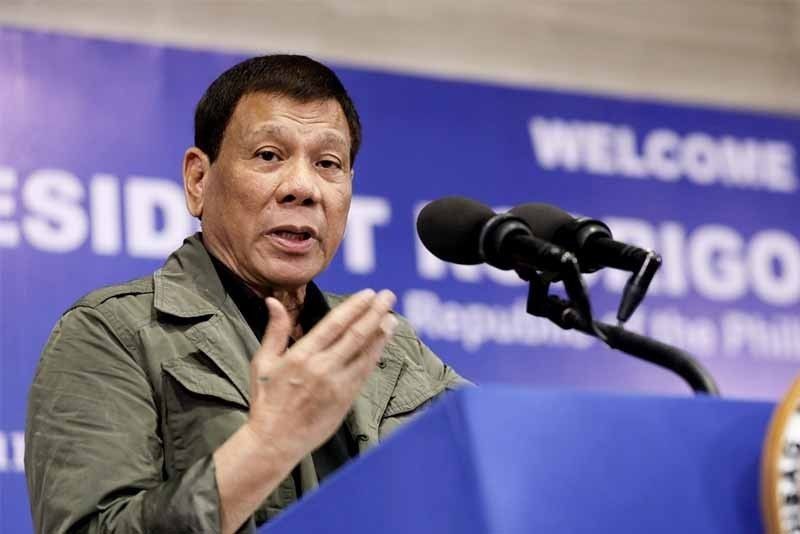 The President has rejected plans to fly to the US, but his team has been working to update him about possible plans and movements to the US.
Simeon Celi Jr./Presidential Photo
Duterte to decline Trump invitation to US-Asean meet
MANILA, Philippines — President Duterte is not keen on going to the United States to join the special summit of the Association of Southeast Asian Nations (ASEAN) in Las Vegas, Nevada in March, as per invitation of US President Donald Trump.
In an interview with Russian Today on Tuesday, Duterte said he would decline Trump's invitation because he felt offended by the humiliation caused by former US president Barack Obama.
"Just received an invitation to go to the US together with the ASEAN leaders. I haven't been to the US," Duterte told the Russian reporter before narrating how he got angry with the US particularly during the time of former US president Barack Obama.
"No. Yeah, but when I was being criticized by Obama in a press conference. He should have realized that I was also a head of state… He should have criticized me at the proper venue. He should have brought the case before the United Nations rather than castigate a president of another country in a press conference. So I got mad," Duterte said.
The President has rejected plans to fly to the US, but his team has been working to update him about possible plans and movements to the US.
Meanwhile, Malacañang wants to know from the US government whether Duterte will be given a visa and that he won't be banned upon entering US soil in case he decides to join the special ASEAN summit.
Presidential spokesman Salvador Panelo said the President is now "pondering" whether he will accept Trump's invitation. The Chief Executive, however, is concerned whether he will be provided a visa and allowed entry once he arrives in the US.
"We have to respond or rather we'll have to wait for the response of the US doon sa mga sinabi ni Presidente (on what the President said)," Panelo said at a press briefing yesterday.
Sought for Duterte's reaction on the reiteration of Trump's invitation to ASEAN leaders, including Duterte, to go to the US for a special summit, Panelo gave the media a runaround by saying that the President is not seeking special consideration nor is he putting conditions before going to the US.
"Depende iyon kasi (It depends), in other words, he is throwing the ball to them. Tingnan ko kung ano ang reaksiyon ninyo. Kapag sinabi (I'll see what your reaction will be. If they say), 'No, we are giving you a visa. We will allow you entry, including all your delegations,' o, 'di kapag bumalik sa kanya (so, if they get back to him), then I will ask him, 'Mr. President, ano na tayo (what do we do)?'" Panelo said.
Citing his conversation with the President, the Palace spokesman is looking at how the US government will be responding to the President's concerns.
"He said, one, he has to ponder over it. Why? Because he doesn't want to go there and if he is already there, some US senators would be unhappy seeing him there, because he is supposed to be number one on the list," Panelo said, referring to a provision in the 2020 US budget law signed by Trump denying entry to Philippine officials responsible for the detention of Sen. Leila de Lima.
"Number two, he said, 'I do not even know if US will issue me a visa. And if I'm issued a visa, I do not know if when I arrive in the States I would be allowed entry," Panelo added.
While it is normal for leaders to invite, Panelo said Duterte is now in an awkward situation since there are members of the US Congress who campaigned against the latter by invoking through a resolution/rider on the 2020 budget.
When pressed further if Duterte is worried about that rider, Panelo said the President remains unfazed.
"The President is never worried about anything except the sufferance of the Filipino people and their interest," Panelo added.
Bato sad over US visa, but...
Amid these developments, Sen. Ronald dela Rosa said he was sad that his US visa was canceled, but said he has nothing to lose over it.
The senator expressed his sentiments after attending the commemoration of the 121st anniversary of the First Philippine Republic yesterday morning at the Barasoain Church in Malolos, Bulacan, where he was the guest speaker.
The granting of a US visa is just a privilege to non-Americans, Dela Rosa pointed out, adding that if they think he is not worthy to have that privilege, then the US can go ahead since he has nothing to lose.
If Duterte accepts Trump's invitation to visit the US and asks him to be in the official delegation, however, Dela Rosa said he would then apply for an American visa.
'Try and try'
Justice Secretary Menardo Guevarra yesterday said it is the prerogative of the US to decide who may enter its territory, and advised Dela Rosa to "try and try."
The US government does not even have to explain why it refused Dela Rosa entry to the country, according to Guevarra.
"As I have said many times before, it is the absolute prerogative of any sovereign state to determine who may enter its territory and it does not have to offer any explanation as to its action," Guevarra said.
"Like any other ordinary Filipino citizen who wants to visit the US, Sen. Dela Rosa will just have to try and try," he added.
While no explanation was given why the US canceled the senator's visa, Dela Rosa believes that it had something to do with the alleged extrajudicial killings during his stint as Philippine National Police (PNP) chief.
US Senate Resolution 142, authored by US Sen. Edward Markey, called on Trump to impose sanctions against Philippine officials pursuant to the Global Magnitsky Human Rights Accountability Act.
The Magnitsky Act allows the US government to impose sanctions on foreign officials implicated in human rights abuses in any part of the world.
Last year, it was reported that the US Senate included in its budget law a rider that barred Philippine officials involved in De Lima's detention from entering the country.
Lorenzana:
Plain rumor
Meanwhile, Defense Secretary Delfin Lorenzana yesterday dismissed as plain rumors reports that his US visa, just like that of Dela Rosa, has been canceled by the US government.
Talks on Lorenzana's US visa revocation originated from Sen. Imee Marcos, who admitted in a forum that the information she got was based on gossip.
"I was not yet notified by the US embassy that my diplomatic visa has been canceled," Lorenzana said in Filipino.
Asked if he would do what Dela Rosa did, which was to clarify with the US embassy the status of his diplomatic visa, Lorenzana said he would not.
"No. It's all rumor. No need to dignify it," the defense chief said. – With Ramon Efren Lazaro, Evelyn Macairan, Jaime Laude, Cecille Suerte Felipe, Rhodina Villanueva