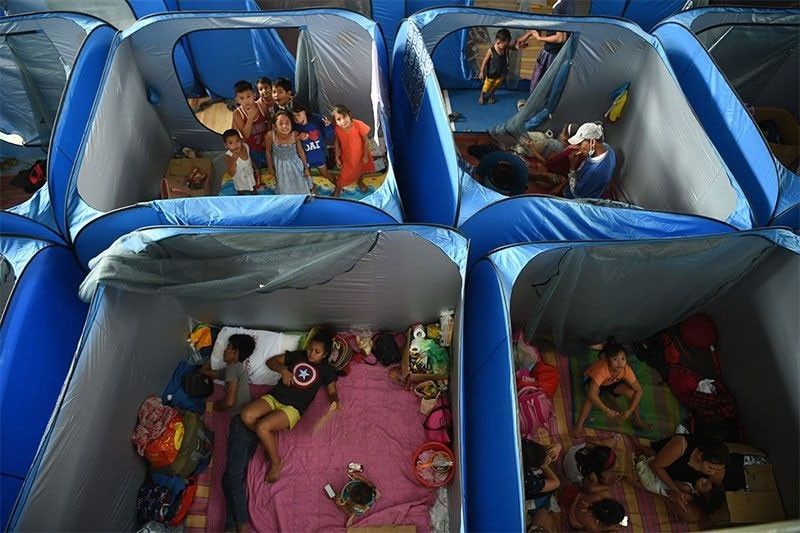 The casualties are among the thousands of people housed at evacuation centers in Batangas following Taal Volcano's eruption on Jan. 12.
AFP/Ted Aljibe
2 Taal evacuees die of health problems
Ed Amoroso
(The Philippine Star) - January 22, 2020 - 12:00am
CAMP VICENTE LIM, Philippines — Two women staying at evacuation centers in San Pascual, Batangas for Taal Volcano victims have died of health problems in the past two days.
The casualties were identified as Felina de Roxas, 57, of Barangay Bangin in San Nicolas, and Violeta Reyes, 84, of Barangay Sambat in San Pascual, both in Batangas province.
Rowena Dalangin, from the Municipal Social Welfare and Development Office based in San Pascual, said De Roxas died at the Saint Pascal de Baylon Hospital due to sudden cardiac arrest with acute myocardial and uncontrolled hypertension.
On the other hand, Reyes, a bedridden patient, died of tuberculosis in the house of Ma. Concepcion Macatangay in Barangay Sambat on Monday afternoon.
The casualties are among the thousands of people housed at evacuation centers in Batangas following Taal Volcano's eruption on Jan. 12.
Evacuees hit 1-M mark
Batangas Gov. Hermilando Mandanas announced that the number of evacuees from the Taal Volcano eruption has reached one million as of yesterday.
In a press conference held at the Provincial Disaster Risk Reduction and Management Council in Batangas City, Mandanas said around 800,000 evacuees are staying outside the evacuation centers or in their relatives' houses while 200,000 are staying in evacuation centers in Batangas, Cavite, Laguna and Quezon.
Asked how they came up with the numbers, the governor said, "Simple lang, we got the total population of the locked-down municipalities and subtracted all the evacuees staying in evacuation areas."
As of yesterday, 10 municipalities – Talisay, Laurel, Agoncillo, San Nicolas, Taal, Lemery, Santa Teresita, Cuenca, Balete and Mataasnakahoy – have been in total lockdown while two cities – part of Lipa City and Tanauan City – have been in partial lockdown.
Mandanas said they are now allocating P150 budget per evacuee for their food and sanitary kit or P150 million per day to cover all the victims.
The governor, however, showed optimism as overflowing aid and assistance continue to pour into the province.
"We can do this because we have sufficient calamity fund, aside from assistance from the national government, from companies and private individuals, foreign group and other neighboring local government units," he said.
Mandanas added that around P200 million will be coming from their calamity fund.
'Complex volcano'
Eruptions could also happen in other craters of Taal Volcano and, if ever, more communities could be at risk to hazards like ashfall, volcanic quakes and falling hot debris, Science Undersecretary and Philippine Institute of Volcanology and Seismology (Phivolcs) chief Renato Solidum Jr. warned yesterday.
"(Eruption could) happen in the main crater, it can also happen on the side (of the volcano). If (eruption) happens on the side of the volcano, then the barangays and towns facing it would be in more danger compared (with) others," Solidum said over radio station dzMM.
"That's what we have been telling the people. The island should not be inhabited as eruption could happen beneath their houses," he added.
Phivolcs describes Taal as a "complex volcano," which means it does not have just one main vent or cone, but several eruption points that have changed over time. It has 47 craters and four maars or volcanic craters caused by an eruption occurring when old groundwater mixes with hot rock or magma.
The main crater, located on Volcano Island, is 1.9 kilometers in diameter.
Taal ejected lava and ash on Jan. 12, forcing the evacuation of nearly 150,000 residents.
Some 6,000 people living on Volcano Island, which has been identified as a permanent danger zone, will no longer be allowed to return to their homes, according to Solidum.
"The council has approved the relocation of some 6,000 residents," he told The STAR.
Solidum said existing hazard maps already included the scenario of eruptions in Taal Volcano's various craters.
Fresh magma
Despite the apparent lull in the volcano's activity in the past days, its alert level remains at 4, the second highest of its five-step warning system, which means a hazardous explosive eruption could occur within hours or days.
Solidum said a fresh supply of magma or molten rocks from underneath Taal is moving toward the volcano's crater, vaporizing the water on its lake and creating steam.
The Phivolcs chief added that about 10 to 15 kilometers southwest of Taal, a separate magma intrusion was moving toward the volcano.
"If the magma rises fast or mixes with water, it could lead to a strong eruption," he said.
Phivolcs Monitoring and Eruption Prediction Division head Mariton Bornas said they are not lowering the volcano's alert status as long as there is probability of a hazardous eruption.
Based on its 24-hour monitoring period, Phivolcs recorded 448 volcanic quakes at Taal, while sulfur dioxide (SO2) emission was measured at 344 tons.
"Earthquakes for normal (status) would be around 10 or less. Hence, current daily activity is very high. SO2 may be less than 500 tons per day, but the reading is erratic, depending on the steaming activity," Solidum said.
"We (will) lower alert once we see a continuous downward trend of parameters for two weeks, in general," he added.
Meanwhile, Bornas said the agency would not change its opinion on the dangers of an imminent explosive eruption at Taal despite criticisms from a local official.
Talisay, Batangas Vice Mayor Charlie Natanauan lambasted Phivolcs for supposedly alarming the public with its volcano warnings.
"We can understand that (Natanauan) is under so much stress. We would like to respect the feelings of the vice mayor, but at the same time we are firm in our science," Bornas said in an interview.
Window hours
Despite backlash from residents of Batangas, Interior Secretary Eduardo Año yesterday defended his decision banning "window hours" for evacuees to make brief visits to their abandoned houses within the 14-kilometer danger zone of the restive Taal Volcano.
Año said they just want to ensure the safety of the people as the threat of another eruption of the volcano still exists.
He pointed out that Alert Level 4 issued by Phivolcs remains, which means it is still not safe for residents to return to their homes.
"Paano kung sumabog 'yan, mamatay ang What if it erupts, and 1,000 or 2,000 die. How will we explain that?" he said over radio dzBB.
Año has instructed local government units of the 12 towns and two cities included in the danger zone to stop the implementation of window hours and evacuate residents.
While he commiserates with the plight of evacuees who only want to check on their livestock and property, Año said they prefer to have no casualties in the event of another eruption.
The interior and local government chief has instructed police officers and soldiers manning security checkpoints to relocate outside the danger zone for their safety.
Members of mobile patrol groups have been scouring the locked-down areas for residents that are still inside.
Based on their estimate, Año said around 98 percent of the residents in the danger zone have been evacuated.
He said they are looking for the two percent who are hiding. – With Arnell Ozaeta, Helen Flores, Emmanuel Tupas