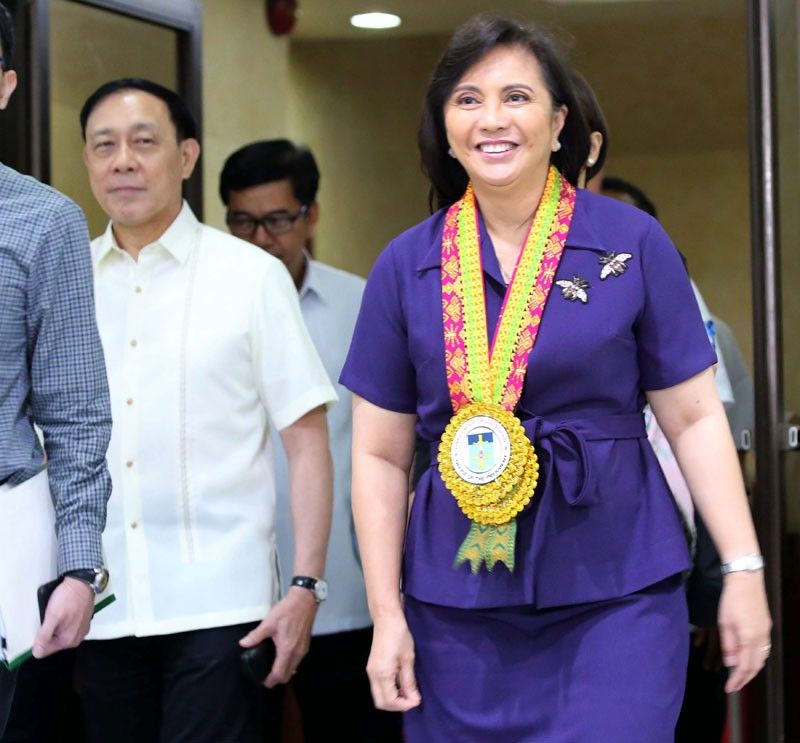 Vice President Leni Robredo is seen with Dangerous Drugs Board Chairman Catalino Cuy after a meeting at the DDB office in Quezon City yesterday.
Boy Santos
Robredo to Duterte: Just tell me to leave
Helen Flores
(The Philippine Star) - November 21, 2019 - 12:00am
Manila, Phillipines — She won't hesitate to quit her post as chairperson of the Inter-Agency Committee on Anti-Illegal Drugs (ICAD) if President Duterte himself will ask her to leave supposedly for losing his trust, Vice President Leni Robredo said yesterday.
Robredo issued the statement after the President, at a press conference late Tuesday night, said he does not trust the Vice President with classified information related to the government's drug war, calling her a "scatterbrain" with "kneejerk" impulses.
"He should tell me directly. I'm easy to talk to. If he doesn't want me here (ICAD) in the first place, why did he appoint me? If he thinks he committed a mistake in appointing me and wants to revoke it, he should just say so," the Vice President told reporters after a meeting with officials of the Dangerous Drugs Board in Quezon City.
"But as long as work is expected of me, I'll do it," she added.
Earlier this month, Duterte appointed Robredo, one of the vocal critics of the administration's bloody war on drugs, as ICAD co-chairperson.
The Vice President said she wrote a letter to Duterte on Tuesday, asking him to clarify the scope of her mandate as ICAD co-chair.
"I told him we should not be the one to determine (my mandate) because he's the appointing officer. He should be the one telling us what is the mandate given to me and what are the limits. I don't have any plan to overshadow anyone," Robredo said.
She said she was confused by Duterte's latest pronouncements, particularly on his rants about her supposed invitation to a foreign human rights advocate to come to the country as well as her meetings with the United Nations Office on Drugs and Crime and with the US embassy. She also denied reaching out to International Criminal Court prosecutors.
"That's fake news… I hope the President does not believe in fake news, because it's easy to check this," the Vice President said.
"I don't know of any UN prosecutor, I didn't write to anyone, I didn't invite anyone," Robredo said.
The administration's controversial anti-illegal drugs campaign has already claimed the lives of over 5,700 drug suspects.
Duterte threatened to slap human rights advocate Phelim Kine in front of Robredo should he come to the country.
Kine, former Human Rights Watch Asia head, in a tweet to Robredo on Nov. 11 recommended the arrest of Duterte and his supporters for allegedly instigating "mass murder."
"Dear VP @lenirobredo – my bags are packed and I'm ready to come to the #Philippines to help advise how to end this murderous drug war.' Meanwhile here is my Recommendation No. 1: Arrest #Duterte and his henchmen for inciting & instigating mass murder," he said.
"I don't understand why he's not happy with my discussion with the UNODC and US embassy. Even before I was appointed co-chair, they have been partnering with our government agencies," Robredo said.
"In fact, our meetings were just briefings on what they can do to help our government," Robredo added.
No PDEA briefing
The Vice President also said she declined an offer from Philippine Drug Enforcement Agency director-general Aaron Aquino – a fellow ICAD chair to brief her on classified matters.
"In fairness to director general Aquino, he was offering to brief me on some classified matters. But I refused, I told him I'll wait for the President's answer to our letter on what are the limits of my mandate, because I don't want to be accused of going beyond my mandate," she said.
Presidential spokesman Salvador Panelo said Robredo's supposed "missteps" during her first two weeks as drug czar cost her a Cabinet post.
"They said it was a misstep because I was asking for information that were beyond my mandate as ICAD co-chair. So for me, before I accept the information being offered to me, I must know first my mandate and its limits," said Robredo.
This was not the first time that Duterte expressed distrust in Robredo, a leader of the opposition and a human rights lawyer.
In December 2016, Robredo resigned as chairperson of the Housing and Urban Development Coordinating Council barely five months in the job after she received a text message from then Cabinet secretary Leoncio Evasco Jr. ordering her to "desist" from attending Cabinet meetings.
Despite the President's latest tirades, Robredo said she would continue to perform her task to help in the government's anti-illegal drug campaign.
"For me, it's always worth working for something we believe in. I believe that I can contribute a lot in the campaign against illegal drugs," the Vice President said.
"I don't ask for any designation, if he (Duterte) says this should be the only thing I do, I will work on it," Robredo said.
Sen. Panfilo Lacson said President Duterte appeared to be moving to have Robredo leave ICAD without firing her.
"Obviously, the President wants her out without firing her, meaning he is leaving up to her to take the initiative and tender her resignation," Lacson told reporters.
He said Robredo could now be contemplating her next move, as he urged her to make a decision sooner rather than later.
"I think her position has become untenable," he said.
He pointed out that responsibility without commensurate authority could be a formula for failure.
"If the Chief Executive who is also the commander-in-chief of all armed forces in the country has openly declared that he doesn't trust her, what does she expect from all 20 member-agencies under the ICAD?" the senator said.
Robredo's Liberal Party said Duterte and his allies do not want the Vice President to succeed to begin with.
"Malacañang is looking for an excuse for the failed war on drugs of President Duterte and they want to pin the blame on VP Leni," said Erin Tañada, LP vice president for external affairs, in a statement.
"But they are mistaken because VP Leni is determined to perform her duty despite the government's bullying and bullheadedness. In the end, good will prevail over evil," he added.
Sen. Ronald dela Rosa defended the withholding of information from Robredo.
"It is not because the Vice President belongs to the opposition party, it is not because she's been a long time critic of the administration, particularly of its drug war. But it is so directed that classified documents especially top secret should not easily change hands," he said in Filipino and English.
Dela Rosa said that while he trusts the Vice President, there is always the possibility that confidential and sensitive information could leak and fall into the wrong hands. – Cecille Suerte Felipe, Paolo Romero