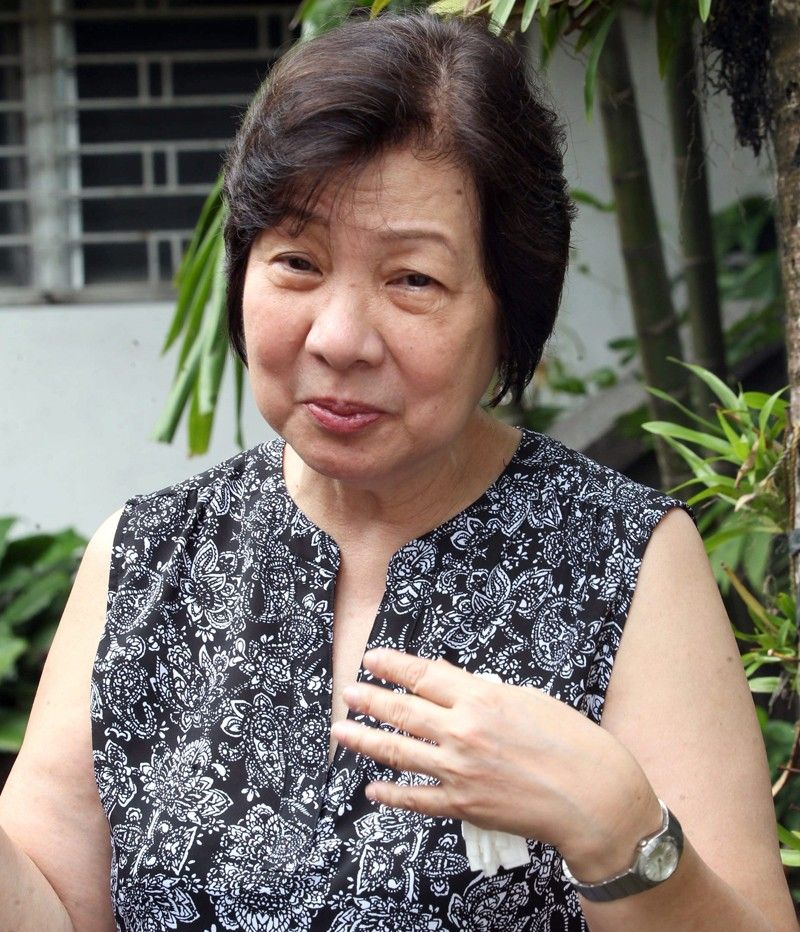 Victim Mary Eileen's mother Ma. Clara Sarmenta talks to reporters during an interview in her Quezon City home yesterday. Although she did not make accusations, Sarmenta noted that presidential spokesman Salvador Panelo had served as one of Sanchez's lawyers during the 1995 trial.
Boy Santos
Victim's mom: Why does our justice system favor the criminal?
A failure of the justice system.
This was the statement of Maria Clara Sarmenta, mother of slain student Mary Eileen Sarmenta, as she lamented that the justice system seems to favor the killer of her daughter.
Sarmenta had learned of the impending release of Antonio Sanchez, the former Calauan, Laguna mayor who was convicted of the rape-slay of her daughter in 1993.
"I became angry and frustrated. Why is it our justice system seems to favor the criminals?" Maria Clara told GMA-7 in an interview yesterday.
Sanchez was sentenced to seven life terms or up to 40 years in prison for the rape-slay of the younger Sarmenta and the murder of her fellow student Allan Gomez in 1993, both from the University of the Philippines-Los Baños.
Justice Secretary Menardo Guevarra on Tuesday said Sanchez may be included in the list of detainees eligible for release, in line with the provisions of Republic Act 10592 which revised the computation of good conduct time allowance for inmates.
The Supreme Court recently ruled RA 10592 would be applied retroactively, meaning those imprisoned even before its passage would benefit with the new time allowance computation.
"When I learned that Sanchez would be up for possible release, I myself, as a mother of a murdered child, was thinking why would they include Sanchez. Maybe he had the money to influence the law. Did money talk? I simply could not understand what happened. It was sudden," Sarmenta said in a separate interview.
"We cannot just set aside thinking that Sanchez remains influential because he still has the connection in the government," she added, referring to presidential spokesman Salvador Panelo who served as one of Sanchez's lawyers during trial, which decision was promulgated in 1995.
"He was part of the legal counsel of Sanchez and now he is the spokesman of President Duterte. We are not accusing, we're just stating what is on our mind."
She said their family would pursue legal action over the possible release of Sanchez and demand proof from the Bureau of Corrections over the computation of good conduct time allowance that would merit his early release.
Sarmenta added that for a convicted prisoner like Sanchez, he should have obeyed prison rules if he is to be eligible for parole.
Sarmenta questioned how Sanchez could have possibly been credited for good conduct, given that he was supposedly "living like a king" while in prison.
"We want to review everything, including the computation that says he (Sanchez) is eligible. We want proof. I think he violated prison rules where he lived like a king," she said.
Sarmenta noted prison authorities caught Sanchez with an air-conditioning unit and a flat screen television during a raid inside his cell in 2015.
He was also caught with a million pesos worth of shabu hidden inside a statue of the Virgin Mary in 2010.
"With all these violations are they (authorities) seeing Sanchez an angel now?" Sarmenta remarked.
Sarmenta appealed to the government to exercise diligence in releasing Sanchez under RA 10592.
"As if we've been all slapped for reason that we don't know or understand. We were taken by surprise. The pains, the struggle we have endured when Eileen died is coming back. We don't expect this to happen," Sarmenta said over dzBB.
She said the former mayor has failed to show remorse even after his conviction, adding that he failed to comply with the court ruling directing him to pay for damages for his crimes.
"We are not after the money, but he has to make good on the damages," Sarmenta told ANC.
"We didn't even see any remorse from him. What we're asking is for him to show us that he's sorry for what he did… He did not comply with what the SC said."
In its 2001 ruling, the SC Special First Division affirmed the conviction of Sanchez and his co-accused George Medialdea, Zoilo Ama, Baldwin Brion, Luis Corcolon, Rogelio Corcolon and Pepito Kawit.
The high court ordered them to pay the heirs of Eileen a total of P3,982,080 and the heirs of Gomez a total of P3,992,220 for death indemnity, moral damages, funeral expenses, loss of earning capacity, attorney's fees and litigation expenses.
A form of injustice
Several sectors also raised a howl over the supposed impending release of Sanchez from prison.
In less than a day, more than 33,000 Filipinos signed an online petition asking Secretary Guevarra to stop the release of Sanchez.
The petition Change.org – started by Quezon City resident B Vergara – called on the Department of Justice to let the former Calauan mayor serve the seven counts of life imprisonment imposed on him for the rape-slay of Sarmenta and murder of Gomez.
The petition said Sanchez had used his power and position as a local chief executive to commit the crimes he was convicted of.
The Volunteers Against Crime and Corruption (VACC) denounced the impending release of Sanchez, saying the SC decision allowing the retroactive application of RA 10592 is unacceptable and totally deplorable.
"There should be a provision in the law wherein families of victims should be notified of any pending release of any convict due to this. The pain will be more, because all of a sudden, we as the surviving kin of victims will see these as a form of injustice," the VACC said.
An official of the Catholic Bishops' Conference of the Philippines (CBCP) said the government should review the provisions of RA 10592 on good conduct time allowance (GCTA) granted to prisoners.
"There must be proof of good conduct. Hopefully, the law will not be used to grant favor to powerful and rich people. Do not use the law to favor someone," said Rodolfo Diamante, executive secretary of the CBCP-Episcopal Commission on Prison Pastoral Care.
Diamante said officials of the Bureau of Corrections (BuCor) and the board of pardons and parole should look into the committee that was supposed to set the criteria for granting GCTA for prisoners involved in heinous crimes and other high-profile cases.
He explained the director of prisons is the one who grants GCTA to a prisoner, but the Board of Pardons and Parole is the body that issues proof to provide basis in granting GCTA to a deserving prisoner.
Militant groups led by Karapatan also hit the possible release of Sanchez.
"This case was considered as one of the triumphs of the Philippine judicial system at that time, yet, it seems that convicted criminals can still pull a few strings to surreptitiously orchestrate their escape, shamelessly disguised as 'award' for their alleged good conduct," said Cristina Palabay, secretary-general of the human rights group Karapatan.
Palabay also suspected Panelo had a hand in the impending release of Sanchez.
"We cannot help but question his involvement in Sanchez's release. Of course he is denying it, but we can hardly expect defenders and mouthpieces of criminals to be truthful," she said.
Palabay also criticized the DOJ for announcing the possible release of the convicted mayor.
"It's a shame that the Department of Justice is quite excited to announce the possibility of Sanchez's freedom, yet the judiciary systematically veers its sight away from the cases of hundreds of political detainees in the country, many of which are sickly and elderly," Palabay said. – With Robertzon Ramirez, Janic Mateo, Rhodina Villanueva, Emmanuel Tupas