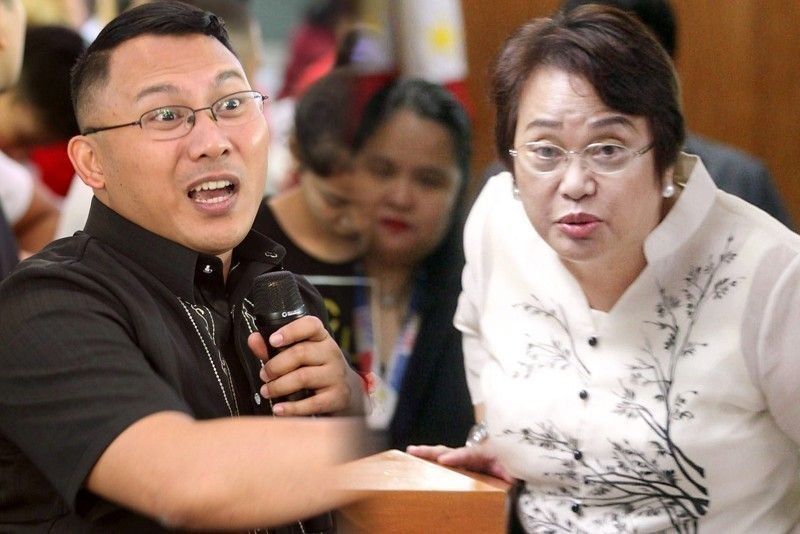 Composite photo shows former National Youth Commission Chairperson Ronald Cardema's (L) issues and Comelec Commissioner Rowena Guanzon (R).
The STAR/Boy Santos, File
Duterte Youth's Cardema: Impeach rap vs Guanzon possible 'if someone will help us'
(Philstar.com) - August 19, 2019 - 10:33am
MANILA, Philippines — Ronald Cardema of the Duterte Youth said Monday the group might file an impeachment complaint against Commission on Elections Commissioner Rowena Guanzon if they find support at the House of Representatives.
Cardema, a disqualified nominee of the Duterte Youth party-list, told ANC's Early Edition that they are mulling an attempt to remove Guanzon from the poll commission through impeachment, which will involve the House as well as the Senate.
"If someone will help us, why not? Because we have evidence," he said in Filipino. Cardema claimed that unnamed others supposedly also threatened by Guanzon have approached the Duterte Youth and that they could work on the complaint together.
Asked how strong his case against Guazon is, Cardema replied: "This is very strong because this is the truth."
He did not provide his evidence on the show.
The Constitution provides that a member of constitutional commissions, such as the Comelec, may be removed from office for culpable violation of the Constitution, treason, bribery, graft and corruption, other high crimes or betrayal of public trust.
Influence?
Asked why Guanzon would approach him for favors like the appointment of a lawyer as a regional trial court judge in Iloilo, Cardema said in the ANC interview that Guanzon could not approach the president herself.
"I was an appointee of the president, hindi naman sa presidente ako makakalapit pero sa ibang malapit rin sa presidente (I may not be able to approach the president himself but those close to him)," he said.
"Pero siya appointee siya ng kabilang administrasyon and very strong siya... very vocal yan patungkol sa mga bagay na... minsan laban dito sa administrasyon," he also said.
(She is an appointee of the past administration and she is very strong... very vocal about things... sometimes against the administration)
Cardema was National Youth Commission chair until he was deemed to have effectively resigned when he filed his bid to become a substitute representative of the Duterte Youth. His motion was filed at 5:30 p.m. on May 12, a Sunday and a day before the midterm elections.
Extortion
Last Saturday, Cardema accused Guanzon of sending an emissary—an unnamed congresswoman whom he said Monday is known as Guanzon's "bagman"—to the Duterte Youth to ask him for favors and money in exchange for his party-list group's accreditation.
Cardema presented censored screenshots of messages supposedly sent by Guanzon's emissary.
He said he will also file an extortion complaint against Guazon. "We will sue you for extorting from us for accreditation," he added.
Malacañang on Sunday rejected Cardema's call for President Rodrigo Duterte to step in.
"If he (Cardema) has a corruption charge, he should file charges. He doesn't have to go to news media (to talk) about it... File cases. Why does he have to drag the Palace to it?" presidential spokesperson Panelo said in a radio interview.
Guanzon: I told you so
Guazon had earlier denied Cardema's extortion allegation and said the former National Youth Commission chair was merely trying to provoke her then later seek her inhibition from the pending disqualification case.
"A friendly [advice] to @RonaldCardema, he should study his case and get good lawyer," she said in a series of tweet.
On Monday, Guazon said that she knew Cardema's moves would lead to an impeachment complaint.
I told you he will an impeachment complaint . Is it a betrayal of public trust to declare him DQ because he is overaged? all his moves are out of spite because he lost his dream of having millions in pork barrel funds. pic.twitter.com/PDoOviBro4

— Rowena V. Guanzon (@commrguanzon) August 19, 2019
"Is it a betrayal of public trust to declare him [disqualified] because he is overaged? All his moves are out of spite because his dream of having millions in pork barrel funds," Guanzon added. — Kristine Joy Patag