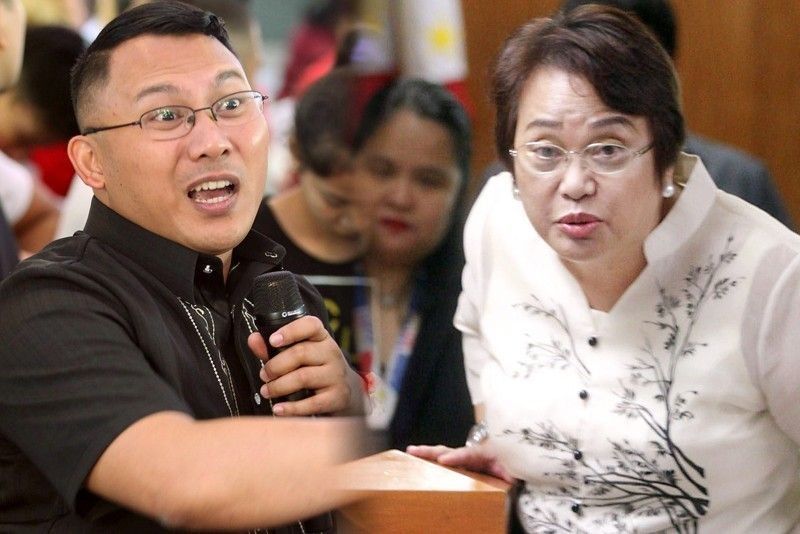 Presidential spokesman Salvador Panelo said President Rodrigo Duterte would not intervene in former National Youth Commission Chairperson Ronald Cardema's (L) issues against Comelec Commissioner Rowena Guanzon (R).
The STAR/Boy Santos, File
Palace tells Cardema not to drag Duterte in squabble with Guanzon
MANILA, Philippines — Malacañang Sunday rejected former National Youth Commission Chairman Ronald Cardema's call for President Rodrigo Duterte to help him in his fight against Commission on Elections Commissioner Rowena Guanzon, whom he accused of extortion.
Cardema, who has been disqualified as nominee of the Duterte Youth party-list, claimed last Saturday that an emissary of Guanzon had asked him for political favors in exchange for the approval of the accreditation of his group. Cardema said the emissary, whom he claimed is a member of the House of Representatives, demanded the appointment of a lawyer as regional trial court judge in Iloilo.
READ: Comelec cancels Cardema nomination for Duterte Youth party-list
Guanzon, who has been critical of the nomination of the 34-year-old Cardema as representative of the youth group, has denied the allegation, dismissing it as an attempt to intimidate her into inhibiting from his case. The poll official has said she won't inhibit from Cardema's case and has advised his accuser to "study his case and get good lawyer."
Presidential spokesman Salvador Panelo said the president does not meddle in issues that do not concern the Palace.
"If he (Cardema) has a corruption charge, he should file charges. He doesn't have to go to news media (to talk) about it... File cases. Why does he have to drag the Palace to it?" Panelo said in a radio interview.
"We don't have anything to do with what he is doing. We will not intrude into anything that does not concern the Palace so that's between him and Commissioner Guanzon," he added.
READ: Comelec's Guanzon denies extortion allegation, won't inhibit from Duterte Youth's Cardema case
Panelo said such stance applies even to supporters of the president.
"Alam mo, kahit na supporter pa ni presidente, pag merong bagay na ginawa yan na di maganda sa administrasyon e pinababayaan na lang namin siya (Even if he is a supporter of the president, if he does something that is not good for the administration, we would just leave him alone)," the presidential spokesman said.
Earlier this month, the Comelec ruled that Cardema is not qualified to become a nominee of a youth party list, saying he is too old to represent a party list that represents the youth.
Under the law, youth representatives should be at least 25 years old but not more than 30 on the day of the election. Cardema had argued that the age limit does not apply to him because he represents young professionals.
READ: Cardema denies threatening Comelec's Guanzon, accuses poll official of 'playing victim'
As It Happens
LATEST UPDATE: November 27, 2019 - 5:35pm
Former chairpersons and commissioners of the National Youth Commission have called for the "outright dismissal" of the applications of former NYC Chairman Ronald Cardema and four others as subsitute nominees for the Duterte Youth for being too old to represent the youth.
In a joint statement, former NYC chairs Ice Seguerra (2016-2018), Gio Tingson (2014-2016), and Leon Flores III (2011-2014) and commissioners Dingdong Dantes (2014-2016), Perci Vilar Cendana (2011-2016), JP Peñol (2014-2016), and Erwin Chua Andaya (2011-2014) stressed that the Party-List System Act requires representatives of the youth sector to be between 25 and 30 years old.
Cardema, who is deemed to have abandoned his post at the NYC by filing to be a substitute nominee, is 34, according to his own application for substitution.
"Upon their very own admission on their CONAs, former NYC Chairman Ronald Cardema and the four other nominee-applicants, undisputedly fall outside the prescribed age set by law. The name of their partylist is called 'Duterte YOUTH' and they have willingly presented themselves to the public as a youth-championing partylist," the former NYC officials said in a statement posted online by Flores.
Cardema has countered that Duterte Youth is actually meant to represent "youth and professionals," claiming further that this means the age limit does not apply to him.
"It is apparent that they are seeking to represent the youth sector including all its sub-sectors like young professionals. As such, the qualifications set forth by law categorically apply. Thus, owing to the law's absolute and unconditional requirement, their application for substitution should not have been given due course at all," the former NYC officials also say.
November 27, 2019 - 5:35pm
A House resolution urging the Commission on Elections to proclaim the nominee of Duterte Youth party-list as a winner in the May elections was filed by "bullies with ignoble motives for transgressing on the mandate of the COMELEC in order to back their political allies," youth group Samahan Ng Progresibong Kabataan says.
House Resolution 552 was filed by Speaker Alan Peter Cayetano, Majority Leader Martin Romualdez, Minority Leader Bienvenido Abante Jr., and Deputy Speakers Michael Romero, Rodante Marcoleta, Conrado Estrella, and Eddie Villanueva.
"The powerful members of the House think they have the right to pressure independent institutions like the COMELEC to release decisions when and how they want speaks to how drunk with power these legislators are. Congressmen, know your place!," says SPARK spokesperson, John Lazaro.
September 24, 2019 - 5:04pm
"COMELEC should put a stop to Duterte Youth's PR stunts by outrightly rejecting its petitions," Akbayan Youth secretary general Justine Balane says of the Commission on Electons' decision to accept a new set of substitute nominees for the party-list, including its original first nominee.
"This has gone long enough. The rules have been clear from the start, let's stick to it. With the delayed release of the decision on the partylist's and its nominees' eligibility, the COMELEC opens an opportunity for Cardema and Duterte Youth to play the victim," Akbayan youth also says.
Former National Youth Commission chairman Ronald Cardema had withdrawn his nomination—submitted after a division of the Comelec had already disqualified him—to be the party-lists's first nominee in place of his wife, who had withdrawn as nominee before the May elections.
Ducielle Marie Suarez, Cardema's wife, is now second nominee of the party-list that her husband chairs.
September 17, 2019 - 8:30am
Duterte Youth party-list chairman Ronald Cardema's withdrawal of his bid to represent the group at the House of Representatives is an attempt to play the victim, Akbayan Youth says in a release.
"Ronald Cardema is [not] and will never be the representative of the youth in congress," Akbayan Youth secretary-general Justine Balane says in reaction to Cardema's filing of a notice to withdraw as a nominee for the group, a nomination that the Comelec First Division earlier cancelled.
Cardema included himself in a new set of nominees for Duterte Youth.
"Now that his attempt at powerplay failed, he is determined to appear as if he is being bullied. If anything, the victim is the Filipino youth," Balane says.
August 23, 2019 - 8:46am
Commission on Elections Commissioner Rowena Guanzon insists in an interview on ANC that Duterte Youth leader Ronald Cardema's case is still within the poll body's jurisdiction since the presumptive congressman has not been issued a certificate of proclamation.
A division of the Comelec has disqualified Cardema as the party-list's nominee for, among other thing, being too old to be a youth sector representative at 34 years old.
Cardema, who has accused Guanzon of extortion, says he has already taken his oath as a member of the House of Representatives and that his case should be decided by the House of Representatives Electoral Tribunal.
August 19, 2019 - 9:05am
Duterte Youth leader Ronald Cardema challenges Commission on Elections Commissioner Rowena Guanzon to submit their phones to forensic examination, saying this will prove that an unnamed congresswoman, whom he claimed is Guanzon's "bagman", had asked for money and favors on the commissioner's behalf.
He also says he may file an impeachment case against Guanzon, who had opposed his last-minute substitution as a party-list representative of the Duterte Youth.
She has stressed that Cardema is too old to be a youth sector representative.