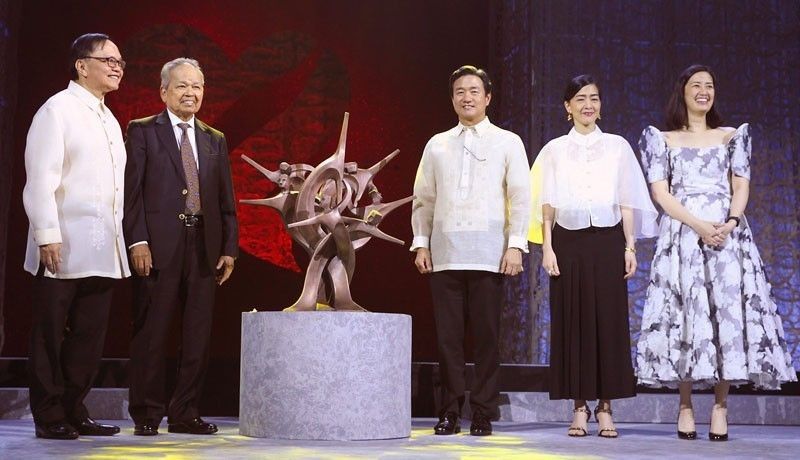 Named in this year's roster are four teachers, three soldiers and three police officers who were recognized for rendering service above and beyond their call of duty.
File
Metrobank names 2019 outstanding Filipinos
Janvic Mateo
(The Philippine Star) - August 11, 2019 - 12:00am
MANILA, Philippines — The Metrobank Foundation has announced the 10 awardees of its 2019 career service award for outstanding Filipinos in the academe, military and the police.
Named in this year's roster are four teachers, three soldiers and three police officers who were recognized for rendering service above and beyond their call of duty.
"We believe that the call to recognize excellence resonates truer than ever as we celebrate Metrobank Foundation's 40th year founding anniversary this year," said Metrobank Foundation president Aniceto Sobrepeña.
"We sustain our commitment to honor exemplary servants from the academe, military, and police sectors whose stories inspire action and whose contributions to society represent the best in our people," he added.
Named this year's awardees were teachers Dorothy Tarol of the Special Education-Integrated School for Exceptional Children in Iloilo City, Cristina Cristobal of the Philippine Science High School Main Campus in Quezon City, Ricardo Jose of the University of the Philippines in Diliman, and Eva Maria Cutiongco-de la Paz of UP Manila.
Tarol was cited for championing inclusive education especially through her action research designed to enhance basic literacy skills of learners with hearing impairment, while Cristobal was honored for promoting Philippine history among her students through an approach that encourages hands-on experience with the use of primary sources.
Jose is acclaimed for being the country's foremost scholar on the World War II in the Philippines and the Asia-Pacific, while Cutiongco-dela Paz was cited for her prolific work on clinical genetics and shedding light on genetic disorders.
Also selected were soldiers M/Sgt. Ramil Caporas of the Explosive Ordnance Disposal Battalion of the Army; Maj. Romulo Dimayuga of the Force Reconnaissance Group of the Philippine Marine Corps; and Lt. Col. John Paul Baldomar of the Office of the Deputy Chief of Staff for Operations of the Armed Forces of the Philippines.
Caporas was lauded for developing an improvised explosive instrumental to the successful operations during the Marawi siege, while Dimayuga was feted for his role in the successful counter-communist insurgency efforts in areas formerly associated with high insurgency rate.
Meanwhile, Baldomar was recognized for his leadership in his organization's transformation journey.
Police officers who will receive the award are Chief M/Sgt. Marsha Agustin of the Women and Children Protection Center at Camp Crame, Maj. Robert Reyes of the Counter Intelligence Task Force of the Philippine National Police, and Batangas provincial police director Col. Edwin Quilates.
Agustin was selected for integrating social work in her profession and co-authoring the manual widely used by the country's police forces when handling human trafficking cases.
Reyes was credited for his expertise in cybercrime investigation and his efforts to equip his peers with knowledge on trafficking in person intelligence and investigation, while Quilates was recognized for initiating a strategy that effectively mobilizes local forces, leading to the successful arrests of notorious criminals and resulting in lower crime rate in his province.
According to Metrobank Foundation, awardees are chosen for initiating programs beyond their duties that inspire and influence their peers and the people in their respective communities.
"Their works must have transformed a community with a lasting positive impact on people and to the country," added the foundation.
Metrobank Foundation said the 10 underwent a rigorous selection process and were selected from hundreds of nominations.
The panel that selected this year's awardees was co-chaired by Sen. Sherwin Gatchalian and Supreme Court Associate Justice Alexander Gesmundo.
Other members include Department of Human Settlements and Urban Development Secretary and Task Force Bangon Marawi chairman Eduardo del Rosario; University of Asia and the Pacific president Winston Conrad Padojinog; Military Ordinariate of the Philippines bishop Oscar Jaime Florencio; PHINMA Corp. president and Philippine Business for Education chairman Ramon del Rosario Jr.
The panel also included Yan Kee Foundation Inc. treasurer Jaime Bautista, Management Association of the Philippines president and Sun Life Financial Philippine Holding Company chairman Rizalina Mantaring, and GMA vice president for professional development and broadcast journalist Howie Severino.
Each awardee will receive a cash prize of P1 million, a gold medallion and a trophy.